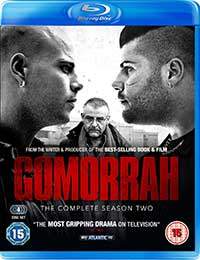 If the first season of this gritty Italian crime drama was shocking and real on the level of The Wire, a series it is often compared to, then the second season ups the ante to Shakespearean levels. These are the drug-dealing machinations that bring stories like King Lear and Macbeth down to street level.
Season Two finds the Don Piettro Savastono (Fortunato Cerlino) now abdicated from his position of power after the stunning turn of events that had the soldier Ciro "Immortal" (Marco D'Amore) launch a coup against him, kill his wife, and try to kill his son Genny Savastano (Salvatore Esposito), who now sits atop the Savastano crime family clan. The season deals mostly with Ciro trying to build a coalition of the rival drug dealing crime families to fill the vacuum created by the absence of Pietro, but also to assure Pietro can never rise again to threaten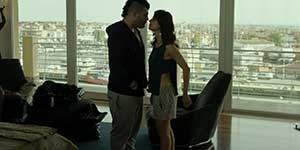 them. However, Pietro has other ideas, and from the shadows, with a young and unlikely beauty as his secret messenger, he pulls strings that begin to form a rift in this new alliance, and, as to be expected with Gomorrah, leads to violent confrontations.
Gomorrah's Italian première of season two broke the record ratings of House of Cards and Game of Thrones. With this addictive, visceral and violent yet complex crime drama, it is not difficult to see why. It is not driven by its violence, but rather by the antiheroes that you are somehow compelled to root for. Ciro may be dirtier than the Devil himself, but in the morally grey world of Gomorrah, even the Devil may sometimes be the good guy.
The Video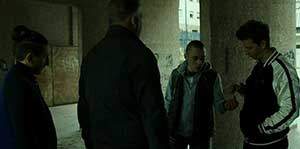 While this series' production, shot in HD on the Arri Alexa Plus and Canon 7D cameras, looks top-notch, with lots of opportunity for nuance, shadows and contrasts, this AVC 1080i/50 encodement from Arrow does not translate well. There is a lot of video noise, posterization and color banding, either inherent to the cameras or somewhere in transfer itself. Fortunately it's not all bad, because colors look good and there is still a lot of crisp detail to be seen.
The Audio
The Italian DTS-HD Master Audio 5.1 soundtrack is full of lush atmosphere and little discrete sound effects in
the surround channels. There is wide panning of stereo effects like cars driving by, the ubiquitous gunfire and fisticuffs, and just the general din of the streets. This is a beautifully balanced and clean mix that sounds very natural with lots of headroom.
The Supplements
We aren't getting too much in the way of extras wit this release, but some brief cast interviews and a twenty-minute behind-the-scenes featurette are interesting if not required viewing.
Interviews (1.78:1; 1080i/50; 00:13:45)
Behind the Scenes (1.78:1; 1080i/50; 00:20:36)
The Final Assessment
A fantastic second season of what is a gripping crime drama out of Italy, Gomorrah runs in the US on Sundance TV and is available now in a good, but hardly perfect, Blu-ray release from the UK's Arrow Films.
Gomorrah: The Complete Season Two [UK] (TheaterByte Blu-ray Review)
Arrow Films
Studios & Distributors
Summary
Gomorrah is a gritty and stylish crime drama out of Italy that, while violent, is driven by its antiheroes and devious subplots. This is addictive stuff and the second season may be even better than the first.
What people say... Login to rate
Be the first to leave a review.
Show more