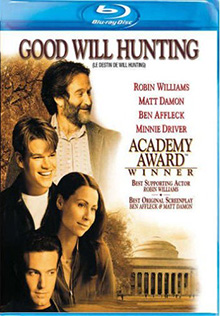 Aspect Ratio: 1.85:1
Video Codec: AVC/MPEG-4
Audio Codec: English DTS-HD Master Audio 5.1, English & French Dolby Digital 5.1
Region: A

Director: Gus Van Sant

Studio: Alliance
List Price: CDN$25.99
Click thumbnails for high-resolution 1920X1080p screen captures
The Film

The long tale of how Good Will Hunting made it to the screen is pretty well documented.  Originally written as a thriller by childhood friends Matt Damon and Ben Affleck, the screenplay went through a major overhaul at the urging of Castle Rock Entertainment's president Rob Reiner. The script was re-written to gut the thriller aspects and focus on the relationship between Damon's character and his therapist, and the relationship between the character and his new girlfriend.
Although Castle Rock was firmly behind the script with a healthy investment worth several thousand dollars, they were not happy at the thought of Damon and Affleck playing the lead roles, so the script would languish at Castle Rock.  Around this same time Affleck was working with filmmaker Kevin Smith on Mallrats and both Affleck and Damon were working with Smith on the film Chasing Amy. A series of serendipitous events would prevail, leading Smith to intervene and aid Damon and Affleck in bringing their screenplay to Miramax who would eventually buy the rights from Castle Rock, earning the two co-executive producer credits and preserving their places in the lead roles as well.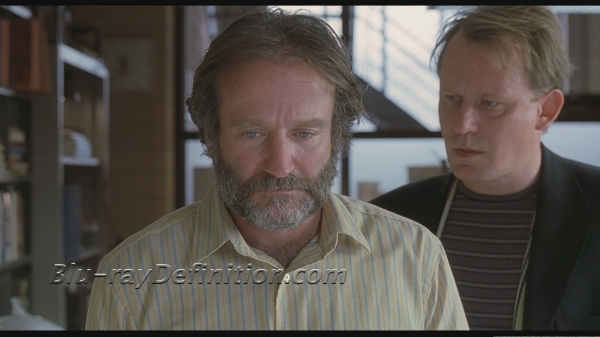 What eventually made it to celluloid is a touching film directed by Gus Van Sant (Drugstore Cowboy; Milk) about uncanny genius Will Hunting (Mat Damon) from the South End of Boston who comes from a working class background and a past filled with abusive foster parents. Will has developed a proverbial armor to hold people at a distance, but his fear of intimacy also hinders his chances at success.
While working as a janitor at MIT Will solves a nearly impossible equation placed on the board by the university's prominent mathematics professor, Gerald Lambeau (Stellan Skarsgård), which gets him noticed. Lambeau bails Will out of jail after a fight and convinces a judge to have him released into his custody under the condition that Will works with him and goes to counseling.
This turn of events opens up a whole new world for Will, as he finally meets his match in a "southie" psychiatrist, sympathetically played by Robin Williams and also timidly tries to build a relationship with a Harvard student, portrayed by an unbelievably beautiful Minnie Driver.
Damon and Affleck won themselves a pair of Oscars for best screenplay and Robin Williams took home an Oscar himself for his portrayal as Will Hunting's strong willed therapist for Good Will Hunting, they were all deserving of their accolades. Good Will Hunting may not have the edginess of some of director Gus Van Sant's better works, and it lacks the hip factor of some of Van Sant's film's that preceded it. Occasionally it lapses into moments of saccharine clichés, but it is heartwarming nonetheless, and Robin Williams, Matt Damon, and Minnie Driver exhibit some of the best acting of their careers. This all adds up to a quietly motivational film that is both memorable, plausible, and timeless.
Video Quality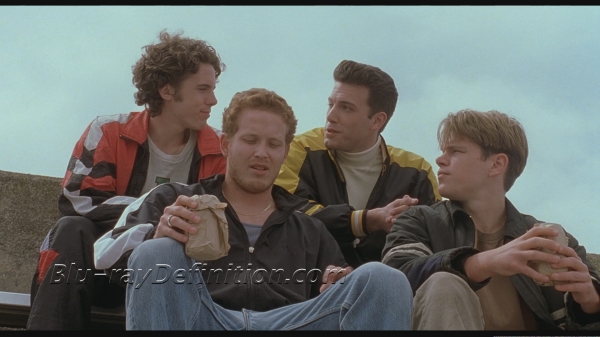 Despite being labeled to the contrary on its packaging, this BD release of Good Will Hunting does in fact come in a 1080p — not 1080i — high definition transfer from Alliance. Its AVC/MPEG-4 1080p/24 encoding of its original 1.85:1 theatrical aspect ratio averages around 16Mbps on a BD25 disc.  The actual encoding is not problematic in that it does not show any signs of compression artifacts such as macroblocking nor are there any post-processing issues such as edge enhancement or DNR (Digital Noise Reduction). The source itself is not particularly in good condition, however, and much more could have been done to clean it up. There are quite a few moments where there are obvious specks apparent on the source.  Detail varies widely from sharp to soft and flesh tones are rather pale, though contrast is relatively good, showing no blooming and black levels are strong, but not as deep as they could be.
This Blu-ray release of Good Will Hunting is one of the weaker catalogue releases on Blu-ray Disc. There was obviously not much effort put into revitalizing this film for release on BD, which is evidenced by the lack of supplements provided as well.
Audio Quality

Good Will Hunting is provided with English DTS-HD Master Audio 5.1 lossless and English and French Dolby Digital 5.1 lossy audio options.  Although the original language lossless DTS-HD MA 5.1 mix is a welcome option, 6 channels may very well be overkill concerning this release.
The dialogue-heavy film has a front heavy mix reserving the surround channels for light ambient sound effects. Dialogue is anchored to the center channel, but it is unsullied, intelligible and full in sound. There is a good separation of sounds across the front soundstage, but little in the way of directionality following the action across the screen. There is also very little low frequency extension to give the subwoofer much of a workout here, so the ".1" part of this "5.1" almost comes across as merely a marketing ploy.  Perhaps they should have taken a cue from the recent Blu-ray release of Vicki Cristina Barcelona and made this simply a 3.0 mix.
Supplemental Materials

This bare-bones release has no supplements whatsoever.
The Definitive Word
Overall: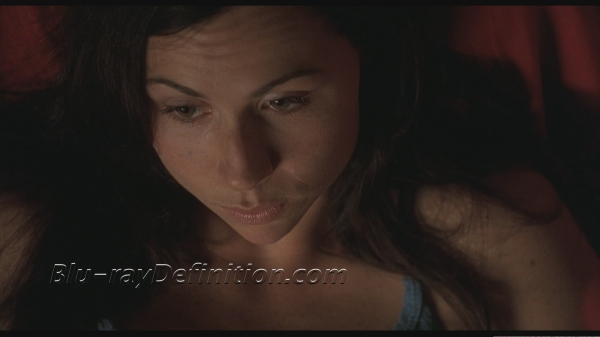 Good Will Hunting is one of the most moving films to come out of the 1990s and will long be regarded as a classic of cinema. Unfortunately, this Blu-ray release does not do the film much justice and falls far short of some of the better catalogue releases that are available on BD.
Purchase Good Will Hunting on Blu-ray at Amazon.ca
Shop with Us for More Blu-ray Titles at Amazon.ca
Shop with Us for More Blu-ray Titles at Amazon.com