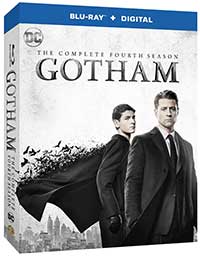 The successful DC series Gotham, one of the only ones not to run on The CW — it airs on Fox – took flight in the fourth season with the Dark Knight beginning to emerge as the young Bruce Wayne (David Mazouz) trained with the infamous Ra's al Gul and began to don his crimefighting alter-ego with the aid of his faithful butler and guardian Alfred (Sean Pertwee). But the season is notable for more than just that – after a long buildup of well-written seasons and character building, we finally began to see the emergence of Gotham's notorious supervillains – Edward Nygma/The Riddler (Cory Michael Smith), Oswald Cobblepot/The Penguin (Robin Lord Taylor), Ivy Pepper/Poison Ivy (Maggie Geha), and Solomon Grundy (Drew Powell).
The character of James Gordon (James Gordon) also continued to grow in the fourth season as he grappled with the increasingly grey areas of being a cop and working with criminals. Helping to throw him into his morally dubious state is the complete overall of the character of Gordon's ex Leslie Thompkins (Morena Baccarin), the second of his girlfriends on the series to have seemingly gone batsh*t crazy.
As has been the case since the beginning of this series, Gotham doesn't disappoint when it comes to darkness – the season maintains a gloomy, Gothic overtone and goes to some very frightening places, walking a line between horror and fantasy and a crime/drama. It is certainly one of the darker – literally and figuratively – DC properties on TV at the moment, in keeping with the Dark Knight franchise.
The Video
Gotham arrives framed at 1.78:1 in an AVC 1080p encodement from Warner Bros. Its digital production looks generally satisfying with inky blacks, crisp details, good nuance in the shadows, and excellent color reproduction even though the series tends toward a de-saturated look. That said, the image does suffer occasionally from some pretty heavy color banding that makes me have to knock a couple of points off.
The Audio
Gotham is provided with a DTS-HD Master Audio 5.1 mix on Blu-ray. It is competent with good atmospherics and dynamic range, and clean dialogue. The low end is certainly not as beefy as a blockbuster film, but there's a good amount of extension to lower frequencies providing a solid foundation.
The Supplements
The included special features are not exactly an overabundance of riches, but they are interesting. The Solomon Grundy featurette and Comic-Con Best-Of are the most interesting to watch. The select deleted scenes scattered throughout are also welcome inclusions.
Digital HD Copy
Deleted Scenes
Solomon Grundy: Born on a Monday (1.78:1; 1080p/24; 00:09:53) – Butch Gilzean transforms into one of the most recognizable characters in the Batman mythos, Solomon Grundy. This documentary looks at Solomon's intimidating exterior and his feelings of loneliness in the City of Gotham as Cyrus Gold strikes up a dangerous kinship with Edward Nygma.
The Sirens Take Gotham (1.78:1; 1080p/24; 00:12:57) – This Featurette explores the relationships and motivations of Barbara Kean, Selina Kyle, and Tabitha Galavan as the trio bands together to not only survive, but to thrive as one of Gotham's leading crime syndicates taking over the city's underworld.
The Best of DC TV's Comic-Con Panels San Diego 2017 (1.78:1; 1080i/60; 00:58:27)
The Final Assessment
Gotham maintains its quality and heads closer to the chaotic world of the Dark Knight in this fourth season filled with dark turns, mad villains, and a hero emerging from the shadows. This Blu-ray set is a satisfying release for fans.
[amazon_link asins='B077698BCC,B0776JGNYH' template='ProductCarousel' store='theaterbyte-20′ marketplace='US' link_id='3a056355-abb2-11e8-a5de-d3d584561cb4′]
Primrose Hill Productions | DC Comics | Warner Bros. Television | Warner Home Home Video
Studios & Distributors
Bruno Heller (Creator)
Writer
$37.99
MSRP
English DTS-HD MA 5.1
Audio
English SDH | French | Dutch | Spanish (Latino) | Danish | Finnish | Norwegian | Swedish
Subtitles
Summary
Supervillains emerge as the Bruce Wayne begins to hone his crime fighting alter-ego in this dark fourth season of Gotham. This Blu-ray set is a satisfying set hat fans will appreciate.
What people say... Login to rate
Be the first to leave a review.
Show more