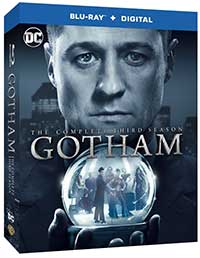 Gotham: The Complete Third Season arrives on Blu-ray and this series that cesspool of a city that births Batman and the super-villains he will fight finally begins to resemble the place most people will recognize from the comics and movies. That isn't to say that it has become a different a series, however. Season 3 of this neo-noir crime drama stays true to itself and how it began, remaining a dark and gritty thriller with often unexpected twists just camp enough to pay homage to their comic book roots, but never tipping over into the ridiculous.
In this third season, Jim Gordon (Ben McKenzie) begins to take matters into his own hands with so many super-villains on the loose. He begins the season a bounty hunter doing paid jobs for the GCPD and finding comfort at the bottom of whiskey bottles as he pines away for his love Lie Thompkins (Morena Baccarin) who left him and engaged notorious crime boss Carmine Falcone's (John Doman) son. Bruce Wayne (David Mazouz), the billionaire boy who would be Batman, uncovers more truths about his parents' deaths, which leads both him and Jim Gordon down a path to the nefarious secret society of Gotham City known as The Court of Owls. Meanwhile, the season also sees the emergence of super-villains such as Jervis Tetch/Mad Hatter (Benedict Samuel), the creation of would-be villain Poison Ivy (Maggie Geha), the birth of Edward Nygma's alter ego The Riddler (Cory Michael Smith) and his rivalry with Oswald Cobblepot/Penguin (Robin Lord Taylor).
One can only imagine where Gotham will go from here and how much longer they can hold off from keeping the Dark Knight out of the equation, but with writing, cinematography, and story arcs as involving as they have been up to this point, we may never need Batman. DC once went down a similar road with another of their big properties, Superman, with the series Smallville. It became increasingly difficult to justify the lack of the emergence of the hero, especially in terms of the greater mythology, in that series; let's hope it doesn't happen with Gotham.
The Video
Gotham: The Complete Third Season was shot on the Arri Alexa at ProRes 4:4:4 (1080/23.976p) resolution and a 2K DI was used in post-processing. The series comes to Blu-ray Disc in an AVC 1080p encodement from Warner Bros. The picture is stellar given the darkness of the series. It has deep, inky black levels with strong contrast and little in the way of black crush. Shadow detail is nuanced and there isn't much noise, but there are some moments where color banding in shadows can be seen. When Gotham does add color, this release does it well with rich midtones and good 'pop' in the primaries.
The Audio
Gotham: The Complete Third Season arrives on Blu-ray with an English DTS-HD Master Audio 5.1 mix. A Portuguese Dolby Digital 2.0 stereo dub is also included as well as subtitles in various languages. The 5.1 mix is not on par with the best cinematic releases, opting for mainly lots of pumped up atmospheric effects and the occasional discrete effect like a gunshot or car crash that almost escapes into the surround channels. That said, the dialogue sounds clean and dynamic range is good for a series. Applying Neo:X on my system and engaging my height channels also helped to open it up a lot.
The Supplements
Gotham: The Complete Third Season on Blu-ray is a mixed bag of deleted scenes that are nothing too special and featurettes exploring the super-villains of the season, Ben McKenzie directing, and more. UltraViolet is also included, but typical of most recent Warner TV series releases no Blu-rays are included.
Digital HD UltraViolet
Deleted Scenes
Madness Rising: The New Villains of Gotham (HD, 09:58) – Gotham has long been plagued by the most nefarious of villains. Take a deeper look into the motivations of the Mad Hatter, Ivy and the ever-elusive Court of Owls.
Gotham: 2016 Comic-Con Panel (HD, 28:22) – Join the cast and executive producers of Gotham Season 3 at the 2016 San Diego Comic-Con.
Ben McKenzie's Directorial Debut (HD, 02:20) – Ben McKenzie, a versatile actor, adds "Director" to his résumé. This behind-the-scenes journey captures the day-to-day moments on set.
The Dark with the Dark: The Court of Owls (HD, 12:02) – The Court of Owls, masterminds controlling Gotham City, are soon discovered to be playing second fiddle to a more sinister force. The darkness is revealed in this documentary.
The Final Assessment
Gotham: The Complete Third Season is another dark, twisted, strong season of this DC Comics series. It may in fact make a case for being the strongest DC series on television currently, outshining even The Flash, the to this point disappointing Supergirl, and the waning Arrow.
Gotham: The Complete Third Season is available on Digital and Blu-ray August 29, 2017.
[amazon_auto_links id="103930"]
Primrose Hill Productions | DC Comics | Warner Bros. Television | Warner Bros. Home Entertainment
Studios & Distributors
Bruno Heller (Creator)
Writer
$54.97
MSRP
English DTS-HD MA 5.1
Audio
English SDH | French | Portuguese | Spanish (Latino)
Subtitles
Portuguese DD 2.0 Stereo
Secondary Audio
Summary
Jim Gordon and the young Bruce Wayne dive into the darkness as classic super-villains emerge in Gotham City in this powerful third season of Gotham on Blu-ray + Digital from Warner Bros.
What people say... Login to rate
Be the first to leave a review.
Show more