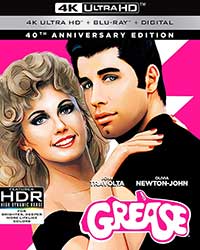 By the time Grease hit theaters in June of 1978, John Travolta was already a bona fide superstar from his roles on television's Welcome Back, Kotter and 1977's box office smash Saturday Night Fever, that helped raise the '70ss disco craze to new heights of awareness and hedonism. When the film adaptation of Jim Jacobs' and Warren Casey's stage musical finally hit the big screens, it solidified Travolta's status as a '70s icon and sex symbol. It also bolstered the career of Aussie singer Olivia Newton-John, who was already well on her way to becoming a sex symbol in her own right.  When I first saw the film in 1978, I was a wee lad of six, but I certainly recall having a major crush on Ms. Newton-John for a long time after that. The soundtrack to the film even became, for this lifelong music lover, one of my earliest musical memories. I must have worn out the grooves on the soundtrack LP playing back my family's copy on our old console.
Looking at the film today through the eyes of a more world-worn adult, several times heartbroken, more attuned to the historical references I can't help but notice the obvious dichotomy of the trite and raunchy that mingle together in this film. With its 1950's retro look at teenage angst, love and rebellion that is less rose-colored than fish eye, the film is replete with subversive looks at the "innocence" of the 1950s filtered through two decades of cultural upheaval.
The story is about greaser Danny Zucko (John Travolta) and wholesome Sandy Olsson (Olivia Newton-John) who fall in love over the summer at the beach, but then the summer ends and Sandy must leave to go back to her native Australia. Sandy's plans change, however, and the two end up at the same high school for their senior year. Their summer romance struggles to survive as Danny must play the tough guy in front of the friends in his gang the T-Birds, and Sandy hooks up with bad girls The Pink Ladies, who look to Danny's ex, Betty Rizzo (Stockard Channing) as their leader.
The film is immediately evocative of an Elvis Presley movie; some hybrid of Jailhouse Rock and Viva Las Vegas and filled with both classic '50s songs like "La Bamba," appearances by Frankie Avalon and original numbers mainly lifted directly from the stage production that hearken back to '50s rock and roll and doo-wop. One wonders, looking back, how much of an influence the film had on the early '80's rockabilly resurgence that would see acts like The Blasters, The Stray Cats and even veterans like Queen ("Crazy Little Thing Called Love") rocket to the top of the charts with full-on rockabilly songs?
Choreographer Sandy Birch, who also choreographed the stage production, obviously helps ease director Randal Kleiser's transition into directing his very first musical with her lavishly staged numbers and Grease, being one of the highest grossing musicals ever, may lean towards the cheesy side, but its songs, clothing and dance numbers are memorable and sure to last in your memory for a long time. It's one of the more successful adaptations of a stage musical to the screen you are ever going to see.
The Video
Grease was shot on 35mm Eastman 100T 5247 in the anamorphic Panavision 2.39:1 format and arrives on 4K Ultra HD in an HEVC 2160p (4K) encodement with Dolby Vision HDR. The film has never looked better – the colors looking vibrant and, source looking fairly clean and organic. There are a few moments where some softness and loss of detail rears its head, mostly from the production. The Dolby Vision does add an extra layer of 'pop' in the highlights during moments like the "Grease Lightning" number and Danny's "Sandy" ballad at the drive-in.
The Audio
The film hits 4K Ultra HD with a Dolby TrueHD 5.1 mix, no immersive Atmos track has been made for this 40th Anniversary Edition, meaning this release gets the same mix that has been available on Blu-ray previously. That doesn't mean the sound is disappointing – the musical soundtrack is well balanced, dynamic, and clean with a musical low end, punchy mids, and airy high end. The dialogue comes through clear and full.
The Supplements
Much of the special features in this release, housed on the Blu-ray, are port-overs, from previous Blu-ray releases, but there are a couple of new HD featurettes included as well as new alternate ending and opening credits.
UltraViolet Digital Copy and iTunes Digital Copy
Blu-ray with main feature and special features
Commentary by Director Randal Kleiser and Choreographer Patricia Birch
Introduction by Director Randal Kleiser
Rydell Sing-Along (English Only)– Sing along to your favorite songs with the aid of timed lyrics with this in-movie feature. Individual songs can be selected so viewers can jump right to their favorite track.
The Time, The Place, The Motion: Remembering Grease (1.33:1; 480i/60) — This making-of featurette gives a pretty detailed account of this classic musical's journey from stage to screen with interview segments with the cast, crew, director and choreographer.
Grease: A Chicago Story (NEW) (1.78:1; 1080p/24; 00:24:30) – A look back at the original, way off-Broadway Chicago production of the stage musical.

Alternate Animated Main Titles (NEW) (1.78:1; 1080p/24; 00:03:44)
Alternate Ending (NEW) (2.35:1; 1080p/24;00:00:45)
Deleted/Extended/Alternate Scenes (1.33:1; 480i/60; black and white):

Introduction by Randal Kleiser
T-Birds Harass Eugene
Classroom Announcements
Pink Ladies and Sandy at Lunch
She's too Pure to be Pink
Intro to Summer Nights
Rydell Pep Rally
Kenickie and Danny Outside Frosty's
The Stroll
National Bandstand
At the Dance
Thunder Road

 Reunion 2002 – DVD Launch Party (1.33:1; SD;  00:15:13) — In 2002 when the film was released to DVD by Paramount for the very first time, they threw a huge release party, bringing together the cast and filmmakers. This included some nice live performances of the songs from Grease by the film's stars at the release party that are sure to please longtime fans.
Memories from John & Olivia (1.33:1; SD; 00:03:23) — An interview with John Travolta and Olivia Newton John from the 2002 DVD release party.
The Moves Behind the Music (1.33:1; SD; 00:08:14) — Director Randal Kleiser, choreographer Patricia Birch and other members of the Grease cast and crew discuss interpreting the big dance numbers for the film.
Thunder Roadsters (1.33:1; SD; 00:05:22) — The spotlight is placed on the film's classic hotrods in this featurette.
John Travolta and Allan Carr "Grease Day" Interview (1.33:1; SD; 00:01:48) — An interview with John Travolta from 1978 at the the film's premiere.
Olivia Newton-John and Robert Stigwood Interview (1.33:1; SD; 00:02:06) — Olivia talks about getting the role in the film.
Photo Galleries:

Rydell High Year Book
Production
Premiere
Grease Day

Theatrical Trailer (1.78:1; 1080p/24; 00:02:09) — This original theatrical trailer is provided in high definition, but the poor condition of the source means that it really looks no better than DVD-quality
The Final Assessment
A classic musical that helped solidify its stars in the pop culture zeitgeist, this beloved film arrives in a beautiful new 4K Ultra HD edition that really brings out the visual and aural elements. Grease is still the word.
Grease is available on 4K Ultra HD Combo Pack on April 24, 2018 from Paramount
[amazon_auto_links id="109917"]
PG-13 (for sexual content including references, teen smoking and drinking, and language)
Rating Certificate
Paramount Pictures | A Robert Stigwood / Allan Carr Production | Paramount Home Entertainment
Studios & Distributors
Jim Jacobs (original musical) | Warren Casey (original musical) | Bronte Woodard (screenplay) | Allan Carr (adaptation)
Writer
24 Apr. 2018
Release Date
HEVC (H.265) 2160p (4K) | AVC 1080p (Blu-ray)
Video
Dolby Vision (Compatible w/ HDR10)
HDR Format
English Dolby TrueHD 5.1
Primary Audio
English Audio Description | Spanish (Latino) DD 5.1 | Spanish (Castilian) DD 5.1) } French DD 5.1 | Italian DD 5.1 | Portuguese DD 5.1 | et. al.
Secondary Audio
English | English SDH | Cantonese |Spanish (Latino & Castilian) | French | Portuguese (Brasil & Portugal) | Chinese (Simplified) | Japanese | Korean | et. al.
Subtitles
HDR Effect (If Applicable)
Summary
After good girl Sandy (Olivia Newton-John) and greaser Danny (John Travolta) fall in love over summer vacation, they find themselves unexpectedly at the same high school for their senior year where their romance faces the strains of peer pressure. This popular musical is an adaptation of the original Broadway hit -- itself an adaptation of an off-Broadway Chicago production -- and helped launch its stars into he pop culture zeitgeist of the era. This new 4K Ultra HD release breathes new life into the already spectacular production with vibrant colors and "pop" in the highlights.
What people say... Login to rate
Be the first to leave a review.
Show more