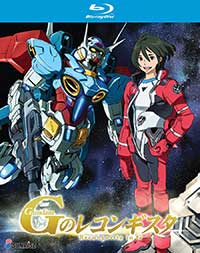 The 2014 anime series Gundam Reconguista in G has the dual honor of being the thirteenth installment in Sunrise's perennial Gundam franchise and the series honoring the franchise's 35th anniversary. Being such a notable entry in the Gundam franchise heavyweights were brought in to do the work. Tomino Yoshiyuki wrote and directed the series, his first Gundam since 1999's Turn A, and Yoshida Kenichi of Eureka Seven fame did the character designs.
The series is set a millennium after the tragic events that ended the so-called Universal Century in what is now called the Reglid Century, and it centers around male protagonist Bellri Zenam, a member of the Capital Guard charged with protecting humanity's sole orbital elevator the Capital Tower, the elevator hovering over the land between space and Earth. Bellri captures a powerful mobile suit called the "G-Self" and soon discovers that he is one of a select few that can power the G-Self. This innate ability draws Bellri into a growing conflict between multiple factions, including a Pirate Corps., and group of humans building up military power on the moon.
I really wanted to love this series, especially given the spectacular animation that it consistently delivers in the space battles and the character designs from Yoshida that are reminiscent of the classic Gundam designs while looking just contemporary enough to let you know you are watching a new series, but the storytelling is just too messy.
The story arc for Reconguista in G, if it even has one that can be followed, is so messy, I'm afraid that anyone being dropped into this series or franchise from this series alone or even watching a couple of other entries in the franchise and then seeing this one will be lost, straight through to the end. There are far too many subplots, plot twists, and characters to follow over the course of its 26-episodes with little explanation. Why is everything a "taboo"? Why is everyone so afraid to have a battle in front of "his holiness" the Pope-like" figure who seems to have an inordinate amount of sway over these warring factions? Why are so many of these warring factions so willing to align with each other and/or against each other at differing times over the course of the series? What are these power cells they keep talking about?
I can really only give this series high marks for the graphics and the likability of the two main characters, Bellri and Aida Surugan, who end up being more connected than they first realize. That said, there are too many "whys" and not enough "hows" or "becauses" if that's a word, in this rather chaotically written series. Perhaps on some level it does reflect the real world we live in and the growing chaos around us, but it doesn't make for good storytelling, in my opinion.
The Video
The digital animation for Gundam Reconguista in G is supplied on Blu-ray in a 1.78:1 AVC 1080p encodement by Sunrise and RightStuf. It looks generally pleasing although there are some minor issues with the image. The line art looks just a little rough, although that seems to be inherent to the source and original character designs, not the transfer. There is also some slight banding that appears here and there and just a hint of video noise that pops up in some of the outer space battle sequences that often tilts just a tad into posterization. Apart from that, there's good detail and colors.
The Audio
The sole audio track is the original Japanese-language mix in DTS-HD Master Audio 2.0 stereo supplied with English or French subtitles. Sorry dub fans. The sound mix is excellent and so is the cast. We get good dynamics and stereo effects and superb voice acting all around. The subtitles are good without many errors that I happened to spot and my admittedly limited understanding of Japanese told me they were pretty accurate as well.
The Supplements
We don't get much here at all with this release, just the clean opening and closings and the promo video.
Clean Opening
Clean Ending
Promotional Video (1.78:1; 1080p/24; 00:03:49)
The Final Assessment
A messy-action fueled series that celebrates the world of Gundam, Reconguista in G has the look and the hook, but you will be lost almost immediately in the vertiginous storytelling.
Gundam Reconguista in G (TheaterByte Blu-ray Review)
Japanese DTS-HD MA 2.0 Stereo
Audio
English | French
Subtitles
Summary
A disappointing mix of fantastic action, beautiful character designs and confusing storytelling, Gundam Reconguista in G may only appeal to the very hardest of hardcore Gundam franchise fans.
What people say... Login to rate
Be the first to leave a review.
Show more