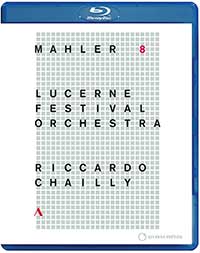 The Lucerne Festival's beloved director, Claudio Abbado, died before he could complete his Mahler symphonic cycle with a performance of Mahler Symphony No. 8. Swiss conductor Riccardo Chailly readily picked up the baton as the new Festival director in 2016 and his first official act was to program this titanic work, also known as the "Symphony of a Thousand," that features one of the largest groups of singers and instrumentalists ever placed in a concert hall. Maestro Chailly has considerable experience in this repertory and led this work in a Blu-ray recording of the 2011 Leipzig Mahler Festival season.
The Mahler 8 includes eight soloists and four choruses as it forges its unforgettable 90-minute musical experience. Of the eight vocal soloists, only soprano Ricarda Merbeth is carried over from the Leipzig ensemble with the remaining singers being sopranos Juliana Banse and Anna Lucia Richter, mezzo-sopranos Sara Mingardo and Mihoko Fujimura, tenor Andreas Schrager, baritone Peter Mattei, and bass Samuel Youn. The four choruses are the Bayerischen Runkfunks Chor, Latvian Radio Choir, Orfeon Donostiarra, and Tolzer Knabenchor.
The symphony has two movements: a 9th-century liturgical hymn ("Veni Creator") and the final scene of Goethe's Faust, Part II. Goethe himself forged the connection between these seemingly disparate works as he felt that both dealt with the essential theme of his play–redemption through love.
On this opening night of the 2016 Lucerne Festival, the audience could sense the hovering spirit of maestro Abbado, a close friend of Chailly, who would have been proud of his successor's management of one of the biggest scores in the symphonic repertory. Chailly continually exposed the details of this musically dense score, allowing the individual voices to be clearly heard. The assembled choruses covered themselves in glory and, from top to bottom, the soloists, well versed in the Mahler vocal idiom, made equally outstanding contributions. As the overwhelming final chords diminished, maestro Chailly closed his eyes, a fitting moment of silence followed, and then thunderous applause acknowledged a musical experience of a lifetime.
The Video
The Mahler 8 is a tricky work to record since so much is happening on stage throughout its entire length. Ute Feudel worked out the camera angles, balances between close up and distant shots, and the video editors provide a demonstration-quality range of colors and very natural details that works well for this classical music concert disc.
The Audio
Thanks to maestro Chailly the audio engineers are presented with a musical tapestry rich in its frequent wall of sound effects yet with quite distinct instrumental and vocal details. The Lucerne Festival Hall has wonderful acoustics for orchestral classical music and the DTS-HD Master Audio 5.1 soundtrack succeeds in recreating them to perfection.
The Supplements
Accentus provides a multi-language program booklet with production credits and track listings. The soloists are not listed individually, except in a general roster, on the back of the box. A lengthy background essay on the symphony by Julia Spinola is also included along with some tiny performance photos.
The Final Assessment
This new classical music concert release would seem to have a conductor competing with himself, but that is far from the case here. Over the five years that separate the Leipzig and Lucerne performances, maestro Chailly has deepened his view of this profound work and leads his Swiss forces with even greater attention to its inner detail and profound emotional core. The present vocal ensemble is stronger than its predecessor (of course soprano Merbeth is terrific on both occasions). As good as the early Blu-ray's production values were, this new one is better in both sight and sound. I do not think that the Mahler Symphony No. 8 will likely receive a better rendition any time soon. Recommended at the highest level.
[amazon_auto_links id="103230"]
Accentus
Studios & Distributors
$39.99
MSRP
DTS-HD MA 5.1 (48kHz/24-bit)
Audio
English | French | German | Latin | Japanese | Korean | Chinese
Subtitles
LPCM 2.0 Stereo (48kHz/24-bit)
Secondary Audio
Summary
An overwhelming musical and life experience of a titanic choral symphony that is impeccably performed and recorded and sets a new high-definition standard for this work.
What people say... Login to rate
Be the first to leave a review.
Show more