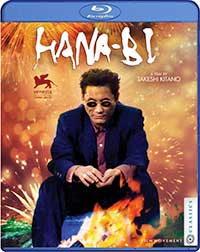 Director and actor Takeshi "Beat" Kitano's 1997 film Hana-bi (Fireworks) is one of the outstanding films to come out of the decade – a decade that saw such great films such as Metropolitan (1990), Naked (1993), Pulp Fiction (1994), and Ghost in the Shell (1995). Film Movement reissues a digitally remastered version of this 1997 classic now on Blu-ray.
In Hana-bi, Kitano plays troubled former police detective Yoshitaka Nishi whose life has been beset by tragedy and he takes extraordinary steps to try to set things right. His wife (Kayoko Kishimoto) is at home dying from leukemia, his daughter has been murdered, and his partner Horibe (Ren Osugi), was left paralyzed and wheelchair bound after being attacked by a gang of thugs when Yoshitaka left him to go visit his wife in the hospital. Yoshitaka feels responsible for his partner's misfortune, grief over the loss of his daughter, and a great sorrow and burden over the impending death of his wife. Nishi make a drastic decision to borrow money from the yakuza so he can spend more time with his wife during her last days. He spends his days as a painter and devises a plan to rob a bank, using his old police uniform and a repainted taxi made to look like a patrol car. He uses the stolen loot to take his ailing wife on one final road trip, but the yakuza don't take kindly to people who don't pay back their debts and they come looking for him.
Hana-bi is a film that balances itself between a classic yakuza film and borrows elements from early chanbara (samurai cinema) in the dark psychological elements intrinsic Japanese-ness of it all. Rather than explosive violence (though there is some of that), the violence in Hana-bi is subdued, bubbling under the surface most the time. The protagonist Nishi is often either unleashing his fury or holding back a torrent violence intermingling with deep sorrow and regrets. Kitano inserts some of his own artwork into the film – which, on a side note takes its name from one scene where Nishi and his wife view a fireworks display — and that contributes to the visual beauty and symbolism of the film.
Hana-bi was lavished with critical praise and garnered multiple international film awards, including the coveted Golden Lion for Best Film at the Venice Film Festival (1997) and Best Film, Best Actor, Best Actress, Best Supporting Actor, Best Director, and Best Music Score at the Awards of the Japanese Academy (1999).
The Video
Hana-Bi comes to Blu-ray in a new digital restoration from Film Movement in an AVC 1080p encodement framed at 1.85:1. The 1997 film was original shot on 35mm film and it maintains an organic, filmic appearance with a thin layer of grain. Some shots look a little soft due to the production, but there are no compression issues or motion artifacts.
The Audio
Film Movement provides a Japanese LPCM 2.0 stereo mix with clean, intelligible dialogue and a reasonable amount of breathing room and clarity is offered up on this Blu-ray.
The Supplements
There is a small, but informative compliment of special features and extras included with Hana-bi from Film Movement including the in-depth audio commentary from David Fear that really breaks down a lot of the film's symbolism and ties into classic Japanese cinema as well as a very well written essay.
Commentary by David Fear
Making of Hana-bi
Booklet with credits, production stills, and an essay on the film by Jasper Sharp.
The Final Assessment
Hana-bi flew under my radar in the 1990s, and I'm afraid for many people in the West, that may be the case still, even for people such as myself who are big into Asian cinema. This one is a must see and Film Movement have done a splendid job remastering this artful, evocative, '90s Japanese classic.
Hana-bi is available on Blu-ray and DVD from Film Movement September 19, 2017.
[amazon_auto_links id="105234"]
Bandai Visual Company | TV Tokyo | Tokyo FM | Office Kitano | Film Movement
Studios & Distributors
$39.95
MSRP
19 Sept. 2017
Release Date
Japanese LPCM 2.0 Stereo
Audio
Summary
Takeshi "Beat" Kitano is a an ex-cop trying to finance the final days with his wife on borrowed money from a yakuza loan shark and a bank robbery in this visually splendid and often visceral Golden Lion winner from 1997.
What people say... Login to rate
Be the first to leave a review.
Show more