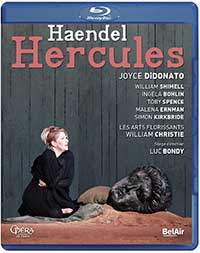 The new millennium has seen a substantial revival of ancient music and no better place to start than with this 2004 Opera National de Paris revival of George Frideric Handel's Hercules. This  production was particularly anticipated as it was to be directed by the Swiss opera/stage director Luc Bondy.
As a backstory, Hercules has already completed his twelve labors,  massacred an entire city and killed his his two sons. When the curtain rises, Dejanira (Joyce Didonato) mourns the apparent loss of her husband Hercules (William Shimell). Her faint hopes for his return are bolstered by son Hyllus (Toby Spence) and an optimistic message from her faithful servant Lichas (Malena Ernman). But all is not well when a bloodied Hercules comes home with a foreign beauty, Iole (Ingela Bohlin) in tow. Young Hyllus is smitten by Iole who, in turn, still holds a grudge against Hercules for murdering her father.
Dejanira believes her husband to be unfaithful, after all, Iole has entered wearing Hercules' battle jacket. The spurned wife sets in motion events that involve her son and the captive princess. At a public ceremony, Dejanira makes efforts to restore the bedrock of her marriage and sends a blood-soaked tunic to her husband. However, the garment is poisoned and kills Hercules. To resolve the apparent palace conflict, Jove intervenes and sets the future course of the kingdom when he blesses the union of Iole and Hyllus.
A Blu-ray premiere of one of Handel's many operas, we get a stunner in vocal casting and conducting by Baroque era expert William Christie and his personal orchestra Les Arts Florissant. Director Bondy is unpredictable and, in this case, we get modern dress and Richard Peduzzi's essentially bare stage, populated by a broken statue. Joyce Di Donato occupies  the pinnacle of the mezzo-soprano world and turns in a deeply felt recreation of Hercules's long-suffering spouse. English baritone William Shimell is an able partner and the couple's intense interplay underscores the inherent conflict between conjugal fidelity and raw sexual desire. The supporting roles of Hyllus, Iole, and Lichas are superbly handled.
The Video

This 10-year old video has excellent colors and rendition of details that compensate for the rather drab nature of the stage. Video director Vincent Bataillon seems to have his cameras always in the right place and at the right time whether it be closeup shots or stage panoramas.
The Audio
The smallish orchestra supports the voices on stage quite well. The surround channels are pretty quiet in this one and the two-channel version sounds pretty similar.
The Supplements
BelAir Classiques provides a booklet with cast and production credits, a track listing, plot synopsis and very informative extracts from an interview with director Bondy.
The Final Assessment
Handel has taken the essence of Sophocles' drama and Ovid's Metamorphoses and created a novel retelling of the Hercules legend that focuses on marital discord and jealousy and not on superhuman feats. This is the only Blu-ray version available and, given how infrequently this opera is performed, it will likely hold pride of place for some time. Bare stage aside, Luc Bondy lets his singers have their own way without the kind of gratuitous stage business that marred his Metropolitan Opera production of Puccini's Tosca. A highly recommended disc.
Handel: Hercules [Les Arts Florissants/Christie] (TheaterByte Blu-ray Review)
Not Rated
Rating Certificate
Bel Air Classiques
Studios & Distributors
George Frideric Handel
Writer
29 April 2016
Release Date
Summary
This Les Arts Florissants performance of Luc Bondy's staging is a highly recommended Blu-ray premiere of the rarely performed Handel opera Hercules.
What people say... Login to rate
Be the first to leave a review.
Show more