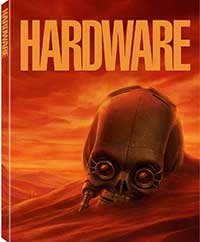 Hardware is set in a dystopian near future that has been ravaged by wars and conflict. The remnants of society live in enclosed communities spread far from each other. Deserts are vast and guarantee death by marauders or the elements. Mo (Dylan McDermott) is on leave from combat and picks up some wreckage he has just bought from a nomadic "Zone Tripper." It looks to be the remnants of some sort of android robot. It's blown to bits, so it's non-functional.
Mo gifts the wreckage to his beautiful girlfriend, Jill (Stacey Travis). She's a metal sculptor and decides that she will complete her most ambitious piece with the remnants of the robot. What Mo and Jill don't know is that the wreckage is that of a battle war droid called M.A.R.K. 13. What that acronym actually stands for is classified but there is a bible passage that is linked to it: No flesh shall be spared.
As Jill and Mo carry on, the M.A.R.K. 13 reactivates itself from its slumber and begins to reassemble from the fragments of his own shattered chassis and other objects in Jill's studio. The M.A.R.K. 13 is equipped with a variety of bladed instruments and various modes of night vision and microwave imagery. It also has a bio-weapon that consists of psychedelic drugs and a lethal combination of morphine. It shoots the victim up before leaving it there to die or right before it rips it to pieces. Hardware turns into a story of survival because no one is safe as it invades the community that Mo and Jill live in. It's an almost smaller version of a one of those "mega blocks" in the Dredd film.
Thinking back to when Hardware was first released. I only had access to a crummy VHS tape that had lots of tracking issues, which made it difficult for me to understand let alone get through. I have no memory if this was ever released on DVD, but my first foray into an upgraded edition was that of the 2009 UK import Blu-ray, which I quickly snagged up. It looked and sounded great and had a nice collector's book included. Somehow, I missed the most recent release of the 25th Anniversary edition from Severin that had even more supplements and a better transfer than the 2009 edition. You'll imagine my surprise when I stumbled on to the product page over at the Ronin Flix website that had this brand-new (sourced from a 4K transfer) version — I had to snag it sight unseen. I'm so glad I did because it has exceeded my expectations in every way. Not to mention that supplies are limited and it will most likely go out of print in the near future.
Basking in the nostalgia of the film — I thought it was an okay piece of science fiction when it was first released, but nothing special. Now that my film sensibilities have broadened in my "old age" I can really appreciate Hardware in all of its sun-baked glory. I don't want to come off as a fanboy of the film, but I'd go so far as to say that this film is one of the best films to come out of the 1990s. In fact, it leaped out of the starting gate in 1990 — Terminator 2 would come out the following year and so forth. Hardware led the way, however, with a great big bang.
The Video
The film is presented in AVC 1080p that has been restored from a 4K scan of the original negative. Now, I do declare that this is the best Hardware has ever looked on home video. Outside of a true 4K or remastered 35mm print, it will not get any better. There is a fine grain structure that is kept intact all the way through. Contrast levels are consistent and sharpness levels are not tweaked about. Black levels are steady and crush was never a problem. The opening sequence is a true revelation – you can feel the heat pulsating as the Nomad makes his way across the terrain. Flesh tones look terrific as does the overall color palette. Banding was never an issue and the M.A.R.K. 13's airbrushed visage looks stellar. The high-definition image on this brand-new release of an old classic left me speechless. Hardware has always deserved better and I am happy to say that the Blu-ray Gods have answered the call thanks to Ronin Flix. In terms of context – this new remastered picture is reference quality.
The Audio
Hardware is presented DTS-HD Master Audio 5.1 and DTS-HD Master Audio 2.0. This Ronin Flix release marks the first time in the film's home media release where a full lossless 5.1 audio track is provided. English subtitles are also included. I have a previous 2009 UK import edition of Hardware and I totally missed the 25th anniversary edition from Severin but I can honestly say that the 5.1 lossless audio track breathes new life to the scorched earth depicted in the film. There is new depth to be found on this release. Dialogue levels are nice and balanced – accents and all, one can hear what is being said clearly. The surround channels handle the ambient sounds perfectly along with the action that may whiz by. There is a lot of close-quarters combat and the sound-field goes crazy during these scenes. I did not pick out any distortion or anomalies that were not intended to be part of the soundtrack. Considering the dated source, this remastered lossless track is near-reference.
The Supplements
The main draw to this brand new special release of Hardware from Ronin Flix is the 4K restoration from the original negative source, and for the first time, in any edition, a full DTS-HD Master Audio 5.1 lossless soundtrack. On that alone, it's worthy of price alone. A brand new 40-minute interview with writer/director Richard Stanley is also included. For those that get in early on this release — A limited edition slipcover and VHS Box style magnet is also included. I should also point out that most of the newer interviews and supplements are in high-definition unless otherwise noted. So many supplements, so little time!
DISC 1:
New 4K scan of the original negative, New 5.1 Surround DTS-HD Master Audio & Stereo DTS-HD Master Audio
Audio Commentary with writer/director Richard Stanley
Deleted and Extended Scenes
DISC 2:
New Interview with writer/director Richard Stanley
Interview with Iggy Pop
No Flesh Shall Be Spared — The Making of Hardware,
3 Richard Stanley Shorts: Incidents in an Expanding Universe – Early Super 8 version of the film, The Sea of Perdition, and Rites of Passage
Richard Stanley on Hardware 2
Vintage Promo Videos featuring Iggy Pop and Lemmy
Theatrical Trailer (English & German)
Blu-ray includes a Limited Edition Slipcover and VHS Box Style Magnet while supplies last
The Final Assessment
This film has flourishes of steampunk sensibilities with a dash of nihilism. The future depicted in the film is not a pleasant one and its inhabitants have to scrape by with what they have. The M.A.R.K. 13 is a killing machine that serves as a prophetic anthem to the times yet its true purpose is never revealed. Ronin Flix has produced a spectacular Blu-ray package. The video, audio, and special features are top-notch and I am glad I was able to snag a copy before this edition sells out. Be warned: supplies are limited!
Hardware is out June 28, 2018 in a limited edition Blu-ray Combo Pack exclusively from Ronin Flix
Miramax | Ronin Flix
Studios & Distributors
Steve MacManus (story "SHOK!") | Kevin O'Neill (story "SHOK!") | Richard Stanley (written by) | Michael Fallon (additional dialogue)
Writer
DTS-HD MA 5.1 | DTS-HD MA 2.0
Audio
Summary
Part B-horror and part sci-fi thriller, this early '90s cult classic starring a young Dylan McDermott follows the story of a space marine who battles a reanimated cyborg. The film features performances from rockers Iggy Pop and Lemmy. Hindsight is 20/20 and after watching this film in different versions and various formats for the last 25 years or so, outside of an actual 4K release, this is the definitive version of Hardware out there. Ronin Flix has done an incredible job with the video, audio, and supplemental features for this reissue. Hardware is highly recommended and it's one of the best Blu-rays of 2018!
What people say... Login to rate
Be the first to leave a review.
Show more