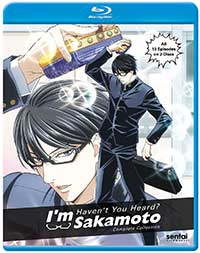 Haven't You Heard? I'm Sakamoto is based on a Japanese manga series written and illustrated by Sano Nami. The anime series, which hails from 2016, was done by Studio Deen, and is a slice of life, high school based series that revolves around the titular character Sakamoto, a mysterious, male high school student who transfers into his new school and becomes the most popular male student amongst the girls because of his incredibly cool persona and his seeming ability to do whatever he sets his mind to perfectly. In the beginning of the series, some of the male students who hate this guy because the girls all love him and think he's so cool steal his chair from the classroom try to humiliate him and catch him off guard, instead, a girl asks him to sit next to her, but Sakamoto decides to just sit on the windowsill, and ends up looking like some cool male model. In fact, those guys that are out to get Sakamoto end up being converted into Sakamoto fans, developing guy-crushes on him after he saves them from a fire.
Haven't You Heard? I'm Sakamoto pretty much continues on that plain with Sakamoto being "too cool for school" and doing no wrong, which makes it a strange series. The character, who remains oblivious o his coolness and to people's reactions to him, becomes a bit unbearable.  You will either love or hate this series, because it doesn't really have much of a story arc and Sakamoto can become a bit obnoxious – that obnoxiousness really comes through in the English dub even more, which is well suited to the character, so kudos. There's an OVA that plays up the mysterious background of the character and perhaps calls into question what we thought we knew about Sakamoto, but it isn't really enough to make up for an entire season of what stays on an even plain.
As for the animation, Haven't You Heard? I'm Sakamoto looks like a sleek, well done series with superb character design. The protagonist has a fitting, distinguished, angular design that sets him apart somewhat from the other characters around him. The artwork is solid as well, with good background details.
The Video
Haven't You Heard? I'm Sakamoto arrives on Blu-ray in a AVC 1080p encodement famed at 1.78:1. The image is clean and detailed with very little to no aliasing or color banding and no noise. Colors are vibrant without being oversaturated.
The Audio
The original Japanese-language mix and the English dub are provided in DTS-HD Master Audio 2.0 stereo for Haven't You Heard? I'm Sakamoto. The sound quality is good for a school comedy series providing a reasonable amount of dynamics and stereo imaging with clean dialogue reproduction for both mixes. The dub is up to snuff as well since I would have to say that Houston Hayes, who voices Sakamoto, comes across quite obnoxiously and it fits with this character.
The Supplements
Compared to the premium edition that we unboxed, it's slender pickings for the special features with this Haven't You Heard? I'm Sakamoto complete collection. We just get the clean opening and closing animations, Japanese promos and Sentai Filmworks trailers – not even a booklet or art cards.
The Final Assessment
Haven't You Heard? I'm Sakamoto is an amusing melding of James Bond and high school slice of life anime paradigms. Though its setup wears a little thin after a while, some may find the coolness factor of Sakamoto appealing enough. This Complete Collection is a barebones set that pales next to the hyper-swag Premium Edition.
Haven't You Heard? I'm Sakamoto [Complete Collection] is out now from Sentai Filmworks
[amazon_auto_links id="107990"] [a[amazon_auto_links id="106996"]!--RWP Review-->
Studio Deen
Animation Studio
Sentai Filmworks
Distributor
Japanese DTS-HD MA 2.0 Stereo
Audio
English DTS-HD MA 2.0 Stereo
Secondary Audio
Summary
High school student Sakamoto is like the James Bond of his school -- handsome, talented at everything he does, all the girls love him, and all the guys hate him -- but he doesn't even notice. This slice of life high school comedy series may be an amusing mix of over-the-top situations for some, but some may just find the protagonist too unbelievable, one-dimensional and obnoxious. This complete collection set looks and sounds great, but is really barebones next to the
Premium Edition
.
What people say... Login to rate
Be the first to leave a review.
Show more