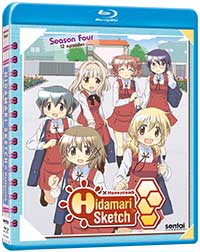 Hidamari Sketch is one of my favorite slice of life anime series. I always look forward to checking in on the lives of the girls at Hidamari Apartments whenever I get another Blu-ray in for review. Hidamari Sketch x Honeycomb, the fourth season in the franchise, dates from 2012, and unlike some of the earlier seasons, has its episodes set in chronological order. Our protagonist Yuna is growing and now beginning to think about life at Hidamari after her seniors Sae and Hiro graduate. The season offers up a couple of episodes in which Sae and Hiro go away on a class trip leaving Yuna and Miyako behind. Yuna finds herself fretting over how she can be a good example of a senior to the younger art students at the Hidamari Apartments — Nazuna and Nori – just like Sae and Hiro were to her. Likewise, Hiro and Sae have their own moments of reflection in this season of what life will be like once they graduate from Yamabuki Arts School. Of course, the season isn't all serious, this is Hidamari Sketch, after all. There is plenty of time for he girls to goof off, have art competitions, swimming competitions, and lapse into general aimlessness. As usual, the artwork is inventive and the comedy always amusing and heartfelt. Honeycomb, given its tight chronological order, may have one of the strongest story arcs of the Hidamari Sketch franchise, which is fitting given the coming of age themes the season is dealing with.
The Video
The series comes to Blu-ray in an AVC 1080p encodement that looks about as good as it gets. The alternating 2.35:1 and 1.78:1 framing and color palette of the series, which often looks like watercolors or pencil sketches, looks crisp and beautiful with little to no digital anomalies like color banding or stairstepping. Colors are vibrant without oversaturation.
The Audio
Hidamari Sketch x Honeycomb gets its traditional Japanese stereo mix in DTS-HD Master Audio 2.0. Given that this is a slice of life comedy, there isn't much to stand out aurally, but the sound is good nonetheless like the pitter-patter of footsteps that is a common go-to sound effect. The quaint musical soundtrack comes through with good balance and, of course, the excellent voice cast is presented clearly as well.
The Supplements
Only the clean opening and closing and Sentai Filmworks trailers are offered up on this barebones release.
The Final Assessment
Hidamari Sketch grows up just a bit in x Honeycomb, but still keeps the atmosphere light, fun, and heartfelt, with wonderfully inventive artwork and character animation. The collection is barebones, but it is well worth owning for fans of the franchise.
[amazon_auto_links id="103050"]
Sentai Filmworks
Distributor
Ooshima Miku | Hasegawa Nahoko
Writer
$59.98
MSRP
2.35:1/1.78:1
Aspect Ratio
Japanese DTS-HD MA 2.0 Stereo
Audio
Summary
Hidamari Sketch x Honeycomb sees its characters growing up a bit and thinking about life after high school -- but that doesn't mean they don't have time for fun. The artwork remains inventive and the comedy amusing in this heartfelt slice of life franchise.
What people say... Login to rate
Be the first to leave a review.
Show more