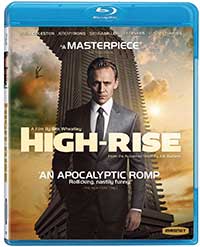 An opening scene set three months after the main body of the film's narrative reveals a disheveled Dr. Robert Laing (Tom Hiddleston) sitting on his balcony and roasting a dog's leg on a spit while his swanky high-rise tower's interior has been rendered  unrecognizable.
High-Rise provides a discomfiting view of a dystopian society ensconced in a luxury skyscraper where social status is measured by the level of one's apartment and material wealth. Dr. Laing is a physiologist who lectures at a local medical university and, still mourning his dead sister, he has just moved into an upper story apartment. Laing begins as the film's narrator, a role that is later completely abandoned. The building itself is a self-sufficient world designed to meet its residents' personal needs with all manner of creature comforts, ranging from a spa to a full service commissary.
At a welcome cocktail party, Laing meets Charlotte Melville (Sienna Miller), a seductive single mother, who lives one floor above him and eventually enjoys a steamy sexual encounter with the good doctor. Other neighbors include lower-floor residents, unemployed philandering documentary filmmaker Richard Wilder (Luke Evans) and his clueless pregnant wife Helen (Elisabeth Moss), snarky gynecologist Dr. Pangbourne (James Purefoy), narcissistic actress Ann Sheridan (Keeley Hawes), and obsessive videographer Mr. Cosgrove (Peter Fernandino). The posh penthouse belongs to the God-like white-clad architect and social engineer Mr. Anthony Royal (Jeremy Irons), and his eccentric wife Jane (Sienna Guillory).
A "crack" in the social foundation begins to appear as intermittent power outages in the lower floors (and eventually the upper ones)  accompany parties thrown by the elite residents. As the electrical failures increase, the rules that govern the social order start to break down (think : Lord of the Flies meets Animal Farm meets Brave New World). For reasons never quite made clear, the high-rise dwellers gradually stop leaving the building and going to work. The upper story residents throw wild orgies, and violent conflicts regularly break out between them and the less fortunate lower story renters. The disintegration of the building's law and order is reflected in Dr. Laing's deteriorating grip on reality as he starts covering his walls and himself in blue paint.
Director Ben Wheatley (Kill List, Sightseers) has already made some dark thrillers but this adaptation of J.G. Ballard's novel with a script by Amy Jump (Kill List) becomes more a study in cinematic style than in thematic substance. The film's allegorical aspects are delivered heavy-handedly, as Laurie Rose's (Peaky Blinders) cinematography and the storyline itself become increasingly disjointed over time.  The pace never seems to gain momentum and, while much of the script's dark humor does get its points across, High-Rise plays much longer than its two-hour running time.
The Video
For the most part, the detail and colors are reasonably good but some of the indoor scenes that comprise most of this film have washout and loss of focus. The use of 1970s background elements such as cars, costumes, and drinks does bring us appropriately into the era of the original novel. The graphic violence (and there is plenty of it) depicted throughout the film's second half ranges from outrageous to just plain disgusting.
The Audio
There is surprisingly little ambience or special effects in the surround soundtrack. Clint Mansell's (Black Swan) score orchestrated and conducted by Matt Dunkle is alternately edgy and ominous, and, peppered with occasional pop songs, it receives full-bodied reproduction. Dialogue is very clearly reproduced.
The Supplements
Several extras are provided:
Commentaries by Hiddleston, director Ben Wheatley, and producer Jeremy Thomas.
Building The World Of High-Rise: '70s style (9:02) (English Dolby Digital Stereo 48kHz/16-bit): the director describes his approach to bringing a 40-year old novel to life with contributions from other production crewmembers.
Heady Special Effects (3:36) (English Dolby Digital Stereo 48kHz/16-bit): Some of the head models that Laing dissected are shown.
Breaking Down High-Rise & Its Tenants (14:50) (English Dolby Digital Stereo 48kHz/16-bit): Cast members Hiddleston, Moss, Irons, Hawes, Miller, Purefoy, Guillory, and Evans explain the characters that they portray in the film.
Bringing Ballard To The Big Screen (3:58) (English Dolby Digital Stereo 48kHz/16-bit): Several of the above cast and the director share their thoughts on the film adaptation.
Theatrical Trailer
The Final Assessment
High-Rise is a film with an intriguing plot premise and a cast with substantial star power that never reaches its full potential.  Tom Hiddleston's portrayal of a basically decent man whose mental bearings go off course, abetted by his surreal surrounding, is the principal reason for watching this one.
High-Rise (TheaterByte Blu-ray Review)
R (Violence, Disturbing Images, Strong Sexual Content, Nudity, Language, Drug Use)
Rating Certificate
Magnolia Home Entertainment
Studios & Distributors
$26.98
MSRP
2 August 2016
Release Date
English SDH | Spanish
Subtitles
Summary
A 1970s dystopian social allegory that has plenty of violence mixed in with its dark humor but does not quite make the most of its interesting plot premise.
What people say... Login to rate
Be the first to leave a review.
Show more