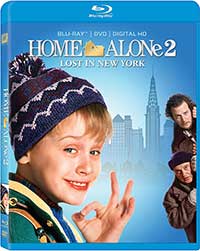 In 1992, writer John Hughes (Sixteen Candles, The Breakfast Club) and director Chris Columbus (Harry Potter and the Sorcerer's Stone) teamed up again for this sequel to their 1990 holiday blockbuster. Home Alone 2: Lost in New York reunited the cast of the first film including bringing back a now slightly older Macaulay Culkin as the bratty and mischievous but lovable Kevin McCallister whose family once again forget him in a similar fashion to the first movie as they all head off on a Christmas vacation in Florida.
Separated from his family at the airport, Kevin ends up on a flight to New York City where, conveniently left holding an envelope full of cash from his mother Kate (Catherine O'Hara) and his father Peter's (John Heard) wallet full of credit cards, he checks in to the luxury hotel The Plaza, happy to be free from the family that never believes him over his bullying big brother Buzz (Devin Ratray). Mischief and hijinks ensue as The Plaza concierge tries to prove Kevin is credit card thief and the two burglars from the first movie (Joe Pesci, Daniel Stern), freshly broken out of prison during a riot, serendipitously cross paths with Kevin and try to get their revenge.
As a holiday film there's nothing really wrong with Home Alone 2 – it's witty, it's tongue in cheek, and it hits all the cheesy notes of a Christmas movie one expects, from a kid having fun in a toy store to the moments where Kevin realizes that maybe he really does love his family more than he thought. The problem with this sequel is, we've seen this all before and better, in Home Alone. The goofy slapstick comedy of Pesci and Stern as the perennially incompetent criminals outdone by an adolescent, the getting slimed, the being tripped up by marbles – there's no originality whatsoever in this carbon copy sequel. From the opening act where Kevin's parents realize they've lost him while sitting on the plane, we know this is déjà vu.
That said, Columbus makes Home Alone 2 look beautiful. One can see that this has been stepped up over the first film. It is dripping with Christmas colors and the lavish look of New York at Christmastime, from the shop windows to the multicolored skyscrapers lit up in Christmas colors. This one may suffice in a pinch or during a Home Alone mini-marathon, but it's probably best to stick with the first.
There was a third film, Home Alone 3 (1997) with a different cast of characters and a different director, also written by John Hughes, which was not successful.
The Video
Home Alone 2 arrives on Blu-ray in a gorgeous AVC 1080p encodement framed at 1.85:1 from Fox. Originally shot on 35mm on Panavision Panaflex cameras, this 1992 probably looks just as good as it did when it first hit theaters. There is hardly any visible source damage and film softness seems slight if present at all, but despite being nicely cleaned up, the film grain is still present and detail is sharp. Color are vibrant,, which really shows in the nighttime scenes in Manhattan of the skyline, the famous tree and in the toys tore. Flesh tones look accurate enough, but maybe have the slightest hint of red push and there are every so often hints of crush in shadows, but nothing too severe.
The Audio
Home Alone 2 comes with a fine, spruced up lossless DTS-HD Master Audio 5.1 mix on this Blu-ray release as well as the original Dolby Surround track. The 5.1 is not an in your face, discrete mix, but the surround channels carry a good amount of atmospherics and it comes alive when Kevin enters the toy story where one can here lots of buzzing and whirring of toys coming from all around, but subtly, nothing is ever too loud. The orchestral musical score and Christmas songs are blended in nicely and have an excellent amount of headroom, but don't get an excessive amount of dynamic range.
The Supplements
It really feels like a money grab when a 'new' reissue labeled an 'anniversary edition' comes with little more than a few trailers and the usual DVD and Digital HD as its included 'special features'. Adding to the insult here is two of the trailers included with Home Alone 2 aren't even for the film. One is for the original Home Alone, which is the only one that is in HD, and the other is for the laughably forgettable Home Alone 3.
DVD
Digital HD UltraViolet
Home Alone Theatrical Trailer (1.78:1; 1080p/24; 00:02:13)
Home Alone 2: Lost in New York Theatrical Trailer (1.33:1; SD; 00:01:09)
Home Alone 3 Theatrical Trailer (1.33:1; SD; 00:01:38)
The Final Assessment
A wholesome bit of holiday adventure that is not as successful as the original, but plays it safe and is safe for the family as a result. The film looks gorgeous and sounds good in this Blu-ray Edition.
Home Alone 2: Lost in New York 25th Anniversary Edition is out now on Blu-ray + DVD + Digital HD from 20th Century Fox Home Entertainment.
[amazon_auto_links id="106358"]
PG (for comic action and mild language)
Rating Certificate
Twentieth Century Fox | 20th Century Fox Home Entertainment
Studios & Distributors
$16.99
MSRP
English DTS-HD MA 5.1
Audio
English SDH | Spanish
Subtitles
English Dolby Surround | Spanish Stereo | French Dolby Surround
Secondary Audio
Summary
A year after being left home alone during his family's Christmas vacation and having to deal with a pair of bumbling burglars, Kevin (Macaulay Culkin) is left alone again and this time ends up in New York where he makes the most of his time by using his dad's credit cards to stay at The Plaza, play in toy stores, and sight see, but the burglars from before are on his trail in this wash, rinse, repeat, paint by numbers sequel that plays it safe all the way through.
What people say... Login to rate
Be the first to leave a review.
Show more