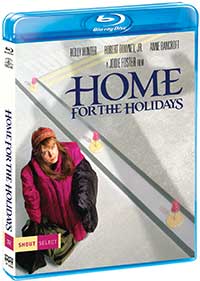 Home for the Holidays from 1995 was Jodie Foster's second directorial feature and only the first in which she didn't also star. The film feeds into the popular trope that — despite how much we may love our family, we don't always get along with them very well or even like them very much.
Holly Hunter plays Claudia Larson, a failed artist now working in a museum in Chicago restoring paintings who just before she sets off to see her family in Baltimore for the Thanksgiving – a trip she is dreading – gets the bad news that she's being fired from her job. To pile on the misery, Claudia is also coming down with a bad cold and her teenage daughter Kitt (Claire Danes), who is staying behind, tells her she is planning on losing her virginity with her boyfriend over the weekend. Claudia is close to her brother Tommy (Robert Downey Jr.) who is the life of the party, but his gayness goes unmentioned even if it is tolerated by the Larson parents Adele (Anne Bancroft) and Henry (Charles Durning). Tommy gets under the skin of their tightly wound sister Joanne (Cynthia Stevenson) and he and Joanne's husband Walter (Steve Guttenberg) really can't stand each other at all. Claudia and Tommy's new friend or possible new lover Leo Fish (Dylan McDermott) immediately get off on the wrong foot although there's an odd sexual tension between the two of them. The family get together is really brought to a head when the eccentric Aunt Glady (Geraldine Chaplin), Adele's sister, gets drunk during the Thanksgiving dinner at a table adorned with three different Thanksgiving turkeys and in her maudlin mood confesses to an unrequited love, long-burning passion, and a long ago kiss between herself and her sister's husband.
While Home for the Holidays does move along at a comfortable pace and certainly touches on all the expected bases of a conflict-filled yet ultimately saccharine holiday comedy, there isn't much originality to separate the film from the numerous productions in this well-worn genre of dysfunctional family holiday get-togethers. It's almost a routine, yet passable film thanks to the spot on performances of Holly Hunter, Anne Bancroft and Geraldine Chaplin. The sore spots in this are Robert Downey, Jr. whose energy level needed to be reined in by Foster a bit more and Dylan McDermott who might as well have been just a glass of warm milk for the amount of charisma he displayed in this film.
The Video
Home for the Holidays arrives on Blu-ray in a 1.85:1 framed AVC 1080p encodement from Shout Select. While it does look good given its age and still retains a filmic appearance that is relatively detailed, some frames show heightened source damage and lots of film softness. There is also a middling amount of brightness overall making it look a bit lacking in 'pop' even as the colors look natural.
The Audio
Home for the Holidays is listed as having both an English DTS-HD Master Audio 5.1 track and a DTS-HD Master Audio 2.0 track on both the packaging and the disc menu, but I could not for the life of me get the 5.1 mix to kick in no matter what I tried. There must be something wrong with the authoring on the disc I received from Shout! Factory for review purposes. That said, the stereo mix was good with wide panning, clean dialogue and lots of headroom for dynamics.
The Supplements
There isn't much included with this release of Home for the Holidays. The audio commentary with director Jodie Foster is pleasant to listen to as she has a very conversational style and often includes not only some trivia and details on why certain scenes were shot the way the were, but includes some personal tidbits as well.
Commentary by Director Jodie Foster
Theatrical Trailer (1.85:1; 1080p/24; 00:02:06)
Gallery (1080p; 00:07:18)
The Final Assessment
Home for the Holidays is a reasonable holiday film and a more than competent second effort by Jodie Foster behind the camera. The material she was working with may not have been the strongest, but as seasonal fare goes, this is a pleasurable film with a charming turn by Holly Hunter and the amazing Anne Bancroft.
Home for the Holidays is available on Blu-ray from Shout Select October 3, 2017.
[amazon_auto_links id="105430"]
PG-13 (for thematic material, language and brief drug use)
Rating Certificate
Paramount Pictures | Polygram Filmed Entertainment | Egg Pictures | Shout! Factory
Studios & Distributors
Chris Radant (short story) | W.D. Richter (screenplay)
Writer
English DTS-HD MA 5.1
Audio
English DTS-HD MA 2.0 Stereo
Secondary Audio
Summary
After losing her job as an art restorer a Chicago woman whose daughter just told her she plans on losing her virginity, must set off to Baltimore to face her dysfunctional family for Thanksgiving in this flawed holiday film with standout performances from Anne Bancroft and Holly Hunter. Actor Jodie Foster directed in what was only her second directorial feature.
What people say... Login to rate
Be the first to leave a review.
Show more