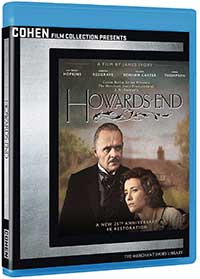 In this 1992 Ismail Merchant/James Ivory adaptation of E.M. Forster's 1910 novel, the famous filmmaking duo arguably reached the heights of their filmmaking partnership. Their small budget approach yielded no less of a lavish, high costume drama than any of their big budget counterparts and Forster's story of the rigid early 20th century English class distinctions plays out on the screen in heart wrenching and riveting fashion.
Setting things in motion is Helena Bonham Carter's upper-middle class Helen Schlegel who inadvertently picks up working class clark Leonard Bast's (Samuel West) umbrella when she leaves a conference on Beethoven's Fifth Symphony. Poor Leonard can hardly afford to lose his umbrella, a valuable possession on his meager salary, so he follows her back to her home where she lives with her older sister Margaret (Emma Thompson, who won a Best Actress Oscar for her role) and brother Tibby (Adrian Ross Magenty). The family takes a liking to Leonard and seeks to help him, which eventually, through a cruel twist of fate, will lead to tragedy for Leonard and disgrace for Helen. Meanwhile, Margaret had been getting friendly with the upper class Ruth Wilcox (Vanessa Redgrave), whose illness would take her shortly afterwards, but not before she scribbled a note with Margaret's name on it bequeathing to Margaret her prized possession, a country estate known as Howards End. Of course, her industrialist husband, the rigid Henry Wilcox (Anthony Hopkins) pays the note no mind and allows his daughter to simply throw it into the fire, but still, perhaps feeling lonely after his wife has passed, decides to pursue the affections of Margaret. Which leads to an eventual conversation between the Schlegel women and Henry about Leonard Bast's current employment in which Henry advises they tell him to give up is current position, and he does, only to eventually find himself hopelessly unemployed. Helen takes up Leonard's cause to try to help him and his wife, which doesn't sit well with the upper classes, especially Henry despite it being his fault and he now being set to wed Margaret. The increasingly complex web of events will eventually lead to Henry's disgrace as well.
As always in any Merchant/Ivory film, the two stars outside of the cast, are the dialogue and the sets. Here, Ruth Prawer Jhabvala (who won an Oscar for her screenplay) does a bang-up job bringing Forster's words to the screen, staying true to Forster's source while making it relatable to contemporary audiences. Luciana Arrighi's award-winning art direction transports us to the era and defies its tight budget.
The cast do excellent work with the material as well and help to drive home the story and the underlying social issues. Emma Thompson gives an outstanding performance that earned her a well-deserved award, treading the line between the reserved upper class and concern for the needy Leonard Bast. Anthony Hopkins' performance is surprisingly often overlooked, but his performance is absolutely brilliant for its control, often showing a simmering emotion being held just under his icy exterior. Meanwhile Helena Bonham Carter is fiery and passionate, just a bit out of control and in direct contrast to the tempered attitudes of the day, but here it works well and her portrayal is probably one of her best from the period.
The Video
For its 25th anniversary Howards End gets a beautiful new 4K restoration taken from its original 35mm Super 35 camera negatives and overseen by James Ivory and cinematographer Tony Pierce-Roberts. Merchant and Ivory were partial to filming on Fuji film stock, which generally speaking had a m ore reserved color palette, so the colors don't pop in this film, except when you get to the Leonard Bast daydream sequences in the fields of bluebells where they switched to Kodak film stock for a richer tonality, and there the colors do come alive. The detail in this new restoration is superb. It is extended far into the backgrounds, and offers up crisp textures in the clothing and lavish costumes and sets. The finely layered film grain is organic and filmic in ever sense. The transfer arrives on this new Blu-ray edition from Cohen in a 2.35:1 AVC 1080p encodement.
The Audio
Howards End comes with a lossless DTS-HD Master Audio 5.1 track, a lossy Dolby Digital 5.1 track and a LPCM 2.0 stereo track. The lossless 5.1 track sounds wonderfully atmospheric, balancing the lush orchestral score of Richard Robbins and the pastoral sounds of the English countryside with clear and full dialogue and a spacious spreading of sound. The dynamic range isn't staggering, but natural given the dialogue-driven nature of the film. The 2.0 track is obviously less encompassing, but would be more in line with what one would have heard in 1992 barring seeing the film in its 70mm projection run with the 6-track audio, which would be closer to, but not identical to today's 5.1 mix.
The Supplements
There is an interesting collection of supplements gathered together for this 25th anniversary release of Howards End, some new some not so new. The audio commentary from film critics Wade Major and Lael Lowenstein is an excellent one and the two offer up a lot of tidbits about the film's production as well as its divergence from the novel. The new 2016 interviews are a joy to see as well.
Feature length audio commentary by critics Wade Major and Lael Lowenstein
2016 conversation between James Ivory and Laurence Kardish, former senior curator of film, MOMA (1.78:1; 1080p/24; 00:26:43)
2016 interview with James Ivory and Vanessa Redgrave at the Cannes Film Festival (1.78:1; 1080p/24; 00:08:08)
2016 on-stage Q&A with James Ivory and critic Michael Koresky at Lincoln Center (1.78:1; 1080p/24; 00:27:17)
1992 behind-the-scenes short featurette with comments by cast and crew (1.33:1; upscaled 1080p/24; 00:04:32)
Building Howards End: Documentary featurette on the production history of the film (1.78:1; 1080p/24; 00:42:37)
The Design of Howards End: Luciana Arrighi and Jenny Beavan discuss their work on the film (1.78:1; 1080p/24; 00:08:58)
Short featurette: James Ivory remembers Ismail Merchant (1.78:1; 1080p/24; 00:12:11)
Original Theatrical Trailer (2.35:1; 1080p/24; 00:02:05)
2016 Re-Release Trailer (2.35:1; 1080p/24; 00:02:26)
A collector's booklet with a new essay from James Ivory; an essay on the film by John Pyn; notes from production designer Luciana Arrighi; plus production stills and credits.
The Final Assessment
In the Merchant/Ivory canon Howards End has always been one of my favorites and it remains so. This 4K restoration breathes new life into the lavish imagery and the performances and topics hold up still.
Howards End [25th Anniversary 4K Restoration] (TheaterByte Blu-ray Review)
PG (for mild language, violence and sensuality)
Rating Certificate
Merchant Ivory Productions | Sumitomo Corporation | Imagica | Cinema Ten | Japan Satellite Broadcasting (JBS) | Ide Productions | Film Four International | Cohen Media Group
Studios & Distributors
E.M. Forster (novel) | Ruth Prawer Jhabvala (screenplay)
Writer
$34.99
MSRP
English DTS-HD MA 5.1
Audio
English DD 5.1 | English LPCM 2.0 Stereo
Secondary Audio
Summary
It is the most faithful adaptation of E.M Forster's work and Merchat/Ivory worked their magic to bring it to the screen in a lavish, small budget production with a brilliant cast. This new 4K restoration is a must see for any fan.
What people say... Login to rate
Be the first to leave a review.
Show more