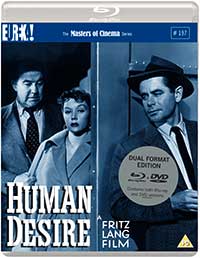 Fritz Lang's Hollywood period film-noir Human Desire, an uncredited remake of Jean Renoir's adaptation of Emile Zola's novel, is a sordid tale of adultery, domestic violence, and murder.
Carl Buckley (Broderick Crawford) needs his gorgeous wife Vicki (Gloria Grahame) to intercede on his behalf to keep his job. Vicki meets with Carl's boss Owens (Grandon Rhodes), and Carl's job is secured, but the three-hour meeting wherein Carl was uncertain of his wife's whereabouts with Owens begins to weigh on his jealousy-prone mind. After forcing Vicki to pen a note to Owens, Carl meets the two together on a train and in a jealous rage he kills Owens.
Meanwhile, Jeff Warren (Glenn Ford) is a Korean War veteran returned to his job as a train engineer. While off-duty on his shift, Jeff crosses paths with the seductive Vicki who uses her wiles to lure him away so both she and Carl can get away from the violent seen they've left behind on the train. However, Jeff and Vicki begin their own lurid affair, Carl, still overcome with jealousy, blackmails Vicki with the letter she wrote to Owens, and Jeff promises to protect her. Vicki's idea of protection may be a step too far for Jeff. She's eventually relents and goers back to Carl, leaving Jeff brokenhearted, but taunting Carl with her indiscretions. All culminates in tragedy.
Fritz Lang, who gave the cinematic world such masterpieces as Metropolis and M offers up only a competently pulpy film-noir in Human Desire that traffics in the baser human impulses. The performances, especially from Gloria Grahame who scintillates as the prototypical femme fatale, are a pleasure to watch unfold. Carl Buckley manages to illicit some sympathy from viewers even in the face of his boorish and abusive behavior – all too commonplace on the screen in the era, unfortunately.
Lang here still shows a command for the camera and some of gloom and shadows  that gave 1931's M its distinctive look thank to cinematographer  Fritz Arno Wagner, here Burnett Guffey's cinematography under Lang's direction seems more generic, even if pleasing, and the film on the whole is absent the symbiosis between visuals, sounds, and symbolism that Lang was so adept at and a master of which he made his name.
The Video
This Masters of Cinema series edition of Human Desire on Blu-ray arrives with a 1.85:1 AVC 1080p encodement that is pleasing if a little on the coarse side when it comes to grain. The dynamics are good, but I don't see the absolute stark black and white contrast notable in most film-noirs, the shadows remain more grayish and murkier than absolute inky and bleached white. Still, this is a satisfying master overall.
The Audio
The original monaural soundtrack for Human Desire is included on Blu-ray in LPCM 2.0. The sound is little boxy but ultimately satisfying and free from plenty of noise and crackle.
The Supplements
On-disc extras are slim, but the fantastic Tony Rayns video 'interview', which is really more of an extended commentary on the film is must-watch. A 40-page booklet with in-depth essays and rare archival images is also included.
Interview with Tony Rayns (1.78:1; 1080p; 00;29:18)
Theatrical Trailer (1.79:1; 1080p; 00:01:55)
40-page collector's booklet featuring new writing on the film by film historian Travis Crawford, critic and author Richard Combs, and writer Adam Batty. Alongside rare archival imagery.
The Final Assessment
As film-noirs go, Human Desire is a satisfying film that neither pushes the genre forward nor feels out-of-place in it. It is not one of Lang's greatest works, but it is a solid outing nonetheless with magnificent performances and plenty to whet the visual appetite. Eureka's Masters of Cinema series release presents the film in a pleasing HD transfer on Blu-ray Disc.
---
Columbia Pictures Corporation | Eureka Entertainment
Studios & Distributors
Alfred Hayes (screenplay) | Émile Zola (novel) (as Emile Zola)
Writer
English LPCM 2.0 Mono
Audio
Summary
A Korean War veteran (Glenn Ford) working as a railroad engineer meets and gets involved in an affair with the beautiful wife (Gloria Grahame) of his coworker (Broderick Crawford) after meeting her on the train where her husband just committed a murder in this pulpy 1954 film-noir outing from famed auteur Fritz Lang. Eureka Entertainment provides a pleasing HD transfer of this classic on Blu-ray in their Masters of Cinema series.
What people say... Login to rate
Be the first to leave a review.
Show more