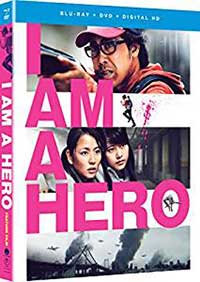 I Am a Hero is the latest zombie action film to hit Blu-ray in the overcrowded zombie-genre niche. The distinction being that this film is based on the serialized Japanese manga of the same name released back in 2009.
Suzuki Hideo (Ôizumi Yô ) is a sad sack of man who spends his days as an assistant manga artist. It's weird that they call him an assistant artist – he's an inker, and at least in the states, I think inkers make more money than a penciller, but not as much as the colorist. At least they used to – I'm not sure if that's still the case. Sorry, I used to want to draw comics for a living in my youth, so seeing some of this brought that back out. Continuing!
Hideo's life is mundane as he spends it tirelessly working at the dead-end manga gig, his relationship sucks, has no ambition, and he fantasizes about saving the world. Oh, and he has a trusty shotgun and permit for it.
Once a mysterious viral outbreak of unknown origin hits Japan and most of its cities, Hideo takes his shotgun and begins walking the Earth in search of safe shelter. The viral outbreak has caused the citizenry to turn into flesh-eating zombies. These zombies have limited cognitive abilities in that they can remember what they were in life now that they are dead but are stuck in a perpetual loop of repeating what they used to do once they were alive. For instance, a female shopper, now a zombie, just wants to get into the department store to do more shopping. The door is locked. A former athlete, now a zombie, continuously jumps an invisible pole vault and continuously comes crashing back down on the invisible mat.
Hideo eventually makes contact with survivors that have taken refuge at a mall – yet his problems don't end there due to the set of "laws" put in place to govern them. They also just want his shotgun. Now Hideo must combat the zombies and surviving humans to try to stay alive.
I Am a Hero is a fun little flick in the vein of Shaun of the Dead and Zack Snyder's Dawn of the Dead remake. I've never read the manga graphic novels it's based on, so I can only judge the contents of the film separately from the source. I think it does work as an overall concept of the film – I do find Hideo to be a bit grating at times, because he is such a passive wimp that works my last nerve. A lot of the supporting cast that enters the picture are easier to gravitate towards than Hideo.
The gore and violence on display in I Am a Hero is great. That's one of the things the film seems to get right – it does not flinch on its depiction of zombies getting their heads and limbs blown off into bloody pulps. There are also lots of practical special effects on display in addition to some CGI enhancements.
I Am a Hero was released a few years ago in Japan and it finally makes its debut on Blu-ray here in America. There's plenty of material left for them to continue the live action version of Suzuki Hideo. As for this Blu-ray, it's not going to win any awards for best film or anything, but it works as a bloody-good time waster.
The Video
I Am a Hero is presented in an AVC 1080p encode. The Blu-ray authoring captures the fantastic lighting and production design without any signs of contrast boosting, crush, or banding. It is a colorful movie of sorts, so color banding was my first concern, but I could not identify any problems with that – the color palette was great. Dirt, debris, and noise were not an issue – it was most certainly shot in digital and the file was spotless. DNR was kept in checked. I only spotted slight edge enhancement here and there but it was not intrusive and – it doesn't sway the final rating for video quality at all.
The Audio
I Am a Hero is presented in Japanese Dolby TrueHD 5.1. Now as far as lossless soundtracks go – this Blu-ray is reference in that department. Dialogue levels are clean, crisp, and without clipping. The surround sound channels capture the horror of the outbreak flawlessly. Once the shotgun starts to do its thing – you may or may not want to turn the volume down a bit – it will definitely give the LFE subwoofer channel a serious workout. That's also not to say that the film isn't action oriented, because that would be a lie. The sound-field is very active on this disc and it's one of the best sounding FUNimation Blu-rays I've heard in some time.
The Supplements
In what seems to be customary with FUNimation, the special features ares non-existent. We get a teaser and a full trailer for I Am a Hero and trailers for other FUNimation releases. A DVD and Digital HD copy of the film are also included.
Japanese Trailer
Japanese Teaser
Trailers
DVD
Digital Copy
The Final Assessment
I'm sure the manga books delved into the origins of the outbreak and focused on subplots and whatnot but the feature film of I Am a Hero can only do so much, even with a two-hour plus running time. The Blu-ray is no slouch in the way of video and audio specifications. The extras are lame, so know that going in when renting or purchasing the Blu-ray. A digital copy is included with the Blu-ray as is a standard DVD copy. All in all, I Am a Hero gets a mild recommendation.
I Am a Hero is out on Blu-ray Combo Pack from Funimation Entertainment July 24, 2018
Toho Company | Toho Pictures | FUNimation Entertainment
Studios & Distributors
Nogi Akiko (screenplay) | Hanazawa Kengo (manga)
Writer
Summary
Average worker Hideo (Ôizumi Yô) finds himself the central hero in a zombie apocalypse after witnessing a pedestrian run over by a car who reanimates. I Am a Hero does a better than average job in highlighting the events of its world. It doesn't go into the origin of the zombie plague it just focuses on the life of one man in particular. The video and audio specs are great, and as usual for Funimation, the extras are non-existent. I Am a Hero is a decent entry into the crowded zombie film genre.
What people say... Login to rate
Be the first to leave a review.
Show more