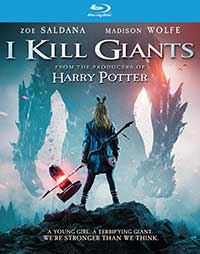 In his feature film debut director Anders Walter brings us this indie fantasy drama I Kill Giants, based on the Joe Kelly and Ken Niimura graphic novel (Kelly also wrote the screenplay).
In her small town early-teen Barbara Thorston (Madison Wolfe) is dealing with some very difficult issues at home along with her older sister Karen (Imogen Poots) who has become her de facto guardian. In order to cope with her emotional stress, Barbara has taken on the responsibility of being the defender of her town against terrible giants that want to destroy her town; she uses her magical hammer and sets magical traps with bait to lure them in.
The only problem is Barbara is living in elaborate fantasy she has constructed for herself to avoid dealing with her reality at home. Her new school counselor (Zoe Saldana) is the only one who finally confronts everything Barbara has come to believe to be true and threatening not only her sanity, but her physical well-being.
Anders' film is an interesting exploration of an adolescent's coping mechanisms. Its careful interweaving of reality and fantasy is its finest elements. The visual effects when Barbara finally confronts her giant could have come right out of The Lord of the Rings. That the entire film is a metaphor for Barbara's on struggles with her emotional "giants" doesn't always come across with much subtlety, which is most clumsily handled in the film's finale. Still, as a family drama and fantasy combined into one, I Kill Giants is a satisfying and often touching little film with a young star who looks to have bright future ahead of her.
This slideshow requires JavaScript.
The Video
The film was shot in HD on the Arri Alexa with Cooke S4 lenses and comes to Blu-ray in an AVC 1080p encodement from RLJ Entertainment. Although this technology is hardly cutting age these days, the results are pleasing, and we get a solid visual presentation with crisp details and nuanced shadow details. The image is clean with little noise, but some slight banding does pop up.
The Audio
I Kill Giants comes with a very good DTS-HD Master Audio 5.1 audio mix. The film ran in theaters with an Atmos mix, which undoubtedly was more immersive, but perhaps its Atmos roots are responsible for how good this one is. There is a fine balance of atmospherics and solid effects, quiet, dialogue-driven scenes and big fantasy action sequences that pan sounds around and have a big low-end.
The Supplements
We get the usual EPK-style special features as well as the first chapter of the graphic novel, which is a cool inclusion.
The Making of (1.78:1; 1080p/24; 00:05:39)
Anatomy of a Scene (1.78:1; 1080p/24; 00:04:52)
Photo Gallery (1080p/24)
Graphic Novel: Chapter 1 (1080p/24)
The Final Assessment
I Kill Giants is moving, visually stunning when need be, sometimes a little melodramatic, but ultimately a satisfying family drama/fantasy about a girl coping with big problems.
I Kill Giants is out May 22, 2018 on Blu-ray from RLJ Entertainment
1492 Pictures | Ocean Blue Entertainment | XYZ Films | Umedia | uFund | Man of Action | Having Me Films | Parallel Films
Studios & Distributors
Joe Kelly (screenplay by) | Joe Kelly (based on the action graphic novel
Writer
English DTS-HD MA 5.1
Audio
English SDH | Spanish
Subtitles
Summary
With problems at home that are too difficult for her to deal with, an adolescent girl (Madison Wolfe) constructs an elaborate fantasy world where she is the sole defender of her small town against terrible giants bent on destroying it. Only the new guidance counselor at her school (Zoe Saldana) challenges the reality she has constructed for herself. In his feature film debut, director Anders Walter (Helium) crafts a sometimes melodramatic, but ultimately satisfying fantasy/drama with I Kill Giants, based on the graphic novel from Joe Kelly (who also wrote the screenplay) and Ken Niimura.
What people say... Login to rate
Be the first to leave a review.
Show more