Aspect Ratio: 1.78:1
Video Codec: AVC/MPEG-4
Resolution: 1080p/24
Audio Codec: Japanese Dolby TrueHD 5.1 2.0 (48kHz/16-bit), English Dolby TrueHD 5.1 (48kHz/24-bit)
Subtitles: English
Region: A
Rating: R
Discs: 1
Studio: Funimation
Release Date: December 15, 2009
List Price: $34.98[amazon-product align="right"]B002KYIAL0[/amazon-product]
BestBuy.com:


Shop with us for more Blu-ray releases at Amazon.com

Overall
[Rating:3.5/5]
The Film
[Rating:3.5/5]
Video Quality
[Rating:4/5]
Audio Quality
[Rating:4/5]
Supplemental Materials
[Rating:2/5]
Click thumbnails for high-resolution 1920X1080p screen captures
More Screen Captures (17 Total)
(Screen captures are lightly compressed with lossy JPEG  thus are meant as a general representation of the content and do not fully reveal the capabilities of the Blu-ray format)
The Film
[Rating:3.5/5]

Set in Japan's Edo period, Ichi returns to the classic Japanese tale of Zatoichi, the blind swordsman. This time out the part is reserved for a female, the first time in the history of the role. Ichi (Haruka Ayase) is a beautiful goze, an archaic Japanese term for blind women who usually made their living as musicians. She also happens to be a highly skilled swordswoman with a deadly backhanded technique. She is wandering Japan on a search for the man she believes to be her father and the only other swordsman who happens to use this technique, the legendary Zatoichi.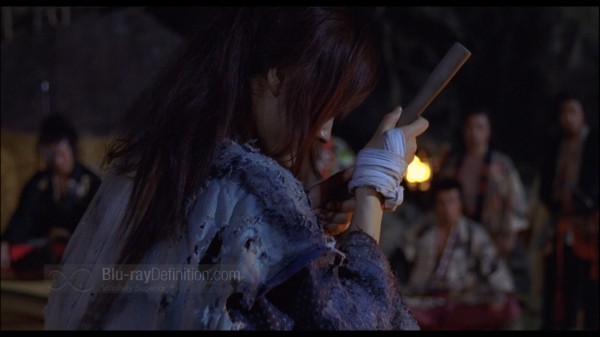 Her travels bring her to the home of another blind woman where she is staying. Some ruffians decide to take advantage of the woman by refusing to pay her for her sexual services and they begin to rough her up. That is when a traveling samurai named Toma (Takao Ôsawa) steps in to stop them just as they turn their attentions toward Ichi, but Toma is too afraid to draw his katana. Ichi comes to his rescue, unleashing her deadly skills on the men. Toma becomes her unlikely traveling companion and they head into the local Inn town, which has been beset by outlaws. When Toma wins back the 10 ryo that he lost in the previous fight at the blind woman's house with Ichi's help in the town's local gambling house, the bandits chase them down on a dark path and attack them. One again Ichi must come to Toma's defense. The local town leader's son arrives after the fight and believes Toma to be the sensei who slew the five bandits down single-handedly, so he hires him as a bodyguard to help take on the bandits infiltrating their town.
But enough of the plot, Ichi's strength is in its well-choreographed martial arts sequences. Director Fumihiko Sori (Ping Pong, Vexille) leans heavily on Kurosawa's Ran choreographer, Hiroshi Kuze, to direct the fight sequences in Ichi, and it pays off. They are powerful, balletic, and even the beautiful "idol" Ayase comes across as more than believable as a cold-hearted assassin. The sequences are propped up with some crafty CG special effects blood work.
The acting is another story entirely. The villains are all exaggerated. There's no subtlety to be had. They come across like cheesy characters in a bad, B-grade pulp film. Ayase and Ôsawa's Ichi and Toma help to reel it back in a bit, however, with a nice chemistry. Ôsawa's Toma offers a pleasant bit of comic relief to Ayase's quiet beauty.
Video Quality
[Rating:4/5]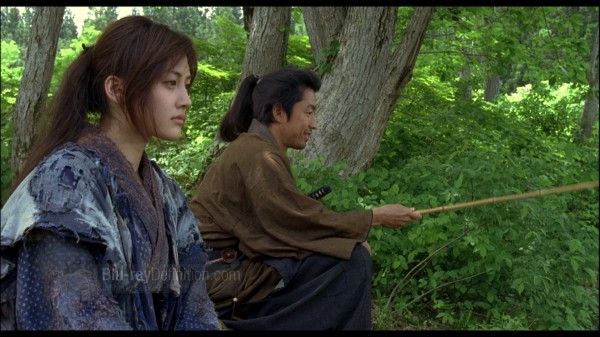 Ichi comes to Blu-ray in a 1.85:1 AVC/MPEG-4 1080p/24 encoding from Funimation. Ichi's color palette is just a bit washed out, so nothing is going to really jump out at you from this presentation, but it has film-like look with stable film grain throughout. Blacks are also stable even though they are not very inky. Detail is strong, particularly in close-ups, and there is no evidence of post-processing artifacts. Occasionally the image softens a bit and grain in darker scenes comes dangerously close to looking like video noise, but not to the point of distraction.
Audio Quality
[Rating:4/5]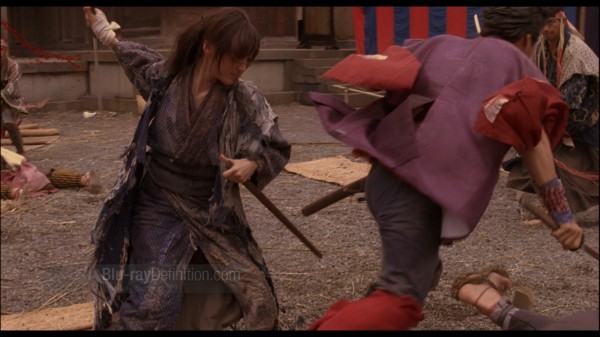 Both the original Japanese in a Dolby TrueHD 5.1 (48kHz/16-bit) and an English dub in Dolby TrueHD 5.1 (48kHz/24-bit) are offered on this Blu-ray release. I used the 16-bit Japanese language track with the English subtitles engaged as my reference for this review, because I abhor watching films dubbed, particularly live action films.
The audio quality is strong for Ichi. Dialogue is exceptionally clean, even in the loudest passages there is not a hint of clipping or crackle. Dynamic range is wide without being overwhelming and there is good low frequency extension to help when punches and kicks are landed. The swordplay sounds sufficiently metallic without becoming fatiguing in the high frequencies. Ambience is abundant, atmospheric sound effects like rain and winds are nicely panned through the room, and discrete sounds are occasionally panned into the surrounds as well. There seems to be a lack of cohesion at times in the mix, with long stretches of front-heavy sound interrupted by almost jarringly discrete use of the surrounds, but it is still a decent effort.
Supplemental Materials
[Rating:2/5]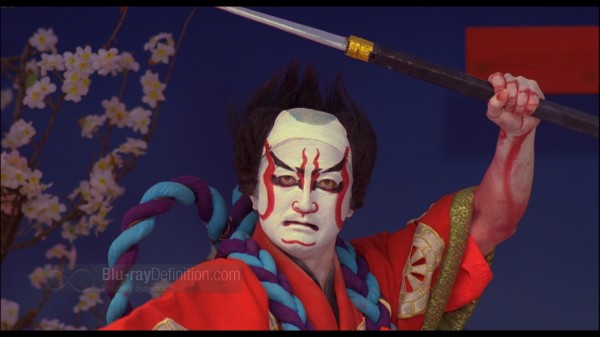 The lengthy look behind-the-scenes in the making of and the visual effects explanation by the director himself make the supplements on Ichi worthwhile, but still nothing that will be watched more than once or twice.
The supplements provided on this release are:
Making Of (1.33:1; 480i/60; 1:15.15) — Follow the filming of Ichi with behind-the-scenes footage of the production.
VFX Making Of (1.33:1; 480i/60; 0:14.41) — Sori, the director, explains the CG effects used to create much of the blood in the fighting sequences.
Deleted Scenes (1.33:1; 480i/60; 0:17.41) — These deleted scenes are played consecutively with commentary by the director.
Press Interview in Theaters (1.33:1; 480i/60; 0:31.19) — The cast members and director make various première red carpet appearances and do Q&A sessions with the audiences.
Original Trailers (1.33:1; 480i/60; 0:03.10)
Coming Soon:

Shinobi
Hana
Love and Honor
Daytime Drinking
Synesthesia
Ghost Train
Mushi-Shi
Vexille
The Definitive Word
Overall:
[Rating:3.5/5]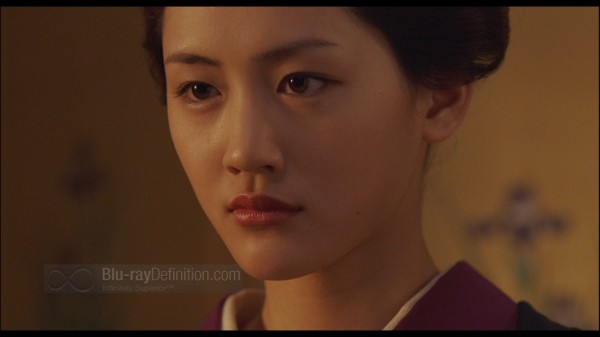 Altogether, Ichi is not entirely a reboot of the Zatoichi story, but perhaps an extension of it, another tangent, if you will, in this long-running storyline. It may not be perfect, but it should certainly be enjoyable to those who love martial arts cinema. It arrives on Blu-ray in a solid effort from Funimation that this reviewer finds very film-like and kudos should to Funimation for providing the original Japanese language in Dolby TrueHD 5.1, albeit only 16-bit, unlike the lossy Dolby Digital 5.1 to which Miramax relegated the Japanese track on their release of The Blind Swordsman: Zatoichi.

BestBuy.com:


Shop with us for more Blu-ray releases at Amazon.com