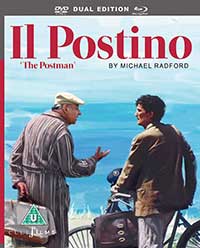 Film critic Roger Ebert said about Il postino "there is more vitality and genuine passion here than in any ten big-budget extravaganzas" and he hit the nail on the head. Co-directed by Michael Radford and Massimo Troisi (Nothing Left to Do But Cry, I'm Starting from Three), the story is a fictional account of the real Chilean Nobel Prize-winning poet Pablo Neruda and his relationship with Mario (played by Troisi), the postman who delivers his mail.
Neruda, a somewhat aloof and flirtatious poet, arrives in Italy to escape his fame and political troubles in Chile and settles in a small house in Mario's out-the-way fishing village. Mario who fancies himself a poet, is fascinated with Neruda and tries everything to ingratiate himself with the poet. Eventually his overtures work, and Neruda begins to notice Mario, begins sharing his poetry with him, coaching him, and teaching Mario about his communist political leanings. Neruda even helps Mario to woo the girl of his dreams, the beautiful Beatrice Russo (Maria Grazia Cucinotta).
When Neruda eventually leaves to return to Chile, Mario begins working on his writing to show to Neruda upon his return and even involves himself in the local politics, inspired by his mentor, but as time goes by without word from famous writer, Mario's confidence begins to shake.
Il postino is lavish with gorgeous cinematography and heartfelt romance. If ever there were a film so absent of cynicism that wasn't laughably naïve, then this is it. The one film I keep thinking of that I can compare this to is Cinema Paradiso, but even that film's protagonist is hit with some harsh as his innocence is confronted with adulthood. Here, while there is a reckoning of sorts in the end, it is not one of sadness or nostalgia, but of optimism for the future.
The film was nominated for Best Picture at the Academy Awards, the first foreign language film at the time to be entered in that category in twenty-two-years since Ingmar Bergman's Cries and Whispers. Sadly, Massimo Troisi, who had been ill throughout the filming with heart disease and had his workload severely limited died only a day after shooting ended and never lived to see the international success his film would achieve.
The Video
This newly restored edition of Il postino arrives on Blu-ray from the UK's CultFilms in a gorgeous AVC 1080p encodement that has a high level of detail and grain reproduction. The film looks organic and free from lots of scrubbing, although it is clean and doesn't have much dirt or signs of source damage. Color doesn't quite 'pop', but it looks natural nonetheless and there's good nuance in shadows.
The Audio
The original Italian stereo mix for Il postino is included in LPCM 2.0. While the stereo imagining is narrow and dynamic range limited, it offers a satisfying amount of clarity in the dialogue and no hints of clipping.
The Supplements
Apart from the excellent, over forty-five-minute-long interview with director Michael Radford, a standard definition DVD with the feature film is also included with this Dual Format edition, which is housed in an exclusive slipcase.
DVD
'Poetry in Motion', an interview with director Michael Radford (1.78:1; 1080p/24; 00:46:01)
The Final Assessment
Il postino is one of the great films to come out of the 1990s, a decade of filmmaking that needs to be reexamined as a second Golden Era, as it saw not only a crop of fantastic big budget films, but classic indies and world cinema gems that endure still, such as this film and others too numerous to mention. This new restoration released by CultFilms should be grabbed up by any cineaste.
Il Postino is out in Dual Format Edition 15 October 2018 from CultFIlms in the UK
Cecchi Gori Group Tiger Cinematografica | Penta Film | Esterno Mediterraneo Film | Blue Dahlia Productions | K2 Two | Canal+ | CultFilms
Studios & Distributors
Michael Radford | Massimo Troisi
Director
Antonio Skármeta (novel) | Furio Scarpelli (story)
Writer
Italian LPCM 2.0 Stereo
Audio
Summary
In this Oscar-nominated (Best Picture) Italian film, a simple postman becomes enthralled with poetry and politics when Chilean Nobel Prize-winning poet Pablo Neruda comes to his village, takes him under his tutelage, teaches him about poetry, politics, and how to woo the love of his life. A heartfelt and beautifully filmed delight that doesn't suffer from or feel naive in its absence of cynicism.
What people say... Login to rate
Be the first to leave a review.
Show more