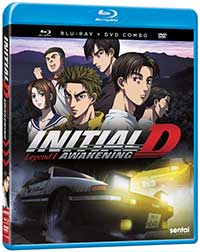 Initial D Legend 1: Awakening resurrects the classic drift racing anime series Initial D with the first of a trilogy of movies that gearheads are sure to love. Awakening sets the foundation of the story by introducing us to the male protagonist Fujiwara  Takumi, who tofu delivery person who works for his father's shop. While driving home from one of his deliveries, Takumi ends up in a race with Takahashi Keisuke of the Akagi RedSuns, an infamous street racing team. Thus begins the rise of the legend of Fujiwara Takumi whose Toyota Sprinter Trueno AE86 (known simply as the "Eight-Six") is supposedly under-powered compared to other cars, but its agility and Takumi's almost supernatural driving ability allow him to win drift races against the other cars, even the unbeatable Takahashi Keisuke of the RedSuns.
Initial D Legend 1: Awakening packs a lot into its 60 minutes, so much that it may seem a bit daunting to those completely unfamiliar with this franchise. That said, it makes up for that with its high-octane action sequences, the drama of the races, and the superbly drawn artwork and character designs. Anyone into cars will love the detail in the design of the automobiles and the kinetic energy captured in the animation.
The Video
Initial D Legend 1: Awakening arrives on Blu-ray in a competent AVC 1080p encodement from Sentai Filmworks that is free from major flaws, has good detail and saturation and only some minor color banding here and there.
The Audio
Initial D Legend 1: Awakening comes with both the original Japanese-language soundtrack and the English dub in DTS-HD Master Audio 5.1. The mix sounds superb for both tracks, really revving up the engines, but keeping the dialogue clear. The English dialogue sounds a bit fuller and further up in the mix than the Japanese track, but all is good.
The Supplements
Initial D Legend 2: Racer Preview (1.78:1; 1080p/24; 00:00:48)
Sentai Filmworks Trailers
The Final Assessment
There are more to come in this "movie" series. Next up is Legend 2: Racer. In the meantime, despite its barebones release, Initial D Legend 1: Awakening is an intense, action-packed 60-minutes with solid audio and video quality on Blu-ray.
Initial D Legend 1: Awakening is out now on Blu-ray + DVD Combo Pack from Sentai Filmworks
[amazon_auto_links id="108966"]
Sanzigen & Liden Films
Animation Studio
Sentai Filmworks
Distributor
$24.99
MSRP
Japanese DTS-HD MA 5.1
Audio
English DTS-HD MA 5.1
Secondary Audio
Summary
A tofu delivery boy with a legendary background and a sleek but seemingly under-powered car is introduced into the world of drift street racing in this first of three in the new trilogy of movies reawakening this classic, high octane anime franchise. This 60-minute-long release is barebones coming with only a preview of the next film and additional trailers, but genre fans should love it anyway.
What people say... Login to rate
Be the first to leave a review.
Show more