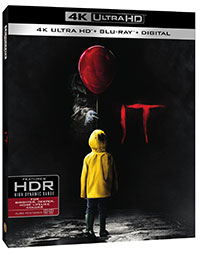 1980s retro is all the rage in Hollywood these days, so it's no surprise that someone would finally get around to adapting Stephen King's massive 1980s horror novel It (here being released and reviewed on 4K Ultra HD Blu-ray). Director Andy Muschietti shifts King's original setting from the 1950s to the 1980s, placing the story in a world resembling the wildly popular Stranger Things and films like Super 8 or A Nightmare on Elm Street.
A group of bullied kids calling themselves the Losers' Club discover that a shapeshifting entity that takes the form of a clown (Bill Skarsgård) is attacking children in their town of Derry, ME. Since no adults can see it, the kids band together to take it on themselves.
The horror in It is not limited to the admittedly creepy appearances of the iconic Pennywise, but, rather, there is a human horror that permeates the film. Each of the youngsters is dealing with something more down to earth that makes them quite relatable and recalls not only the horrors of navigating youth, but society at large. Bill Denbrough (Jaeden Lieberher) has suffered the loss of his younger brother who went missing and leads the charge to find and save the other children, Beverly Marsh (Sophia Lillis) has to deal with being labelled a slut at school while suffering what is implied to be sexual abuse from her father at home, and Mike Hanlon (Chosen Jacobs) is targeted by the town bullies and singled out for being black – and those are just some of the issues facing the kids in the real world before the supernatural horrors kick in.
2017 was one those banner years for the horror genre, seeing an apposite to the times film like Get Out as well as the brilliant Gothic horror piece The Limehouse Golem with its twist ending, and the Christmas horror with a twist Better Watch Out come along, while Netflix slipped in with their surprisingly entertaining original comedy/horror The Babysitter. It was aguably the most anticipated horror film of 2017 and it did not fail to deliver for Stephen King fans, even for those who appreciated the mini-series from the 1990s.
The Video
It was shot on Arri cameras at 3.4K resolution and a 2K DI was used in post processing. The 2K master was up-scaled for this 4K Ultra HD release and mastered in Dolby Vision in an HEVC 2160p (4K) encodement. The detail may not be quite as crisp as a pure 4K source, but the image still looks good with only some slight video noise that passes as grain. The colors are vibrant in the Dolby Vision image with vermillion blood that looks true, cherry red balloons and azure skies with hues that don't appear in the BD that almost looks dull in comparison, and that is saying a lot since the Blu-ray looks solid as well.
The Audio
It arrives on 4K Ultra HD with an English Dolby Atmos sound mix that is variably aggressive and subtly atmospheric. The tense score fills the overhead channels and solid sound effects through the surround channels. The low end is very extended so the jump scares really make you leap from your seat.
The Supplements
The special features on this 4K Ultra HD combo release of It are a little disappointing from a quantity standpoint, but they are interesting to watch. The behind-the-scenes featurettes bring in the members of the young cast and the crew for interviews and show a lot of on set footage.
Blu-ray
Movies Anywhere
Pennywise Lives! (1.78:1; 1080p/24; 00:16:25)
The Losers' Club (1.78:1; 1080p/24; 00:15:42)
Author of Fear (1.78:1; 1080p/24; 00:13:51)
Deleted Scenes (2.40:1; 1080p/24; 00:15:18)
The Final Assessment
One of the most anticipated horror films of 2017, It arrives on 4K Ultra HD with an excellent Dolby Vision image and Dolby Atmos sound mix, a horrifying story set in the 1980s, superbly directed by Andy Muschietti, fitting right into the current 1980s retro trend.
It is out January 9, 2018 on 4K Ultra HD Combo Pack and Blu-ray Combo Pack from Warner Bros.
[amazon_auto_links id="108112"]
R (for violence/horror, bloody images, and for language)
Rating Certificate
New Line Cinema | RatPac-Dune Entertainment | Vertigo Entertainment | Lin Pictures | KatzSmith Productions
Studios & Distributors
Chase Palmer (screenplay by) | Cary Fukunaga (screenplay by) | Gary Dauberman (screenplay by) | Stephen King (based on the novel by)
Writer
$44.95
MSRP
HEVC (H.265) 2160p (4K) | AVC 1080p (Blu-ray)
Video
Dolby Vision (Compatible w/ HDR10)
HDR Format
English Dolby Atmos (Compatible w/ Dolby TrueHD 7.1)
Primary Audio
English DTS-HD MA 5.1 | French (Quebecois) DD 5.1 | Portuguese DD 5.1 | Spanish (Latino) DD 5.1
Secondary Audio
: English SDH | French | Spanish (Latino) | Portuguese
Subtitles
HDR Effect (If Applicable)
Summary
A group of bullied kids calling themselves the Losers' Club in a quiet Maine town band together to battle a malevolent shape shifting entity (Bill Skarsgård) who takes the form of a clown in order to lure and attack kids to feed on in this brilliant, 1980s set update to the classic Stephen King novel by director Andy Muschietti. The 4K Ultra HD brings a solid Atmos audio mix and gorgeous Dolby Vision 4K picture to the home.
What people say... Login to rate
Be the first to leave a review.
Show more