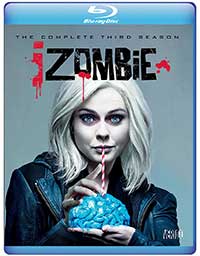 The latest season of iZombie, a DC Entertainment Vertigo imprint comic original, finds Liv (the fantastic Rose McIver) and her pals discovering a secret zombie army living in Seattle. As her on again, off again love interest Major (Robert Buckley), now a zombie himself, secretly deals with an incurable zombie virus, he finds refuge amongst the very same zombie army. As Ravi (Rahul Kohli) tries to perfect his zombie cure, Liv and Clive (Malcolm Goodwin) investigate the murder of a zombie family that leads to a group of conspiracy theorists who could expose the existence of zombies and lead to a war between zombies and humans. Meanwhile, Blaine (David Anders) is maybe up to his old tricks, having lost his memory after taken the zombie cure and finding that living as a new man without a memory of his past is working out so well for him. In the meantime, Liv takes a while ride on the brain-er-coaster as she and Clive try to solve crimes and she takes on the persona of a dominatrix, a stuntman, a concerned father of a teenage girl, a D&D dungeon master and a lot more.
iZombie just keeps getting better with each passing season and Rose McIver is a revelation. Her role here sort of reminds me of what Tatiana Maslany was capable of doing in the BBC America series Orphan Black, only McIver's role is much more whimsical. She easily slides between personae and that is a major part of what makes the series so watchable. That said, it wouldn't be so good without the clever scripts that give the characters such laugh-out-loud repartee. This series is even better the second time through, which is a sign of how good it is.
The Video
iZombie: The Complete Third Season arrives on Blu-ray in a very satisfying AVC 1080p encodement from Warner Archive that wipes out all the compression noise of the broadcasts and streaming versions, offering a clean, crisp, and natural looking image with little to complain about aside from the slightest hint of some black crush.
The Audio
An English DTS-HD Master Audio 5.1 mix is the sole audio option for iZombie on this Blu-ray collection. While it is a step up over the broadcasts and streaming versions as far as sonics, it isn't much to speak about. There are a couple of moments in some episode where some solid, discrete sound effects like gunfire or a door slam emanate from the surround channels, but they seem out-of-place given how subtle and front-heavy the mix is overall. The dialogue is clean and dynamics decent.
The Supplements
Various deleted scenes and a 2016 Comic-Con panel accompany iZombie: The Complete Third Season in this Blu-ray edition from Warner Archive.
The Final Assessment
Although not 'bingeable' in the traditional sense in that, while there is a season-long story arc, each episode is also a self-contained crime mystery/comedy. Still, one can find oneself binging on the comedic gold of iZombie thanks to the fantastic performance of Rose McIver, a cast of likable (and love to hate) characters and intelligent writing. This Blu-ray set is a solid and satisfying release.
iZombie: The Complete Third Season is available now on Blu-ray from Warner Archive.
[amazon_auto_links id="107537"]
Spondoolie Entertainment | Vertigo Productions | Warner Bros. Television | DC Entertainment | Warner Home Video
Studios & Distributors
English DTS-HD MA 5.1
Audio
Summary
Liv Moore (Rose McIver) and her pals must hunt down a group of zombie killing conspiracy theorists that threaten to expose the existence of zombies to the the world, Major (Robert Buckley) deals with a life threatening zombie virus, Blaine (David Anders) has a fortuitous case of memory loss -- all while Liv feeds her way through dominatrix, dungeon master, and teen girl social media obsessed brains and more in this witty and even funnier the second time around third season of iZombie.
What people say... Login to rate
Be the first to leave a review.
Show more