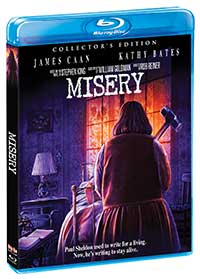 Misery is a 1990 thriller directed by Rob Reiner and taken from a Stephen King novel, perhaps one of the most personal of the latter's career up to that point.
The film stars James Caan as famous novelist Paul Sheldon who has reached an artistic crossroads in his career. Having spent years writing trashy period romance novels about the character Misery Chastain, he now wants to branch off into new material. Paul sets off to his usual getaway in rural Colorado to write his next book and after completing it, decides to head back to New York in his 1965 Mustang in the middle of a blizzard. When his car goes off the road and he's incapacitated, Paul is rescued by Annie Wilkes (Kathy Bates), a reclusive woman who nurses him back to health. But Annie also happens to be an obsessive fan of Paul Sheldon and when she reads his last Misery book and finds out that he as killed off the character, she tortures Paul, injuring his legs, holding him captive, and forcing him to write a new novel bringing Misery back to life. Meanwhile, with Paul missing for weeks, the local sheriff (Richard Farnsworth) and Paul's New York literary agent (Lauren Bacall) launch a search for him.
This is is one of those rare films that crosses over quite easily between horror and thriller. Similarly to The Shining, though with no need of supernatural elements at all, Misery explores the horrors within the human mind, touching on the things that drive one to obsession, stalking, and violence. It's a claustrophobic film taking place mostly in the Spartan bedroom in which Annie has kept Paul confined, only rarely branching out into other rooms or into the world outside of the house.
Kathy Bates gives a standout performance as the obsessed, bi-polar and violent fanatical who easily goes back and forth between being outwardly rational and caring or being in a rage. The role would propel her into a long-lasting A-list career and win her an Oscar (Best Actress in a Leading Role); one of the rare Oscar wins for the portrayal of a perceived evil character.
The Video
The 35mm source for Misery arrives in a gorgeous 1.85:1 framed AVC 1080p transfer from Scream Factory that looks natural and filmic with grain preserved, but unobtrusive. There are only a couple of spots where the grain structure looks a little coarse and one place early on during the opening credits where a lot of source damage can be spotted, which is not unusual. Colors such as flesh tones are spot on and contrast is excellent. Shadows look nicely nuanced with little crush.
The Audio
This Collector's Edition of Misery from Scream Factory comes with a 5.1 mix and stereo mix in DTS-HD Master Audio. There isn't much going on in the 5.1 mix at all apart from some very mild atmospherics and the mix is very front-heavy with dialogue mainly in he center channel and a good amount of stereo spread. The sound is clean with no hints of clipping. Things sound a bit more forward in the stereo mix and there is slightly less range, but either one will work for this film.
The Supplements
Misery Collector's Edition comes with a very interesting set of special features. The two audio commentaries are both outstanding as are the two new interviews. Reiner's interview is more a career retrospective than being specific to Misery. The archival featurettes bring in psychological experts and lawyers to provide their expertise on the profile of stalkers an the laws governing it.
Audio commentary with Director Rob Reiner
Audio commentary with Screenwriter William Goldman
Interview with Director Rob Reiner (1.78:1; 1080p/24; 00:37:09) (NEW)
Interview with Special Makeup Effects Artist Greg Nicotero (1.78:1; 1080p/24; 00:26:12) (NEW)
Misery Loves Company Featurette (1.33:1; upscaled 1080i; 00:29:53)
Marc Shaiman's Musical Tour Featurette (1.33:1; upscaled 1080i; 00:14:30)
Diagnosing Annie Wilkes Featurette (1.33:1; upscaled 1080i; 00:08:47)
Advice for the Stalked Featurette (1.33:1; upscaled 1080i; 00:04:58)
Profile of a Stalker Featurette (1.33:1; upscaled 1080i; 00:06:18)
Celebrity Stalkers Featurette (1.33:1; upscaled 1080i; 00::05:08)
Anti-Stalking Laws Featurette (1.33:1; upscaled 1080i; 00:02:23)
Theatrical Trailers
The Final Assessment
A profile in terror, obsession, and isolation, Misery is one of the best Stephen King adaptations on film. Rob Reiner handled this psycho-thriller stupendously and the cast of basically two – James Caan and Kathy Bates – burn up the screen. This release from Scream Factory looks terrific and has a satisfying collection of special features.
Misery [Collector's Edition] Blu-ray is out November 28, 2017 from Scream Factory
[amazon_auto_links id="106498"]
Castle Rock Entertainment | Nelson Entertainment | Scream Factory
Studios & Distributors
Stephen King (novel) | William Goldman (screenplay)
Writer
$34.93
MSRP
English DTS-HD MA 5.1
Audio
English DTS-HD MA 2.0 Stereo
Secondary Audio
Summary
A trashy romance novelist at a creative crossroads (James Caan) is held hostage and tortured by a reclusive and obsessive fan (Kathy Bates) and forced to write a new novel after his car crashes during a blizzard and she rescues him in this tense, claustrophobic psycho-thriller from the Stephen King novel. Rob Reiner directed and Kathy Bates' perfomance won her an Oscar for Best Actress. This Scream Factory release looks excellent and comes with a satisfying collection of special features.
What people say... Login to rate
Be the first to leave a review.
Show more