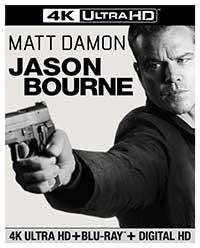 One would have thought that after 2012's Matt Damon-less entry in the Bourne series, The Bourne Legacy, that the franchise was ready to move on without its star tread new ground, but now Damon has returned to reprise his role head up another entry in the saga. Paul Greengrass, director of the second and third films in the franchise, also returns to helm Jason Bourne.
This first wholly original entry not taken from Robert Ludlum's source material (Paul Greengrass also co-wrote the screenplay) finds Matt Damon's titular CIA asset Jason Bourne several years after the events of The Bourne Ultimatum now living off the grid and earning a living as a bareknuckle fighter in underground fight clubs. His amnesia completely cured, he's a man on the run wanted by the government because he knows too much and can bring them down. His old friend Nicky Parsons (Julia Stiles), now being working with an underground hacker group similar to Anonymous and being hunted by CIA director Robert Dewey (Tommy Lee Jones) re-enters Bourne's life with information about a new rogue CIA program and a secret about his father's past involvement with the program that made him the super-agent he is. He's forced to go on the run again
Dewey, meanwhile, brings in another asset to put Bourne down while also building up the new secret government program, a vast initiative to spy on the public using a new social media platform run by Silicon Valley superstar Aaron Kalloor (Riz Ahmed), who has made a deal with the devil to allow use of his social media platform by the government – a deal that just may put his life in jeopardy
While Jason Bourne has all the requisite action sequences we have come to expect from a Bourne film such as the close quarter, raw physical fight sequences or standout chase sequence on a motorcycle in Athens that also involves lots of fire and rioters, we ultimately get in this film a retread of much of the ground we have been over before. For what is an "original" entry based on Ludlum's characters, there isn't much original here. Watching Jason Bourne is almost like watching The Bourne Ultimatum, if Bourne already had all of his memories. Insert a stunning revelation about his father's death and involvement in the program that he must get to the bottom of in place of overcoming his memory block, and you have pretty much the same film.
Damon seems to be going through the motions, Tommy Lee Jones is, well, Tommy Lee Jones, and one of the most shameful moments moments comes from literally replacing an older woman for a younger woman, Julia Stiles' (35) character, a staple of the Bourne series, is killed off to be replaced by the seven-year-younger Alicia Vikander (28) to play next to Damon (46). Hollywood at its finest.
(Editor's note: For a different take on this film read our own Gerard Iribe's theatrical review of Jason Bourne.)
The Video
There were a number of cameras, formats, and resolutions utilized in the production of Jason Bourne, all the way from 16mm film stock to 6K on Red Epic Dragon cameras. The bottom line is, the majority of the film was shot on 16 and 35mm film and a 2K digital intermediate was utilized, so on this UHD release we effectively have an image upscaled to 4K, but the added benefit of HDR (High Dynamic Range) is what really makes this film standout. It arrives on Ultra HD with a 2.40:1 framed HVEC (H.265) encodement from Universal that looks very natural, and as a warning to grain haters, it is a gritty looking film. All of that added resolution and efficiency in coding presents the grain untouched, not smoothed over, and with a lot of texture. It works for the Bourne-style film. The HDR gives an added sense of depth to the coloring, shading, and blacks, making for a very lifelike and beautiful image. While this film at no time ever has the "acid trip" effect of Mad Max: Fury Road on UHD or the wow factor of The Revenant, there are plenty of standout moments. The Athens scenes with the flames in the streets at nighttime are one and most of the scenes in Las Vegas really offer an opportunity for the HDR to do its thing.
The Audio
Jason Bourne on 4K Ultra HD Blu-ray comes with a DTS:X mix that is quite impressive. The "X" channels carry lots of atmospherics, sound effects and the pulsing score from David Buckley and John Powell. There's excellent low-end extension that helps to beef up the gunshots, revving motorcycle in the action-packed Athens sequence and the crashes and booms of the finale in Las Vegas. Dialogue is clean without any hint of clipping.
The Supplements
Matt Damon introduces and appears in interviews along with the cast and crew in a number of these EPK-style featurettes, most of which are quite self-explanatory.
Blu-ray
Digital HD UltraViolet & iTunes Digital HD Digital Copy
Bringing Back Bourne (1.78:1; 1080p/24; 00:08:15) – Matt Damon returns to Bourne and discusses working again with director Paul Greengrass
Bourne to Fight (1.78:1; 1080p/24; 00:18:13) – Matt Damon goes into training with one of the best boxing trainers in the world to train for the bareknuckle fighting scenes in Jason Bourne.
The Athens Escape (1.78:1; 1080p/24; 00:05:37) – Go behind the scenes to see how the exciting practical visual effects in the Athens action sequence came together.
Las Vegas Showdown (1.78:1; 1080p/24; 00:14:56) – Get an inside look at how the cast and crew shutdown the Las Vegas strip to shoot the film's culminating, big action sequence.
The Final Assessment
Even with Matt Damon back in the saddle and Paul Greengrass back at the helm, Jason Bourne can't overcome the feeling of too little too late, or too much of the same too many years later. Despite all of that, there are a lot of really good moments in Jason Bourne and this Ultra HD release is certainly a standout disc for Home Theater enthusiasts.
Jason Bourne (TheaterByte 4K Ultra HD Blu-ray Review)
PG-13 (for intense sequences of violence and action, and brief strong language)
Rating Certificate
Captivate Entertainment | Double Negative | Pearl Street Films | Perfect World (Beijing) Pictures Co. | Universal Pictures | Universal Pictures Home Entertainment
Studios & Distributors
Paul Greengrass | Christopher Rouse | Robert Ludlum (chracters)
Writer
$44.98
MSRP
English SDH | French| Spanish
Subtitles
English DTS Headphones X | Descriptive Video Service (Blu-ray Only) | French DTS 5.1 | Spanish DTS-HD HR 7.1
Secondary Audio
What people say... Login to rate
Be the first to leave a review.
Show more