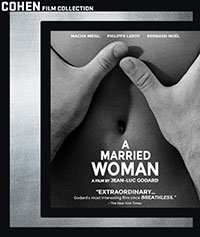 Nouvelle vague auteur Jean-Luc Godard's film Une femme mariée: Suite de fragments d'un film tourné en 1964 (A Married Woman) is one of the definitive films of the movement. A non-linear snapshot of the affairs of a modern woman that also interweaves a condemnation on consumerism, Godard narrates the story of Charlotte (Macha Méril) who nonchalantly flits back and forth between spending time with her artistic lover Robert (Bernard Noël) and her stern husband Pierre (Philippe Leroy) at nights. When Charlotte ends up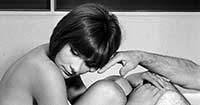 pregnant and doesn't know who the father is, she must decide which of the men she actually likes the best.
Une femme mariée isn't one of Godard's most easily digestible films owing to the fact that it doesn't unfold with a strong narrative, but it is notable for its strong sense of sensuality, thanks to the cinematography of Raoul Coutard whose lens lingers over Macha Méril's curves in endless close-ups, often as she whispers out her lines in a breathy, enticing voice. The consumerist subplot is almost as subliminal as the commercialism Godard was trying to criticize. Peppering sets with clearly visible American name-brand sodas like Pepsi or having Charlotte leaf through the latest fashion magazines. If you blink you might miss it or think it all no more than day-to-day life, hardly a critique. Une femme mariée is best when it concerns itself with the sensual, and the hard choices of free love, the real aftermath of the 1960s.
The Video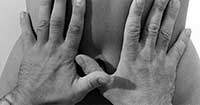 A Married Woman has been given a beautiful new 2K restoration from the original camera negative by Cohen Film Group and brought to Blu-ray in an AVC 1080p encodement framed at 1.37:1. The picture is clean with an organic layer of grain and good contrast levels.
The Audio
The French monaural soundtrack sounds clean and intelligible with good dynamics.
The Supplements
The contemporary interviews are welcome additions that add a lot of context.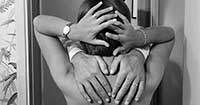 Interview with Agnes B (1.78:1; 1080p/24; 00:21:29)
Interview with Antoine de Baecque (1.78:1; 1080p/24; 00:19:20)
Interview with Macha Meril (1.78:1; 1080p/24; 00:31:55)
Original Trailer (1.37:1; 1080p/24; 00:03:58)
2015 Re-Release Trailer (1.37:1; 1080p/24; 00:01:35)
Booklet with credits and production stills
The Final Assessment
The transfer is gorgeous and the film is important, but perhaps not one of Godard's easiest or most accessible. With that said, it is still good to see Cohen Media Group bring this one to Blu-ray in such an excellent transfer. Film enthusiasts should have this one in their collections.
A Married Woman (TheaterByte Blu-ray Review)
Cohen Media Group
Studios & Distributors
French LPCM 2.0 Mono
Audio
Summary
Une femme mariée: Suite de fragments d'un film tourné en 1964 (A Married Woman) is a somewhat disjointed yet enticingly sensual look from Jean-Luc Godard and modern consumerism and burgeoning feminism in the 1960s. Cohen Film Collection offers up a beautiful new restoration of the gorgeous B&W cinematography.
What people say... Login to rate
Be the first to leave a review.
Show more