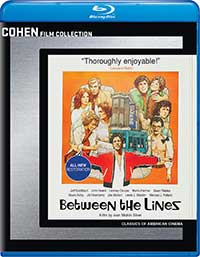 Between the Lines was the second feature from indie filmmaker Joan Micklin Silver and the follow-up to her critically successful Hester Street. The 1977 workplace comedy/romance/drama follows the interrelationships the staff at an alternative newspaper in Boston as their small paper is on the verge of being taken over by a big publisher.
Music writer Max (Jeff Goldblum) uses his position and talents mainly to pick up women, while news reporter Harry (John Heard) is pursuing a relationship with the paper's lead photographer, the friendly Abbie (Lindsay Crouse). The applecart is overturned and rivalries between the staff bubble up to the surface when the big publishers come in to publish the paper, jobs are threatened, relationships get complicated, and some of the staff move on to greater financial success than others.
As a snapshot of a certain mid-'70s moment and lifestyle, that moment when the "Me Generation" and free love was fighting its way out of the doldrums of '70s exhaustion and just about to give way to disco and punk and the big '80s, Between the Lines is quite a good piece of filmwork. There's a solid cast of young actors, some of whom would go on to much bigger things, such as Goldblum and Heard, who put on easy performances here and Silver stays out of their way with her hands off direction, presenting what feels more like documentary than forced fiction.
The Video
The film arrives with a new 2K restoration on Blu-ray in an AVC 1080p encodement framed at 1.85:1. The image looks very organic and the film grain has been well preserved. It's a rather grainy film overall, but it looks natural, not noisy, and there are no signs of edge enhancement. Shadow detail is pretty good and colors are in line with how most films of the era looked.
The Audio
The original monaural soundtrack for Between the Lines is provided in LPCM 2.0. While the dialogue can at times drop a little too low, overall the audio here sounds good and has a good amount of dynamic especially for that '70s Jersey Shore-style rock soundtrack.
The Supplements
Cohen Media Group includes a very good interview with with filmmaker on the disc in addition to two trailers and a thin booklet with credits and production stills in this release.
Conversations from the Quad: The Making of Between the Lines (1.78:1; 1080p)
Restoration Trailer (1.78:1; 1080p)
Original Trailer (1.78:1; 1080p)
The Final Assessment
This is very, often funny and ultimately pleasurable romantic workplace comedy/drama with strong performances from its cast and pinpoint direction that has it coming across with a casual ease. The new 2K restoration by Cohen Media Group is well done, with a pleasing, organic and filmic presentation on Blu-ray Disc.
Between the Lines is available on Blu-ray & DVD June 18, 2019 from Cohen Media Group
---
Midwest Films | Cohen Media Group
Studios & Distributors
Joan Micklin Silver
Director
Fred Barron (story & screenplay) | David Helpern (story)
Writer
$29.98
MSRP
English LPCM 2.0 Mono
Audio
Summary
The staff at an alternative newspaper in Boston deal with interpersonal relationships and the impending takeover of their paper by a big publishing company in this 1977 indie workplace comedy from Joan Micklin Silver, which was her second feature film following on the success of her previous feature Hester Street. The relatively cast included such actors as Jeff Goldblum and John Heard, who would go on to much bigger success in their later careers.
What people say... Login to rate
Be the first to leave a review.
Show more