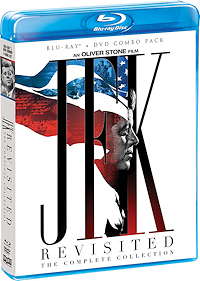 In his feature-length documentary, JFK Revisited: Through the Looking Glass and the four-part mini-series JFK: Destiny Betrayed, filmmaker Oliver Stone revisits the subject and themes of his 1990 drama JFK which dealt with the assassination of President John F. Kennedy and the various theories of a conspiracy surrounding his killing. With new evidence via de-classified documents, Stone takes a deep dive into the potential players, the faulty Warren Commission findings, and even the geo-political controversies that could point to reasons people may have wanted Kennedy removed. Many of the same themes and theories are revisited between the documentary and mini-series, but the mini-series goes much further into depth and sheds more light on the interconnected web of intrigue. Whoopi Goldberg and Donald Sutherland lend their voices for narration. Anyone interested in history or why we may currently be witnessing the breakdown of trust in our institutions should definitely give this a watch.
JFK Revisited: The Complete Collection
The Video
The programs on these discs are obviously taken from multiple sources of various quality. Much of the archival footage is from film or rudimentary video, it switches between black and white or color, 35mm, 16mm, or even 8mm. There are archival photographs used as well. The contemporary video is digital HD and looks clean and detailed. The Blu-ray is provided in a 1.78:1 AVC 1080p encodement that is absent any compression or encoding issues.
The Audio
Both JFK Revisited: Through the Looking Glass and JFK: Destiny Betrayed come with lossless DTS-HD Master Audio 5.1 and 2.0 Stereo audio mixes. The 5.1 mixes only add low-level atmospherics into the surrounds and mild bump to the LFE. The 2.0 is on nearly equal footing with the 5.1. Both provide clean narration and good stereo imaging.
The Supplements
There are no supplements on this release, but it does also include both the feature length film and mini-series on DVD as well.
The Final Assessment
Oliver Stone's relentless pursuit of the truth regarding the assassination of President Kennedy is brought together in this complete collection and serves as a document of the crumbling of our democratic institutions if nothing else. Highly recommended.
JFK Revisited: The Complete Collection is out on Blu-ray Combo July 19, 2022 from Shout! Factory

---
Rating Certificate: TV-14 (JFK Revisited: Through the Looking Glass) | TV-MA (Destiny Betrayed)
Studios & Distributors: Ingenious Media | Ixtlan Productions | Pantagruel Productions | Shout! Factory
Directors: Ibrahim Hamdan | Oliver Stone
Written By: James DiEugenio (based on the book)
Run Time: 351 Mins.
Street Date: 19 July 2022
Aspect Ratio: 1.78:1
Video Format: AVC 1080p
Primary Audio: English DTS-HD MA 5.1
Secondary Audio: English DTS-HD MA 2.0 Stereo
Subtitles: English SDH