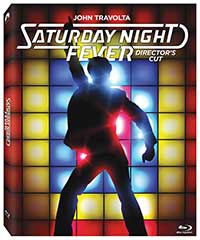 In 1977 John Travolta strutted down the streets of Brooklyn to the pulsing rhythm of the Bee Gees' "Stayin' Alive" and went from a star to a mega-star. Director John Badham's Saturday Night Fever, one of a number of films heralding the new era of blockbuster films that would include Jaws and Star Wars, would go on to become the defining moment of the disco era. The white-suited Travolta burning up the disco floor to a seemingly endless string of Bee Gees hits like the aforementioned "Stayin' Alive," "Night Fever," and "How Deep is Your Love," would become one of the genre's most iconic images.
For all of its flashiness, the film was more than what met the eye. The story about Tony Manero (Travolta) a working class Brooklyn teen by day who clashed with his family and blew off steam on the dance floor by night, who meets a woman, Stephanie (Karen Lynn Gorney), a secretary looking to move up into the upper echelons of Manhattan society is a universal one. It's boy meets girl; it's the struggle for upper mobility; it's teen angst and rebellion; and it's romance. And it is all wrapped up in a sugary pop package that blurred the lines between film and Top 40.
The success of disco's rise and Saturday Night Fever would be short-lived and prove a Pyrrhic victory. Although Travolta would have further success with the musical Grease a year later, his success would rapidly decline after that and would take him a decade and a half to come back with Pulp Fiction. Disco would also decline rapidly after the saturation on the charts and airwaves of the Bee Gees Saturday Night Fever hits that were either fueled by the film or the film fueled the hits. Who really knows? What we do know is, this is a film that may seem a little quaint today, but has had remarkable staying power given just how tied it is to its musical movement.
This Blu-ray release makes available for the first time a brand new 122 Min. Director's Cut. Previously there were two versions of the film available, the Theatrical R-rated version and an edited down PG version done to maximize box office appeal.
The Video
The original 35mm source for Saturday Night Fever does have some film softness, but overall this AVC 1080p encodement to Blu-ray from Paramount looks organic and authentic. This 1977 vintage film looks exactly like a film from its era, more naturalistic than hyper-processed like the films of today, so even given the stylized, flashy disco theme, there's a more gritty look and feel overall. Little source damage is there to get in the way, but it hasn't been cleaned up to the point that it is smooth and grain-free. It's an excellent 4K restoration.
The Audio
The 5.1 mix for Saturday Night Fever was for this 40th anniversary release and is provided in a Dolby TrueHD track. The overall mix is nothing spectacular, offering only mild atmospherics in the surround channels, but it does convey the disco soundtrack with a good amount of low-end punch and midrange musicality. Dialogue is also very clear with little clipping.
The Supplements
A decent collection of supplements are offered, including the director's audio commentary, the "Discopedia" trivia track, and an hour-long collection of "making of" featurettes.
Audio commentary by director John Badham
70s Discopedia
Catching the Fever (1.78:1; 1080p/24; 00:52:39):

A 30 Year Legacy (2007)
Making the Soundtrack History
Platforms & Polyester
Deejays & Discos
Spotlight on Travolta

Back to Bay Ridge (1.78:1; 1080p/24; 00:09:01) – About the location shooting.
Dance Like Travolta with John Cassese (1.78:1; 1080p/24; 00:09:50)
Fever Challenge! (1.78:1; 1080p/24; 00:04:00)
Deleted Scene – Tony & Stephanie in the Car (1.78:1; 1080p/24; 00:01:32)
The Final Assessment
The film that rose to define a musical genre and the 70s malaise, Saturday Night Fever returns with an all new Director's Cut that adds a whopping 4 mins. The PG version is, thankfully, MIA.
[amazon_auto_links id="99977"]
R (for strong language, sexuality/nudity and some drug content) (Theatrical) | Unrated (Director's Cut)
Rating Certificate
Robert Stigwood Organization (RSO) | Paramount Pictures | Paramount Home Media Distribution
Studios & Distributors
118 Mins. (Theatrical) | 122 Mins. (Director's Cut)
Run Time
$16.99
MSRP
English Dolby TrueHD 5.1
Audio
English | English SDH | French | Portuguese | Spanish
Subtitles
French DD 5.1 | Spanish Mono DD (Theatrical Only) | Portuguese DD 5.1 (Theatrical Only)
Secondary Audio
Summary
An iconic disco era film that defined a genre and cast a mold for the mix of '80s music-based films that were to follow, Saturday Night Fever returns in this new Director's Cut version surprisingly resilient given how tied it is to its particular moment in time.
What people say... Login to rate
Be the first to leave a review.
Show more