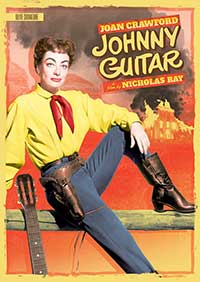 A strangely out of place western from Nicholas Ray set in a bold color palette that the director would later use to great effect again in Rebel Without a Cause, Johnny Guitar is set in world of fiery passions, lust, and irrational hatred.
The title character (played by Sterling Hayden) is hired on by the strong-willed Vienna (Joan Crawford) to help her protect herself and her saloon from the townsfolk who want her out. Apparently she and Johnny were past lovers and Johnny is also a gunslinger with a hot temper he trouble keeping under control, but he's keeping his quick trigger finger under control for Vienna's benefit. Vienna's main rival is Emma Small (Mercedes McCambridge), the Arizona town's bank treasurer who has developed an irrational hatred for Vienna for two reasons. The first because the smooth-talking gangster people call Dancin' Kid (Scott Brady) whom Emma can't admit she actually has feelings for, has also set his sights on Vienna; secondly because she believes that Dancin' Kid and his friends killed her brother. Emma convinces the people of the town to gather a posse and arrest Vienna, but the first confrontation results in no more than a tense standoff in Vienna's saloon and an ultimatum for her to shutdown her saloon and get out of town within 24 hours. This doesn't sit well with Dancin' Kid or Emma. Dancin' Kid and his cronies plan a bank robbery and take all the bank's stash, and it just happens to go off when Vienna is there withdrawing her funds and closing her account. This gives Emma all the fuel she needs to finally link Vienna to the Dancin' Kid and a crime, and another posse is gathered, this time with a lynching on their mind. Johnny Guitar, meanwhile, who'd been sent away, must come to Vienna's rescue and save her from the angry mob.
Martin Scorsese has said that Johnny Guitar feels more like an opera than a western, and he's right. The melodrama, the angst, the romance, the tight indoor scenes, the numerous set pieces and the psychosexual subtexts of these two, strong, angry women in their butch cowboy uniforms in a battle royale against each other surrounded by weak-kneed men uninterested in entering into the arena makes this one a special, western.
The Video
Johnny Guitar comes to Blu-ray in an AVC 1080p encodement from a new 4K digital restoration framed at 1.66:1. The Trucolor imagery looks breathtakingly saturated and the film's grain structure is organic and thinly layered, apart from a few places where the optical effects process of the day leads to extra grain levels from the dupe process. There are no issues with edge enhancement, and the contrast is strong. Shadows are wonderfully nuanced with only the slightest hint of crush in a few places, but not enough to hinder the extended detail.
The Audio
The monaural soundtrack is supplied in a crystal clear DTS-HD Master Audio 2.0 track that has little in the way of pops and hiss, and good enough balance of sounds.
The Supplements
We get an interesting slate of supplements that provide an in depth look at the historical context of the film and its production. The audio commentary from Geoff Andrew, while not very charismatic, is interesting and very informative about Joan Crawford and Nicholas Ray.
Introduction by Martin Scorsese (1.33:1; upscaled 1080p/24; 00:03:28)
Audio Commentary with Critic Geoff Andrew
Johnny Guitar: A Western Like No Other — With critics Miriam Bale, Kent Jones, Joe Mcelhaney and B. Ruby Rich (1.78:1; 1080p/24; 00:17:29)
Johnny Guitar: A Feminist Western? — With critics Miriam Bale, Kent Jones, Joe Mcelhaney and B. Ruby Rich (1.78:1; 1080p/24; 00:14:33)
Tell Us She Was One of You: The Blacklist History of Johnny Guitar — With historian Larry Ceplair and blacklisted screenwriter Walter Bernstein (1.78:1; 1080p/24; 00:10:23)
Free Republic: Herbert J.Yates and the Story of Republic Pictures with archivist Marc Wanamaker (1.78:1; 1080p/24; 00:06:01)
My Friend, the American Friend – Memories of Nicholas Ray with Tom Farrell and Chris Sievernich (1.78:1; 1080p/24; 00:11:07)
Johnny Guitar: The First Existential Western – essay by critic Jonathan Rosenbaum provided on disc and in booklet form.
Theatrical Trailer (1.37:1; 1080p/24; 00:02:50)
The Final Assessment
Joan Crawford puts on a superb performance in what is often called a "feminist western", but can be viewed from a number of angles – feminist, lesbian, or just melodrama. With a supporting cast that includes Ernest Borgnine, Ben Cooper and Royal Dano, this reimagined western is a pleasure for cinephiles in this new 4K restoration.
Johnny Guitar [Olive Signature] (TheaterByte Blu-ray Review)
Republic Pictures/Paramount/Olive Films
Studios & Distributors
Philip Yordan (screenplay), Roy Chanslor (novel)
Writer
$39.95
MSRP
English DTS-HD MA 2.0 Mono
Audio
Summary
A psycho-sexual western that has been claimed as a feminist work, Johnny Guitar is an unusual yet standout in the genre filled with anger, angst, and romance.
What people say... Login to rate
Be the first to leave a review.
Show more