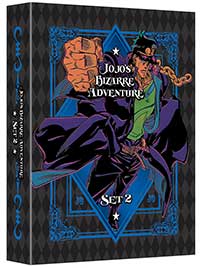 This set of JoJo's Bizarre Adventure: Stardust Crusaders – labeled by Viz Media as "Set 2" – encompasses the first 24 episodes of this season's 48-episode arc. Set in 1987, this second season finds Jotaro Kujo and his friends who have developed mysterious powers known as Stands joined by JoJo's grandfather Joseph Joestar and other allies on a quest that will take them to Egypt ("The Egypt Arc") to ultimately seek out the evil immortal vampire Dio Brando or "DIO" to save Jotaro's mother Holly whose Stand has awakened, threatening to overtake her in less than two months' time.
As always with JoJo's Bizarre Adventure and as the name implies, our heroes' journey is bizarre – and downright psychedelic a times. The band of comrades travel through Hong Kong, Singapore, India, Pakistan, and United Arab Emirates, in this globetrotting mind-trip through Asia that finds them confronting numerous dangers and Stands. Mysterious growths on their arms? Dogs? Eerie amusement parks? It's all here.
The story may not always be the easiest to follow given its free-flowing, mystical themes and meta musical allusions (characters named "ZZ," "J.Geil," and "Enya" are just the tip of the iceberg"), but JoJo's Bizarre Adventure shores up those gaps with its badass artwork and character designs that are not only gorgeous and faithful to manga, but look like throwbacks to old skool pre-digital anime designs.
So, turn off your mind, relax and float downstream, JoJo's Bizarre Adventure: Stardust Crusaders is a wild trip – and this is just the first half of a special arc.
The Video
JoJo's Bizarre Adventure shows up on Blu-ray in an eye-popping AVC 1080p transfer from Viz Media framed at 1.78:1. It faithfully captures the psychedelia of the series with strong detail and rich colors without looking over-saturated and without having any major issues like heavy color banding or motion artifacts. This is a series that tends toward an organic, textured overall look and that is presented here very well.
The Audio
The original Japanese soundtrack for Jojo's Bizarre Adventure: Stardust Crusaders is included in DTS-HD Master Audio 2.0 stereo as well as the English dub in the same format. The sound is good for a stereo-only mix offering excellent dynamics and wide stereo imaging. The English dub strays a bit from the literal Japanese but doesn't get too far off course. The cast is a little more over-the-top in the English performance.
The Supplements
The extras in this limited edition set of JoJo's Bizarre Adventure: Stardust Crusaders are top-notch and they're housed in a glossy chipboard cover.
6 Art Cards
104-page booklet featuring key animation and director Tsuda's comments
Interviews:

Interview with Matthew Mercer, English Voice of Jotaro Kujo (1.78:1. 1080p/24; 00:07:50)
Interview with Richard Epcar, English voice of Joseph Joestar (1.78:1; 1080p/24; 00:06:37)
Interview with Chris Tergliafera, English voice of Mohammed Avdol (1.78:1; 1080p/24; 00:09:50)
Interview with Kyle Hebert, English voice of Noriaki Kakyoin (1.78:1; 1080p/24; 00:05:10)
DIO's Stand Off – An Interview with Patrick Seitz, English voice of DIO (1.78:1; 1080p/24; 00:10:10)
Jojo's Bizare Fandom (with Ben Diskin) (1.78:1; 1080p/24; 00:05:57)

Art Gallery Parts 1-3
Clean Openings/Endings w/ optional English or Romaji subtitles
Viz Media Trailers
The Final Assessment
This set of JoJo's Bizarre Adventure: Stardust Crusaders [Set 2 eps. 1-24] is a good entry point for anyone looking to see what the buzz is about with this anime series. It offers a good set of extras, a story that will hook you, addictive imagery, and superb audio/video quality.
JoJo's Bizarre Adventure: Stardust Crusaders is out on Blu-ray Combo Pack from Viz Media July 3, 2018
David Production
Animation Studio
Tsuda Naokatsu | Suzuki Ken'ichi
Director
$69.99
MSRP
Japanese DTS-HD MA 2.0 Stereo
Audio
English DTS-HD MA 2.0 Stereo
Secondary Audio
English (Songs & Titles) | English
Subtitles
Summary
In 1987, plagued by a spirit known as a Stand, Jotaro Kujo and his friends journey with his grandfather, Joseph Joestar, to Egypt to save Jotaro's mother from a Stand of her own before it overwhelms her in this bizarre and psychedelic mind trip of a series. This Limited Edition set presents the first half of the 'Stardust Crusaders' season, episodes 1-24, and is packed with collectible extras.
What people say... Login to rate
Be the first to leave a review.
Show more