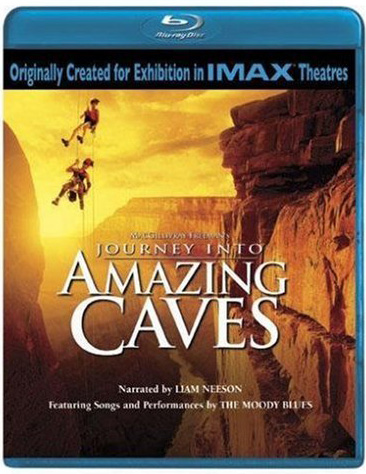 Aspect Ratio: 1.78:1
Video Codec: VC-1
Audio Codec: English DTS-HD Master Audio 5.1;
French & Spanish Dolby Digital 5.1
Region: ABC (All Regions)
Discs: 1
Narrator: Liam Neeson
Studio: Image Entertainment
Release Date:May 5, 2009
List Price: $24.98
Overall



The Film



Video Quality

Audio Quality

Supplemental Materials

Click thumbnails for high-resolution 1920X1080p screen captures
The Film

Journey into Amazing Caves follows two scientists as they journey around the world in search of microorganisms known as extremophiles, organisms that thrive in harsh conditions, in caves in every kind of terrain. From icy crevasses of Greenland to underwater caves of Mexico's Yucatan and the rocky caverns of the Grand Canyon in the United States, these extremophiles are of great value to the scientific world because they may contain treatments or cures for many of the diseases that plague us today.
This large-format IMAX exhibition film from MacGilivray Freeman Films is full of wonderful, adrenalin pumping aerial footage of explorers repelling into dangerous ices caves and underwater footage of divers exploring the depths of dangerous, hidden, underwater caves. The narration from Liam Neeson intermingles with that of scientists and explorers Dr. Hazel Barton and Nancy Aulenbach as they brave the dangers of this riskiest of explorations.
Along the way, the team checks in with regular updates to Aulenbach's class of grade-schoolers, which helps to lighten the film and may even help make this documentary more appealing to younger audiences.
Video Quality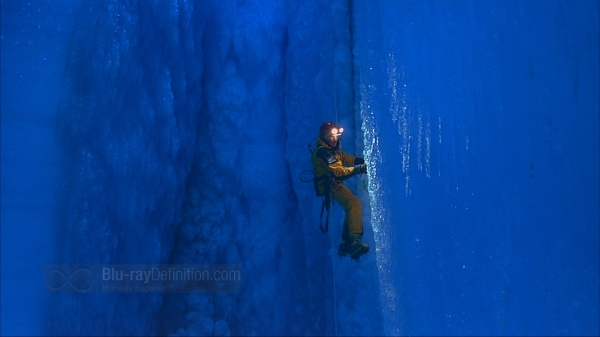 The IMAX 70-mm large format film when transferred to Blu-ray properly can look just as stunning and finely detailed as the best high definition production, if not more so. Usually Image Entertainment's transfers of IMAX titles look pretty stunning, but, regrettably, Journey into Amazing Caves is one of the few releases from them that suffers from some rather lackluster quality that is middling at best and poor at worst.
The 1.78:1 VC-1 1080p/24 transfer, reformatted from the original 1.33:1 IMAX aspect ratio suffers from a lot of source artifacts like dirt, scratches, and some vertical film judder. Additionally, background detail often softens, most likely as a consequence of reformatting of the original image. Contrast also slightly clips in some scenes and black levels aren't as deep as they could be, showing a large amount low-level grain noise in some areas.
On the strong side, colors are vivid and pop from the screen, with natural flesh tones, but overall this is one of the weaker IMAX presentations from Image Entertainment.
Audio Quality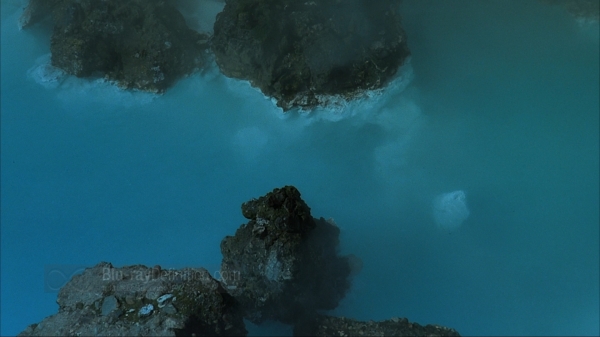 Amazing Caves is given the lossless DTS-HD Master 5.1 treatment, and typically of these IMAX features from Image, it is an entertaining and thoroughly engaging aural treat.  Featuring songs and music by The Moody Blues and narration from Liam Neeson, the mix is relatively aggressive, filling each channel with discrete sound effects of rushing water, motors and voices. The LFE is put to good use as well, with sufficiently deep low frequency extension. The dialogue in the centre channel is clear and full, never getting lost in the mix.
Supplemental Materials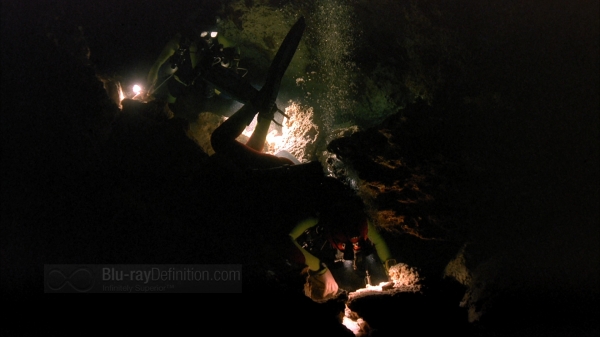 Journey into Amazing Caves comes with the usual slate of supplements for Image Entertainment's IMAX Blu-ray release, and that includes a group of HD trailers for more IMAX releases (1.78:1; 1080p/24) a "Making of" featurette (1.33:1; 480i/60), a Journey into Amazing Caves film trivia quiz, and a BD-Live feature that doesn't contain much relevant to the release. None of the extras on here will require a first look and will definitely not need a second.
The Definitive Word
Overall: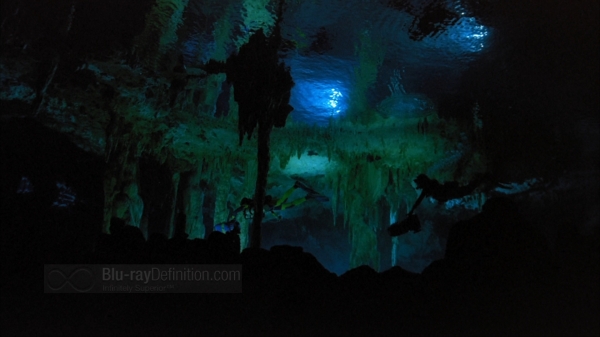 As a documentary, Journey into Amazing Caves provides a vicariously thrilling look into the world of cave exploration, even if it is typically light on in-depth analysis, as most IMAX exhibitions are. Unfortunately, this Blu-ray Disc release falls short of its intention as HD reference material, so in the case of this release from Image, I'm inclined to recommend readers skip this one.
[amazon-product align="left"]B001RTKKQC[/amazon-product]
Shop with Us for More Blu-ray Titles at Amazon.com