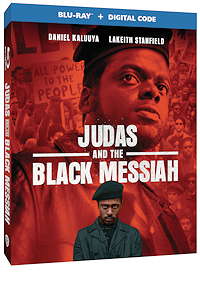 Judas and the Black Messiah is based on the true story of the powerful speaker and social movement leader Fred Hampton (played by Oscar-winning Daniel Kaluuya, Best Supporting Actor), who was the deputy chairman of the Illinois chapter of the Black Panther Party and Bill O'Neal (LaKeith Stanfield), the car thief who makes a plea deal with the FBI in exchange for infiltrating the Black Panther Party and providing information on Hampton.
As Hampton, still a young man of only 20, begins to gain popularity and manages to bring together multiple political and ethnic poor and working-class groups in the Chicago area, including the black and Latino gangs, Black Panthers, and poor white Southerners who had migrated to Chicago into what he labeled a 'Rainbow Coalition' he becomes a threat to the highest echelons of the Establishment, particularly the head of the FBI, J. Edgar Hoover (Martin Sheen), who labels Hampton and the Black Panther Party the biggest security threat to the Establishment and says they cannot allow a 'black messiah' to rise up amongst the people. O'Neal, who would pass information on to his FBI handler Roy Mitchell (Jesse Plemons) will eventually be directly involved in what would be the assassination of Fred Hampton in his bed next to his pregnant girlfriend, directly ordered by the top brass at the FBI, at the hands of local police.
Director and co-writer Shaka King does not spare any truths here or try to do any hero building. The story about Hampton and O'Neal pretty much follows the history of the story with some artistic leeway, but none that stretch the story. He does it well, and with straightforward, easily paced editing, and what feels like a brief film even at its over two-hour run time. It's also quite odd, digressing a bit, to consider how The Academy decides who is a 'supporting' actor and who is in a lead role, because Kaluuya definitely feels like he is the one in the lead, granted the story is meant to be about O'Neal's betrayal about Hampton, not a Fred Hampton biopic. Both do wonderful jobs in their roles, but Kaluuya earned a much-deserved Oscar.
Judas and the Black Messiah (2021)
The Video
Judas and the Black Messiah streamed on HBO Max in 4K Ultra HD with Dolby Vision (or HDR10 depending on your equipment), but Warner Bros., for now, has chosen to release this only on Blu-ray, so we don't get that here, only a 1080p AVC encodement framed at 2.39:1. Now, while I am a bit disappointed not to be able to get a 4K disc release of this film, I cannot complain at all about the quality of this transfer. The film was shot on the Arri Alexa LF with Arri DNA LF lenses and the Arri Alexa Mini LF with Arri DNA LF lenses in ARRIRAW (4.5K) and uses a 4K DI. We get nuanced shadows and blacks that are deep if not exactly inky. Colors are rich, like the candy apple red GTO Lakeith Stanfield steals early on really has good 'pop' and sheen, and there's an organic overall look to the film so it looks almost filmic. Flesh tones are natural. I can't see any sort of banding or motion artifacts.
The Audio
This is another disappointment considering this streamed on HBO Max with Atmos, but, putting that aside, the English DTS-HD Master Audio 5.1 mix is a solid mix. It has very wide dynamics, so we go from quiet dynamics to loud crowd noises or the loud wailing sax when we first see Lakeith Stanfield in Chicago. The film is very dialogue heavy, so we do get a lot of center channel dialogue that is clear and full, and some stereo panning, with occasional scenes that nicely add in atmospherics of city streets, passing traffic, and so forth that are quiet, but audible and balanced.
The Supplements
The supplements are very limited on this release, but the two included on-disc featurettes are interesting. One briefly discusses Fred Hampton and the other Bill O'Neal. They both offer interviews and insight from the cast and crew.
Digital Code
Fred Hampton for the People (1080p; 00:09:19)
Unexpected Betrayal (1080p; 00:07:47)
The Final Assessment
A powerful film with superb acting all around arrives in a reference quality Blu-ray from Warner Bros. Highly recommended.
---
If you found this article useful please consider clicking the button below and donating to help keep TheaterByte funded, which will allow us to continue posting great content.
---
Judas and the Black Messiah is out on Blu-ray+Digital & DVD on May 4, 2021 from Warner Bros.
---
Rating Certificate: R (for violence and pervasive language)
Studios & Distributors: BRON Studios | Bron Creative | MACRO | Participant | Proximity | HBO Max | Warner Bros. Home Entertainment
Director: Shaka King
Written By: Will Berson (story & screenplay by) | Shaka King (story & screenplay by) | Kenneth Lucas (story by) | Keith Lucas (story by)
Run Time: 126 Mins.
Street Date: 4 May 2021
Aspect Ratio: 2.39:1
Video Format: AVC 1080p
Primary Audio: English DTS-HD MA 5.1
Secondary Audio: English Descriptive Audio
Subtitles: English SDH | French | Spanish