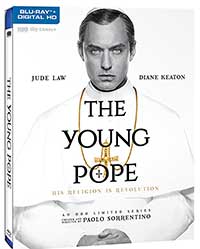 The Young Pope, HBO's latest limited series, comes with a strong pedigree. 2013 Oscar-winning director for Best Foreign Language Film Paolo Sorrentino (The Great Beauty) created, wrote, and directed, two-time Oscar nominee Jude Law, and Oscar-winner Diane Keaton star in the ten-episode-long series. Sorrentino brings his same eye for lavish, sensual beauty to the small screen for The Young Pope that defines his Oscar-winning film and he also manages to craft an intriguing story arc around a fictional character that many compare to Frank Underwood for his level of political acumen. Being neither Catholic nor religious in the slightest, I wade into The Young Pope with great hesitation, but Sorentino does manage take this story beyond its religiosity to something more universal, and that is about a man whose childhood scars have become the driving force of his adulthood anger.
The story centers on one Lenny Balardo (Law) the fictional first American Pope of the Roman Catholic Church. Lenny, who takes the name Pope Pius XIII, ascends to the papacy through a serious of political moves within the College of Cardinals and the nun, Sister Mary (Diane Keaton) who raised him. Not fully understanding what he stood for, the cardinals soon find out that Lenny is both an archconservative and a diabolic politician ready to take the church and its teachings back centuries. Lenny, an orphan who was abandoned by his parents, is now seeking to do the same to the millions of followers of the Church – abandon them by refusing to make appearances and to demand that they find God on their own. Moreover, he has decried that the Church will no longer be forgiving of such things as divorce, homosexuality and abortion; he has taken a hard stance. Am ominous address to the crowds with him standing in the shadows chastising the hundreds of thousands there to see him comes across more frightening than comforting even to the Cardinals.
Sorrentino's story deftly sways this series away from a simple battle of religious dogmas into territory anyone can relate to. There are the behind the scenes machinations as Cardinals and world leaders jostle for power, there is Lenny's own internal struggles as he doubts the existence of God even as he condemns those who dare question if God exists, exposing his own hypocrisy. Then there is Sister Mary's prominence, a strong woman behind the scenes always reminding Lenny of the boyhood he so seeks to cast off, but cannot.
This delirious mixture of worldly and spiritual is made all the more hypnotic by Sorrentino's keen blending of visual styles – neon, renaissance beauty of Italy, sun soaked gardens – and aural styles from the Latin choral music to Euro-Pop and Lenny dons his Papal Tiara for the first time. ("I'm Sexy and I know It"). Sorrentino has an uncanny ability to bring us down to earth.
The cast is superb straight through. Jude Law puts in what has to be one of his most powerful performances as Pope Pius XIII – dangerous, devious, yet vulnerable and highly devoted to his religion in his own way. Diane Keaton is cagey, unreadable, ambitious, yet maternal. And the hidden gem Ludivine Sagnier as Esther, wife of one of the Swiss Guards, unfaithful with one of the Vatican priests who falls in love with Lenny and is used as a pawn in a scheme by the cardinals to try to entice him into a scandal. She is very beautiful, charming, and seductive, yet oozes an innocence well suited to the role.
The Video
The Young Pope was shot on the Red Epic with Leica Summicron-C lenses at 5K resolution and utilized a 4K DI (Digital Intermediate) for processing/color coding. It would make a prime candidate for a 4K Ultra HD Blu-ray release w/ HDR, especially given its sumptuous visual palette that showcases the splendor of the Vatican with its gilded garb, the verdant gardens, and also the sparkling starlit Roman skies. However, this release is a standard Blu-ray Disc encoded in AVC 1080p and although it doesn't realize the full potential of the 5K source and 4K master, it is no slouch. It has a very filmic and cinematic appearance. The textured imagery looks very organic and o pleasing, the colors are natural and contrast strong. There is a slight touch of crush that affects the black gowns of the cardinals at times, but not enough to hamper the overall detail.
The Audio
An English DTS-HD Master Audio 5.1 soundtrack is provided and it is extremely subtle and I would say disappointing. The opening title sequence that is a rocking instrumental take of "All Along the Watchtower" is promising, but even that seems to lack a lot of "punch" and atmosphere. The overall atmospherics and effects in this mix are quite mellow and dry, with just the occasional noticeable sound effect. With the cavernous Vatican as he setting, one would expect at least a reverberant mix, but it's not the case here. The occasional bouts of rain and thunder liven things up in the surround channels and wake up the subwoofer.
The Supplements
The Inside the Episodes behind-the-scenes features are the most interesting and informative inclusions in what is an otherwise paltry selection of special features.
Digital HD UltraViolet + iTunes Digital HD Digital Copy
Inside the Episodes (1.78:1; 1080p/24)
An Invitation to the Set (1.78:1; 1080p/24; 00:03:07)
The Making of The Young Pope (1.78:1; 1080p/24; 00:11:26)
The Final Assessment
The Young Pope may have an uphill battle reaching those who are just instantly disinterested in anything having to do with religion. I urge those to put those doubts aside and to give this series a shot. The gorgeous visuals and the multi-level drama and depth of the characters will draw you in. The Blu-ray Disc from HBO is a perfect way to watch.
[amazon_auto_links id="100766"]
Wildside | Haut et Court TV | Mediapro | Sky Italia | Home Box Office (HBO) | Canal+ | HBO
Studios & Distributors
$59.99
MSRP
English DTS-HD MA 5.1
Audio
Spanish DTS Digital Surround 2.0
Secondary Audio
Summary
Visually stunning and powerfully acted fictional account of an American Pope who throws the Catholic church off guard with his harsh dogma and diabolical political maneuvers. The Blu-ray Disc from HBO looks great, but offers little in special features beyond episode "making ofs' worth watching.
What people say... Login to rate
Be the first to leave a review.
Show more