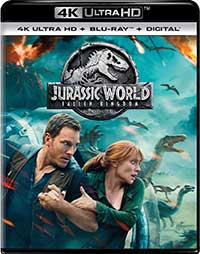 Jurassic World: Fallen Kingdom may be suffering from going back to the well too many times. This well-worn franchise has definitely had its ups and downs (and downs) over the years. The Jurassic World reboot for all its lack of originality was at least fun to watch and packed with all the edge-of-the-seat action and eye-catching visual effects we have come to expect from the Jurassic films. That can't be said with this follow-up. The visual effects are still there and still amazing, but the story and action don't hold up this time around.
When a volcano erupts on the island of the now defunct Jurassic World theme park, Isla Nubar, Owen (Chris Pratt) and Claire (Bryce Dallas Howard) are enticed by a billionaire into a scheme to rescue the remaining dinosaurs and transport them to a refuge where the animals can roam free. They put together a team of tech and veterinary support and are met by a group of mercenaries led by the gruff commander Ken Wheatley (Ted Levine). Owen and Claire soon realize the expedition is more than just a recovery mission and that their team's lives may be in danger.
The scenes on the island follow the playbook well set for Jurassic and add in an angry volcano spewing lava and they prove to be the highlight of the film.  After this, Jurassic World: Fallen Kingdom shifts to the mansion of Benjamin Lockwood (James Cromwell), the ailing partner of Jurassic Park's Dr. Hammond (Richard Attenborough) who first isolated the T-Rex DNA and brought the dinosaurs back to life. Claire and Owen find themselves uncovering a conspiracy to create a new, even deadlier designer dinosaur, the Indoraptor, and are joined by the obligatory kid, Lockwood's granddaughter Maisie (Isabella Sermon).
This portion of the film drags. The Jurassic films are always best when they are reveling in kinetic energy and mindless thrills. Here, it gets bogged down in far too much exposition and unbelievable sub-plots. It also goes back to the playbook for a lot of the "danger" from dinosaurs we have seen in many of the other films in the franchise with some minor tweaks, while also shamelessly aping B-movie horror. There's a scene where the Indoraptor reaches out of the shadows with its claw to grab at little Maisie's ponytail and it may as well be something out of Universal's archive of Saturday matinée monster movies.
Jurassic World: Fallen Kingdom definitely delivers on the visual effects and Pratt and Howard continue to have a delightful chemistry together on screen, but beyond that, the film is a disappointing and at times downright boring entry in the franchise.
The Video
Jurassic World: Fallen Kingdom was shot on the Arri Alexa 65 with Panavision Primo 70 and Sphero 65 lenses at 6.5K with the Arri Alexa Mini with the same lenses at 3.4K used for certain shots. A digital intermediate with Dolby Vision was used in the mastering stage and the film was brought to 4K Ultra HD Blu-ray with a HEVC 2160p (4K) encodement with Dolby Vision HDR framed at 2.39:1. The image is excellent – clean, crisp, extended shadow details and an excellent WCG (Wide Color Gamut). When the volcano begins to erupt on the island, the red-hot lava has a variety of reds, oranges, and yellows. It also 'pops' brilliantly. The Blu-ray handles the imagery well also but loses some of the variation of color and dynamic range in the shadows.
The Audio
Jurassic World: Fallen Kingdom hits 4K Ultra HD with an immersive DTS:X audio mix. As can be expected, this one rocks your home theater with staggering low end. On a side note, it arrived just in time for me to flex my two new Klipsch 12" subwoofers, which replaced my 12" Polk — and they were up to the task. We get excellent use of the overhead channels that fill with roar of dinosaurs, the sounds of debris falling from the volcano, and more.
The Supplements
These behind-the-scenes and 'Making of' featurettes are all brief, but together they add up to a significant chunk of special features that include plenty of time with the actors, writers, and producers. There's also an interactive app that lets you play with the raptor Blue, which will be made available upon release.
Blu-ray
Movies Anywhere – stream or download via your provider of choice: iTunes, Vudu, Fandango Now, Google Play or the Movies Anywhere app.
Play with the raptor Blue in an interactive smartphone app
On Set with Chris & Bryce (2.35:1; 1080p/24; 00:03:05)
The Kingdom Evolves (1.78:1; 1080p/24; 00:04:33)
Return to Hawaii (2.35:1; 1080p/24; 00:02:41)
Island Action (2.35:1; 1080p/24; 00:06:01)
Aboard the Arcadia (2.35:1; 1080p/24; 00:05:53)
Birth of the Indoraptor (2.35:1; 1080p/24; 00:04:09)
Start the Bidding! (2.35:1; 1080p/24; 00:03:18)
Death by Dino (2.35:1; 1080p/24; 00:01:33)
Monster Mansion (2.35:1; 1080p/24; 00:03:06)
Rooftop Showdown (2.35:1; 1080p/24; 00:03:48)
Malcolm's Return (2.35:1; 1080p/24; 00:03:07)
VFX Evolved (2.35:1; 1080p/24; 00:07:08)
Fallen Kingdom: The Conversation (1.78:1; 1080p/24; 00:10:16)
A Song for the Kingdom (2.35:1; 1080p/24; 00:01:26)
Chris Pratt's Jurassic Journals (1.78:1; 1080p/24; 00:12:08)
Jurassic Then and Now — Presented by Barbasol (1080p/24; 00:03:06)
The Final Assessment
Jurassic World: Fallen Kingdom is a fantastic release on 4K Ultra HD Blu-ray from the standpoint of its audio and video properties, coming with reference quality Dolby Vision 4K transfer and showpiece DTS:X audio. The film is hit and miss, with some fun parts and plenty of moments that are ho-hum.
Jurassic World: Fallen Kingdom is out on 4K Ultra HD Combo Pack, Blu-ray Combo Pack,  Blu-ray 3D Combo Pack, and DVD September 18, 2018 from Universal
Products from Amazon.com
‹
›
PG-13 (for intense sequences of science-fiction violence and peril)
Rating Certificate
Amblin Entertainment | Legendary Entertainment | Perfect World Pictures | Universal Pictures | Universal Pictures Home Entertainment
Studios & Distributors
Derek Connolly | Colin Trevorrow | Michael Crichton (based on characters created by)
Writer
$44.98
MSRP
18 Sept. 2018
Release Date
HEVC (H.265) 2160p (4K) | AVC 1080p (Blu-ray)
Video
Dolby Vision (Compatible w/ HDR10)
HDR Format
English DTS:X (compatible w/ DTS-HD MA 7.1)
Primary Audio
Spanish DTS-HD MA 7.1 | French DTS-HD MA 7.1
Secondary Audio
English SDH | Spanish | French
Subtitles
HDR Effect (If Applicable)
Summary
Owen (Chris Pratt) and Claire (Bryce Dallas Howard) from the Jurassic World franchise reboot return to the island of the now defunct theme park in an effort to save the remaining dinosaurs from a raging volcano that threatens to destroy them all. While there they find the people funding their operation have other plans in mind. This follow-up to the fun but hardly original reboot lacks both originality and the sustained energy to keep one interested in its story for long. The visual effects are still great and the 4K Ultra HD Combo Pack from Universal with Dolby Vision and DTS:X audio mix is home theater nirvana.
What people say... Login to rate
Be the first to leave a review.
Show more