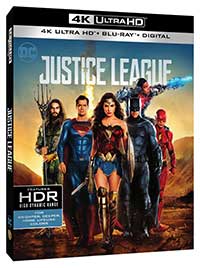 DC continues to try to play catch-up to Marvel with their cinematic releases and thus far, they continue to stay behind by a few lengths. Things were looking up with Wonder Woman, the best film so far in the DC Cinematic Universe, but with Justice League, directed by Zack Snyder (who also helmed the painfully overwrought Batman v. Superman), they take another step backwards.
The film tells the origins of the classic team of superheroes from the long-running DC comic books, showing Batman/Bruce Wayne (Ben Affleck), with the help of his new friend and ally Wonder Woman/Diana Prince (Gal Gadot) — inspired by the sacrifice made by Clark Kent/Superman (Henry Cavill) —  trying to gather a group of super-powered individuals in order to face a coming threat to humanity. The three recruits turn out to be the somewhat irascible Arthur Curry/Aquaman (Jason Momoa) who can control the seas and its creatures, the eccentric and friendless speedster Barry Allen/Flash (Ezra Miller), and the young half-cybernetic experiment gone wrong Victor Stone/Cyborg (Ray Fisher).
The gathered heroes come up against an ancient evil adversary known as Steppenwolf (voiced by Ciarán Hinds), world destroyer, who has returned in the wake of Superman's death and humanity's despair in order to gather three unity boxes, each being guarded by humans, Amazons, and the people of Atlantis respectively – to rule the world.
Justice League doesn't heat up until its second act, because the film has to spend far too much time introducing these new characters to the cinematic world. Therein lies much of the issues with the film – unlike its Marvel counterpart, hardly any of these characters have been on the big screen before. Some, such as the Flash, have been running live action on television, but DC has opted to go in a completely different direction with this big screen Flash.  That is only one of the issues with Justice League – the weak villain is another. At no point watching the film did I ever really believe that Steppenwolf was an actual threat.
There are some good things in this film, but in the hands of Zack Snyder who has at this point directed three disappointing DC films, it doesn't work. Perhaps it is time for DC to put the future of their universe in someone else's hands.
The Video
Justice League was shot on various Arri cameras in the Super 35 format on 35mm Kodak Vision3 50D 5203, Vision3 250D 5207, and Vision3 500T 5219 film stocks with some scenes shot digitally, also on Arri Alexa LT and Alexa 65 cameras, at 2.8K and 5.1K resolution respectively. A 2K DI (Digital Intermediate) was used in post-processing and provided the master for this 4K Ultra HD release in an HEVC 2160p (4K) encodement with Dolby Vision high dynamic range. The Super 35 format gives this film a much grittier look than is usual for these sorts of action films these days. There's a layer of grain that sometimes masks the brilliance of the visual effects, but the Dolby Vision does help in that regard giving some extra 'pop' to highlights and more vividness and nuance to colors.
The Audio
The Dolby Atmos immersive mix for Justice League is as exciting as one would expect for a superhero film. The effects are everywhere, solid in the surrounds, high in the height channels, and wide in the front, dynamics are wide with plenty of headroom still, and the low end booms appropriately. The dialogue never gets lost in the mix.
The Supplements
Justice League is loaded to the brim with special features that delve into the making of the film and the history of the League in the comic books.
Blu-ray – Standard with feature film and all special features
Movies Anywhere digital copy that lets you play the movie at almost every digital retailer including iTunes, Amazon, Vudu, Fandango Now, Google Play, and the Movies Anywhere app.
The Return of Superman (HD, 02:04)– Bonus footage not seen in theaters
Road to Justice (HD, 14:10) – Journey alongside DC comic creators as they explore over fifty years of the Justice League, from comic books to animated adventures to their cinematic debut.
Heart of Justice (HD, 11:52) – Discover the hearth, soul, and mind of the Justice League, as the cast and filmmakers share their admiration for DC's iconic Trinity: Superman, Wonder Woman, and Batman.
Technology of the Justice League (HD, 08:14) – From Batman's arsenal to Cyborg's alien tech, interface with the Justice League database to learn their most advanced secrets.
Justice League: The New Heroes (HD, 12:24) – Join Ray Fisher on a personal tour to meet the newest members of the Justice League: Aquaman, the Flash, and Cyborg.
Steppenwolf the Conqueror (HD, 03:03) – Join actor Ciarán Hinds and the filmmakers as they reveal the story behind mankind's ancient enemy and the Justice League's greatest challenge.
Scene Studies (HD, 15:16) – Take a closer look at the filmmaking process behind Justice League's most visually exciting and action-packed sequences:

Revisiting the Amazons
Wonder Woman's Rescue
Heroes Park
The Tunnel Battle

Suit Up: The Look of the League (HD, 10:21) – Designer Michael Wilkinson explores the innovation and artistry that goes into creating the costumes of DC's iconic heroes.
The Final Assessment
DC may not have caught up to Marvel with this film that finally brings their heavyweight superheroes together on the big screen, but as a 4K Ultra HD release it provides a satisfying popcorn film that fans of superhero movies can enjoy as an escape.
Justice League is out March 13, 2018 on 4K Ultra HD Combo, Blu-ray Combo, and Blu-ray 3D Combo from Warner
[amazon_auto_links id="109287"]
PG-13 (for sequences of sci-fi violence and action)
Rating Certificate
Atlas Entertainment | Cruel & Unusual Films | DC Comics | DC Entertainment | Dune Entertainment | Lensbern Productions | Warner Bros. | Warner Home Video
Studios & Distributors
Chris Terrio (screenplay & story by) | Joss Whedon (screenplay & story by)
Writer
HEVC (H.265) 2160p (4K) | AVC 1080p (Blu-ray)
Video
Dolby Vision (Compatible w/ HDR10)
HDR Format
English Dolby Atmos (Compatible w/ Dolby TrueHD 7.1)
Primary Audio
English DTS-HD MA 5.1 | English Descriptive Audio | French | Spanish (Latino) | Portuguese
Secondary Audio
English SDH | French | Spanish (Latino) | Portuguese
Subtitles
HDR Effect (If Applicable)
Summary
Batman (Ben Affleck in a reprisal of his role), inspired by Superman's ultimate sacrifice, puts together a team of super-powered heroes with the help of his new friend and ally Wonder Woman (Gal Gadot also reprising her role), including the Flash (Ezra Miller), Aquaman (Jason Momoa), and Cyborg (Ray Fisher) in this often confused and slow off the ground DC Universe film hampered by the lack of a big screen history of many of these 'new' superheroes. The 4K disc reproduces the often gritty look of the Super 35 film production without issues, aided by the wide color gamut and dynamic range of the Dolby Vision high dynamic range.
What people say... Login to rate
Be the first to leave a review.
Show more