– –

The Series
[Rating:4.5/5]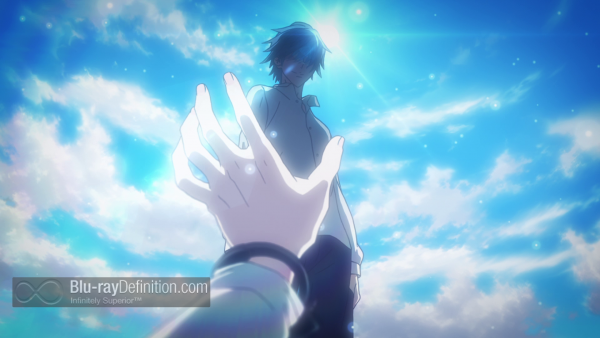 From the manga series by Mikanagi Tōya, Karneval (カーニヴァル) is a mystery/fantasy/adventure that rather unusually focuses in on a circus troupe, aptly named Circus, who also double as a badass secret government crime fighting agency who hunt down mutant creatures called Varuga created by a dark corporation known as Kafka.
At the center of the story is Nai, a rather naïve adolescent boy who, it is found out, is actually made up of animal DNA. Nai is searching for a man he claims to have lived with, Karoku, for a long time, but can't remember when and for how long. Then there is Gareki, an enigmatic 16-year old who makes his living robbing people that runs into Nai and wants to use him for one of his jobs. The pair are soon together as uneasy friends, Nai not wanting to leave his side, and Gareki helping him in his search for Karoku. When they are rescued by Circus and the Circus ID bracelet on Nai's wrist is noticed, they are taken into the Circus fold – and that's when the serious adventures and mysteries begin. The search for Karoku leads to numerous revelations, not only about the nature of the Varuga, but also about Gareki's past. Of course, this is also a circus troupe, so time must be found for play and performances to entertain the public, and the pair are drawn into that as well, but when it;s Circus, even a simple stage performance can turn dangerous – runway robo-rabbits, anyone?
There are a number of characters in Karneval to like and many moments to draw you in. The series takes the story to many unexpected places and isn't what I expected it to be going in. It's much lighter on the comedy and slapstick than the title would lead you to believe, preferring to push the fantasy and mystery elements above the others, and it makes the series all the better for it.
Also of note is the mixture of contemporary dress (Gareki and his childhood friend Tsubame, for example) and the Victorian-Goth look of the members of Circus, like the top hat and tails of Hirato, Circus' Ship No. 2 Captain, or Tsukumo, the beautiful blonde acrobat also from Circus' second crew.
Video Quality
[Rating:4/5]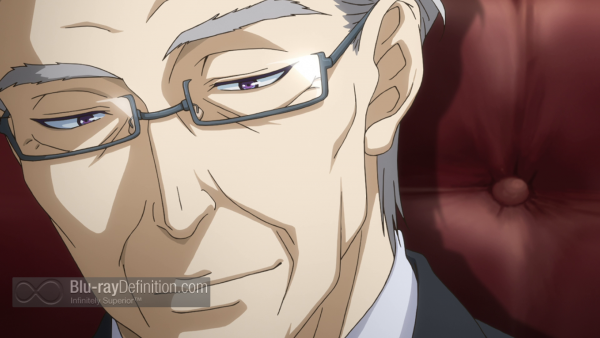 This is a good transfer we get of Karneval with strong colors and detail that looks generally strong in full motion, but there are some slight issues with noise that can be spotted in the darker scenes especially and some very slight and spotty color banding. The series is encoded in AVC 1080p on Blu-ray.
Audio Quality
[Rating:3.5/5]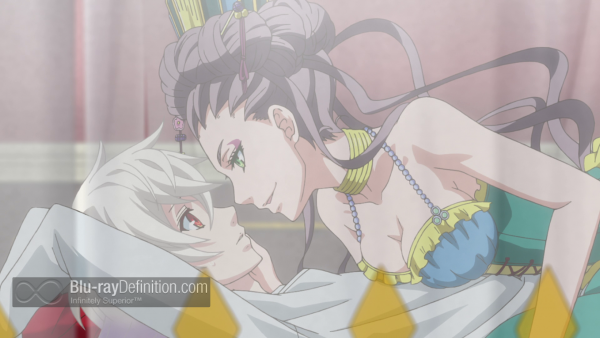 The Japanese soundtrack is offered in Dolby TrueHD 2.0 and an English Dub in Dolby TrueHD 5.1. You'll definitely want to forgo the English dub for this one, all biases aside, as the English voice cast for certain characters, Gareki in particular, lacks the gravitas in their voices that the Japanese cast has. The 5.1 mix is very subtle anyway, so there isn;t much to be missed and the 2.0 has a decent if not astounding spread of sound. Neither one has a wide dynamic range, with both having that usual, low and somewhat squashed range that seems to be a signature in FUNimation releases.
Supplemental Materials
[Rating:3/5]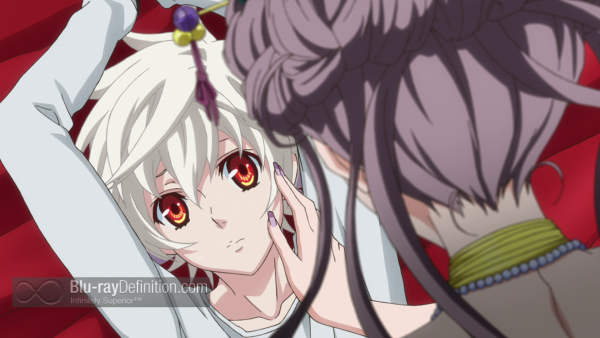 Ltd. Edition includes chipboard art box.
Episode 1 Commentary
Karneval Fashion with J. Michael Tatum (1.78:1; 1080p/24; 00:14:59)
Episode 13 Commentary
Promotional Videos (1.78:1; 1080p/24; 00:02:47)
Textless Opening Song: "Henai no rondo (Rondo of Fixation)"
Textless Closing Song: "Reason"
U.S. Trailer (1.78:1; 1080p/24; 00:01:45)
FUNimation Trailers
The Definitive Word
Overall:
[Rating:4/5]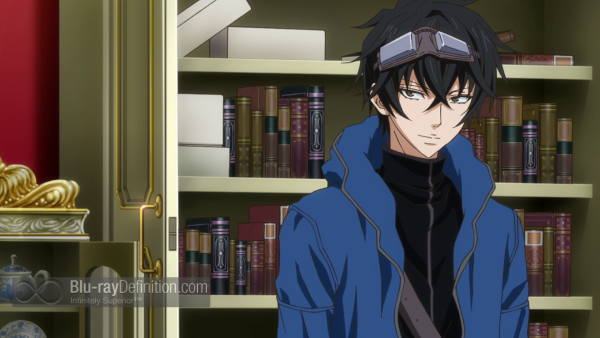 An addictive and beautifully animated series that forgoes the clichés of most series and mixes things up with an unusual concept – an entertainment troupe doubling as secret government crime fighting agency. Karneval is one to watch.
Additional Screen Captures
Available on The Right Stuf (LE)
[amazon-product]B00J49R0BK[/amazon-product]
[amazon-product]B00J49R1Y6[/amazon-product]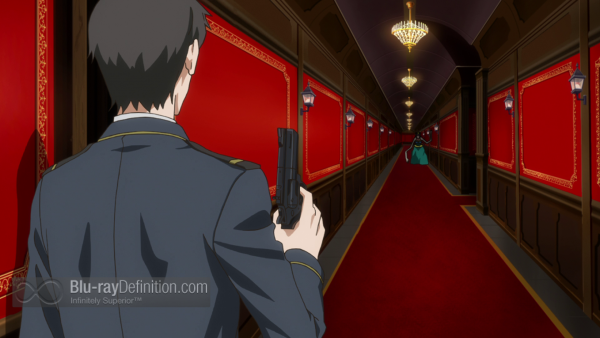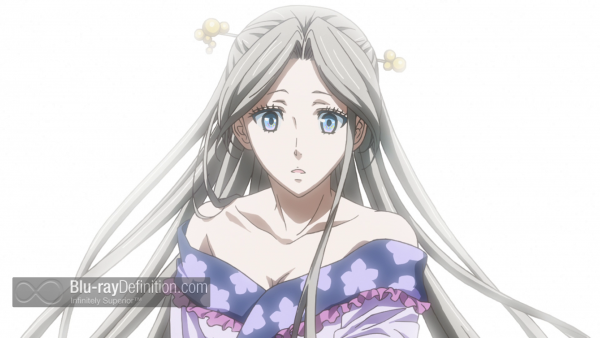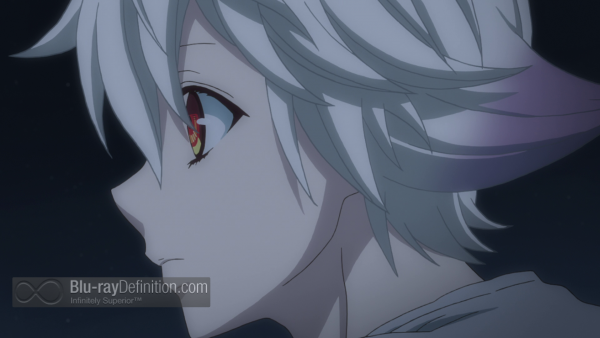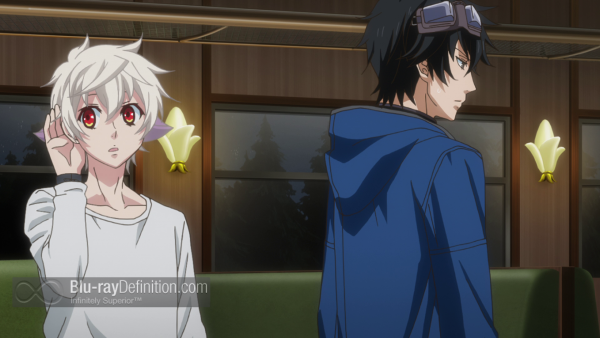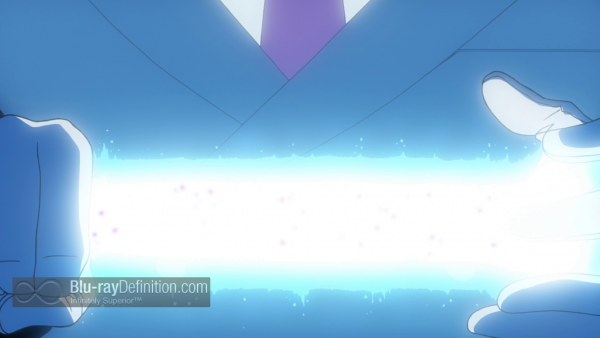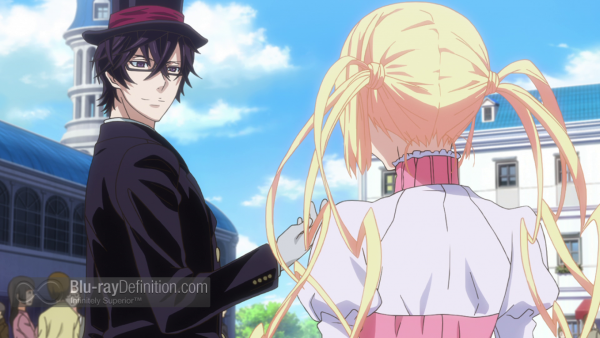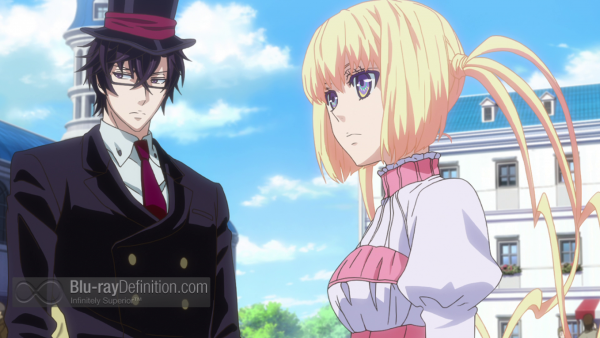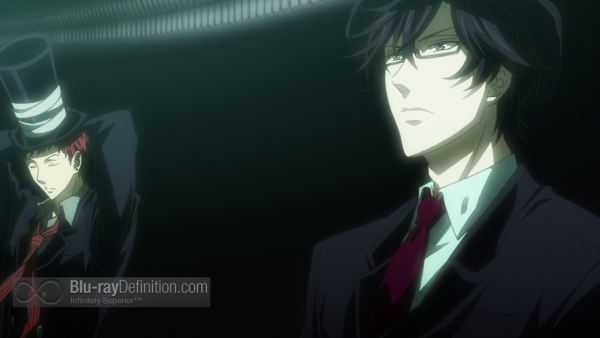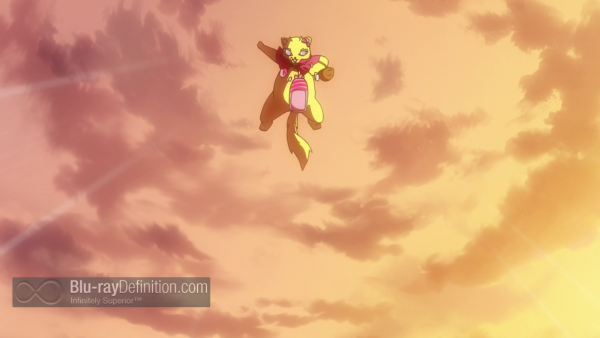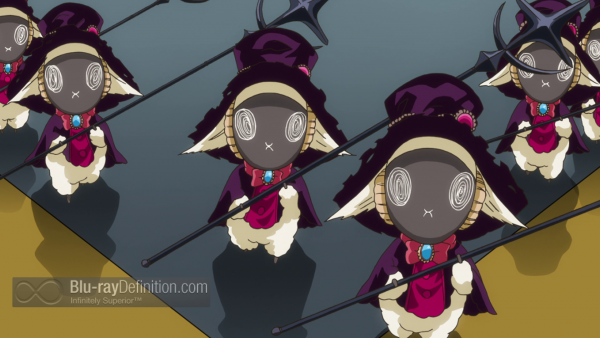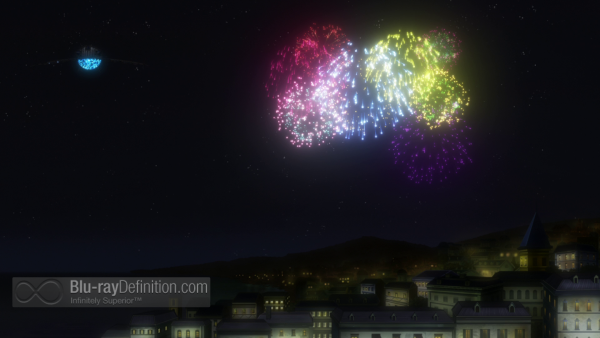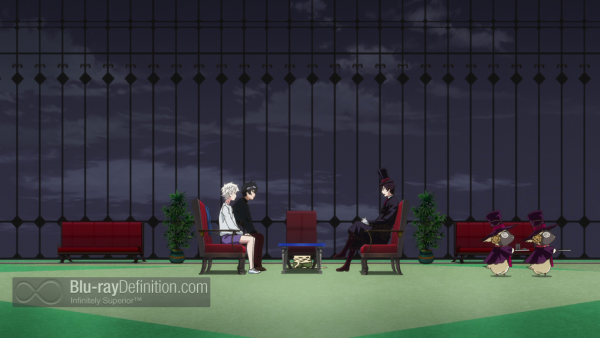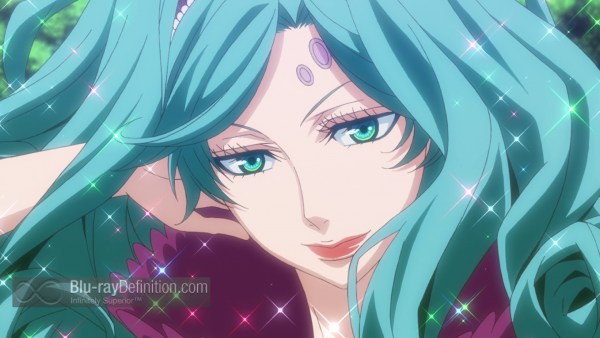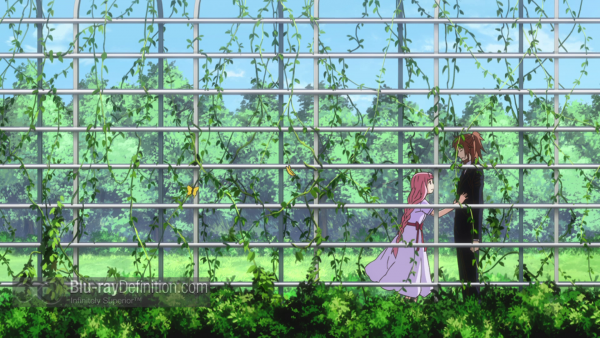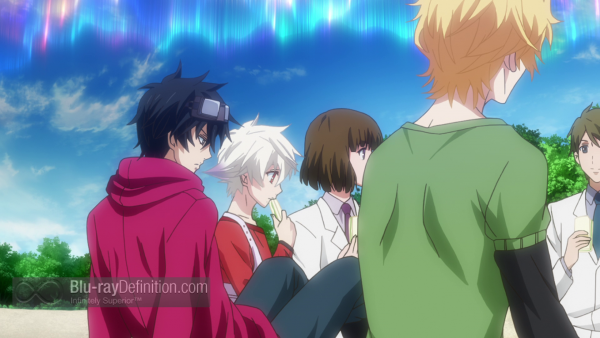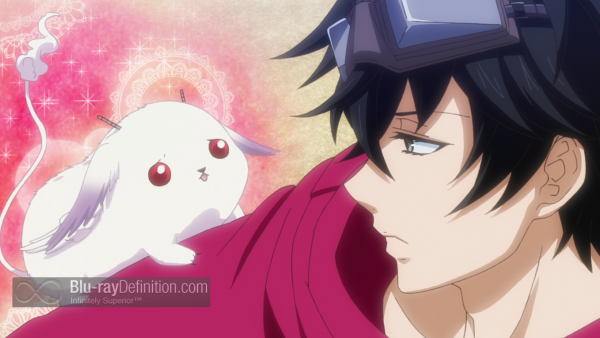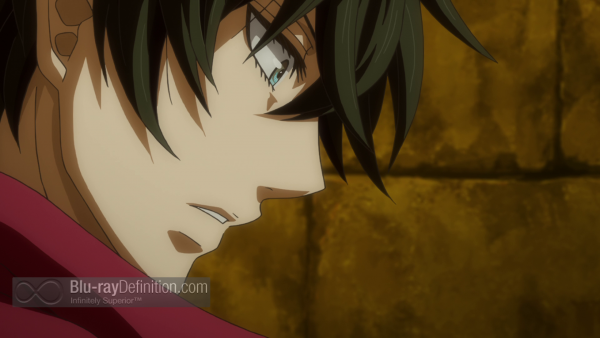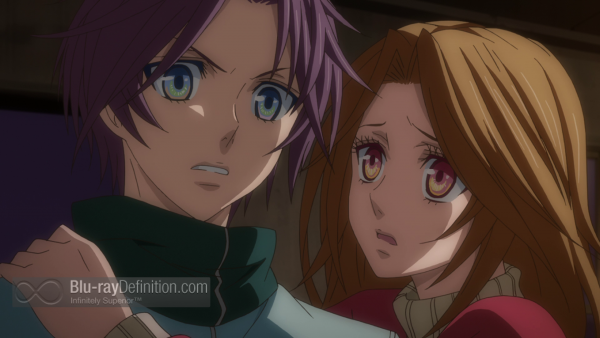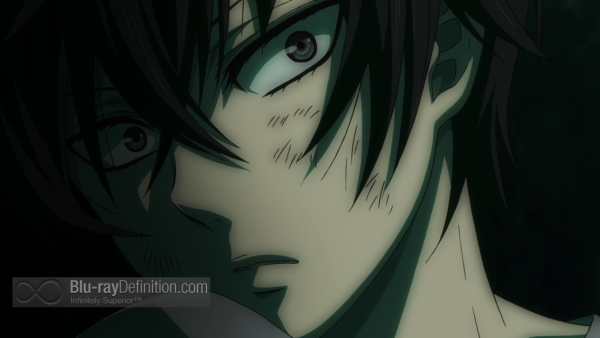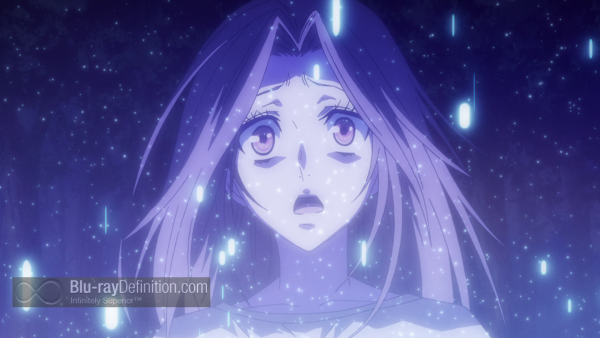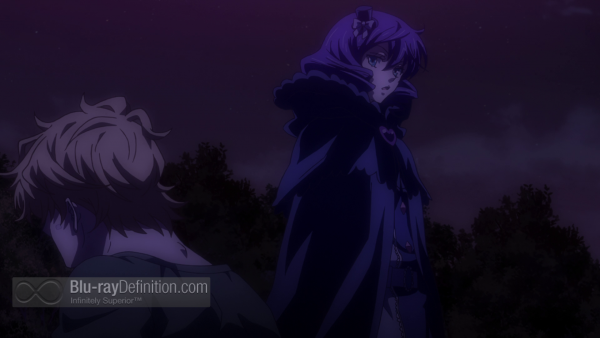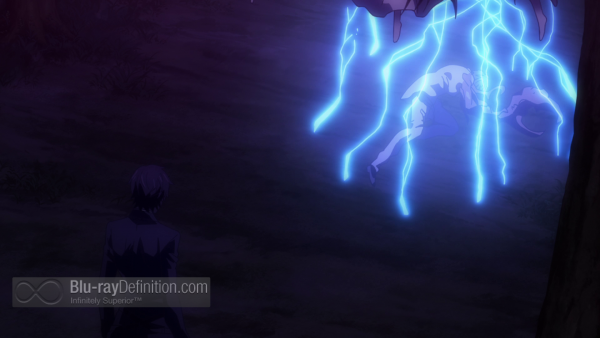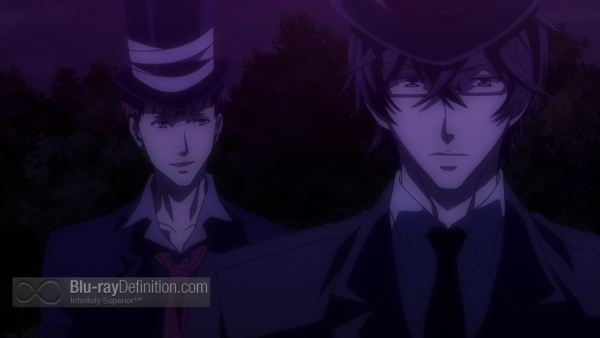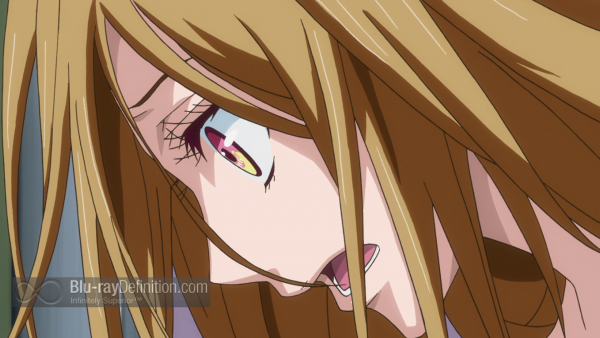 Available on The Right Stuf (LE)
[amazon-product]B00J49R0BK[/amazon-product]
[amazon-product]B00J49R1Y6[/amazon-product]