Aspect Ratio: 1.85:1; 2.35:1

Video Codec: VC-1; MPEG-2 (Jay and Silent Bob Strike Back)

Resolution: 1080p/24

Audio Codec: English DTS-HD Master Audio 5.1 (48kHz/24-bit) (Clerks); DTS-HD Master Audio 5.1 (48kHz/24-bit), German DTS 5.1, Spanish Dolby Digital 2.0 (Chasing Amy); English Uncompressed PCM 5.1 (48kHz/16-bit), English Dolby Digital 5.1, French Dolby Digital 5.1 (Jay and Silent Bob Strike Back)

Subtitles: English SDH, Spanish (Clerks); English, English SDH, Bahasa, Danish, Finnish, German, Icelandic, Korean, Malay, Norwegian, Portuguese, Portuguese (Brazilian), Romanian, Spanish, Turkish (Chasing Amy); English SDH, Spanish (Jay and Silent Bob Strike Back)

Region: ABC (Region-Free)

Rating: R

Discs: 3

Studio: Miramax

Release Date: November 17, 2009

List Price: $89.99

[amazon-product align="center"]B002LMOCJA[/amazon-product]
BestBuy.com:


Purchase Kevin Smith 3-Movie Collection on Blu-ray at CD Universe
Shop with us for more Blu-ray releases at Amazon.com
Overall

The Collection

Video Quality

Audio Quality

Supplemental Materials


Click thumbnails for high-resolution 1920X1080p screen captures
More Screen Captures (50 Total)
(Screen captures are lightly compressed with lossy JPEG and thus are meant as a general representation of the content and do not fully reveal the capabilities of the Blu-ray format)
*Portions of this review not specific to this collection have been previously published elsewhere on this site in reviews for the individual films.
The Collection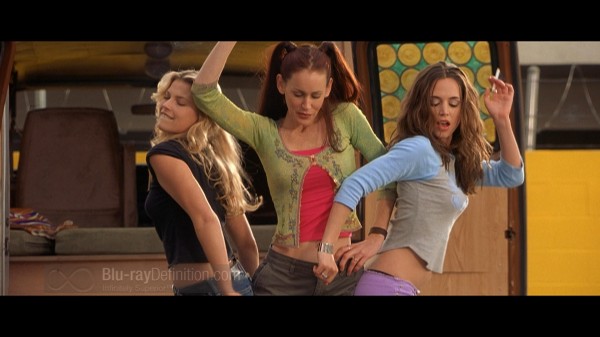 Kevin Smith is a filmmaker that people seem to either love or hate and there's no arguing that his output is definitely hit or miss. The same filmmaker that gave the world the marvelously clever independent debut Clerks and the touching Gen-X love story filled with emotional depth, Chasing Amy, is the same writer/director who foisted upon the world the big budget commercial disaster Mallrats and the less disastrous, but still obviously juvenile Jay and Silent Bob Strike Back. The latter film had already been previously released to Blu-ray by Miramax, but is now being repackaged alongside the much stronger films Clerks and Chasing Amy, finally seeing their much deserved first releases on Blu-ray from Miramax tomorrow, 17 November 2009, both individually and as a part of this 3-Disc Kevin Smith Movie Collection. Clerks even has the special honor of celebrating its 15th anniversary.
Clerks: 15th Anniversary Edition Blu-ray

In 1994, the upstart filmmaker Kevin Smith ditched the remainder of his time at the Vancouver Film School to head back to New Jersey and film this low budget independent film instead. On a ridiculously low budget of $27,000 and using friends and family as his crew and actors, the writer/director put together this story of a day in the life of two convenience store clerks called in to work on a Saturday.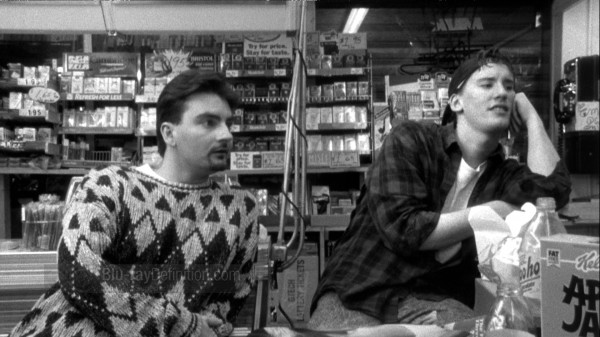 The film hardly has any changes of scenery, was filmed in and around the actual convenience store where Smith worked, and is all about the dialogue. The two characters, Randal (Jeff Anderson) and Dante (Brian O'Halloran) shoot the breeze, shirk their responsibilities, philosophize on such weighty subjects as which was the better Star Wars movie, hang out with their girlfriends, and, oh yeah, talk about sex — a lot. The film originally garnered the dreaded NC-17 rating, but when Miramax picked it up, they hired lawyers to fight the ruling and it was eventually given an R.
Although the grainy, black and white film contained hardly any action and a tonne of dialogue (certainly the antithesis of a Hollywood film) it slowly built a reputation amongst critic's circles and with audiences alike. Smith's debut was and is a testament to his skill in the area of writing dialogue. Beyond the surface of its immediacy and vulgarity, Clerks is witty and intelligent. It is an honest assessment of blue-collar life; of the listlessness of the so-called "slacker" generation.
Clerks remains to this day one of the funniest independent comedies I have ever seen because it is honest and real. It never tried to be anything more than a peek at two guys just trying to make it through a day of the doldrums while trying to figure out what to do with the rest of their lives. It remains one of cinema's greatest achievements.
Chasing Amy Blu-ray


On the surface, Chasing Amy is a film about a guy who falls in love with a lesbian. Look more closely, however, and you will find that Chasing Amy is in fact a film about a guy who falls in love with a woman with a very colorful sexual past and that is a far more interesting story. Kevin Smith's third film and his much needed low-budget recovery after the disastrous $6 million Mallrats is a return to his indie roots. Chasing Amy is a modern romance; a frank and sexually charged look at contemporary mores and gender roles.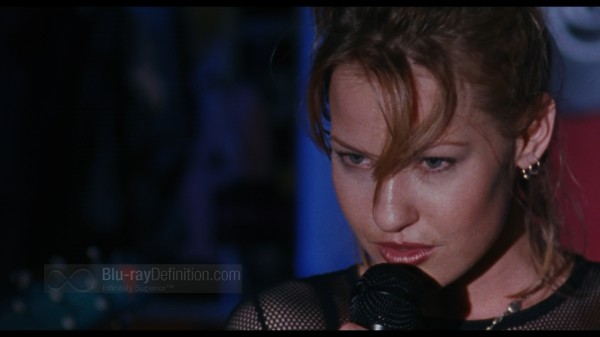 When comic book creator Holden MacNeill (Ben Affleck) meets Alyssa Jones (Joey Laura Adams) at a comic book convention he becomes immediately smitten, but things are complicated when he realizes that Alyssa is in fact a lesbian. Holden's buddy and inker (a source for one of the film's running gags) in their comic book creation Bluntman and Chronic, Banky Edwards (Jason Lee) also becomes quite jealous at Holden's infatuation and increasing closeness with Alyssa.
As the film progresses, Alyssa's experimental sexual nature is revealed and Holden has trouble accepting a woman so clearly his emotional and sexual superior. Instead of letting things go, Holden lashes out at Alyssa. Her sexual past is far too much for his male ego to bear.
Chasing Amy is the first film where writer-director Kevin Smith infused a real level of emotion into his characters. It shows his true skill at capturing dialogue and the truth of the human experience that Chasing Amy does not at any time simply devolve into an adolescent farce about sex. Yes, the dialogue is frank and it may make the more timid in the audience at times squirm with discomfort, but it always rings true.
Smith's screenplay never falters or saunters into territory that makes Chasing Amy a typical testosterone-driven film on the male fantasy on turning the "unattainable" lesbian into the instant heterosexual dream girl. In fact, it is beyond all of that. It is a film about friendship, male friendships and the unspoken rules in the hetero-male relationships and deep affections that men share for each other. It is about the pitfalls of romance and the difference between fantasy and realities, promise and expectation.
Perhaps Smith does his best work when constrained to the tight budget world of the independent ilk, because his two strongest films to date have been Clerks and Chasing Amy. Maybe it allows him to focus with unyielding vigor on his strengths and trim off relentlessly the unnecessary excess that leaks into his work when granted the leeway of a much greater budget.  Great romantic comedies are difficult to come by in the modern age, but Kevin Smith gave us one in Chasing Amy.
Jay and Silent Bob Strike Back Blu-ray
Kevin Smith's films are an acquired taste for most and anyone unfamiliar with his work on the whole might very well find Jay and Silent Bob Strike Back nothing more than a vulgar and puerile exercise in all that is wrong with Hollywood filmmaking. To those who have not seen Smith's previous films in his so-called "Jersey Trilogy," the references in Strike Back may have them easily lost as well. The two peripheral characters Jay and Silent Bob have been showing up in Smith's films ever since his very first, acclaimed independent comedy, Clerks, but few would have picked the two drug dealing characters to sustain an entire film on their own.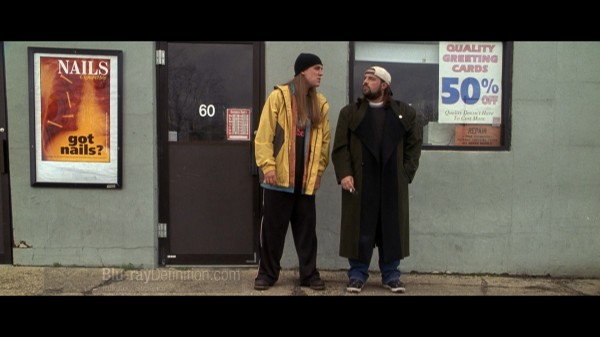 Jay and silent Bob Strike Back was meant to wrap up the story of Jay and Silent Bob nicely for fans so that Smith could finally move on. In the film itself, Ben Affleck, reprising his role as Holden from Chasing Amy, makes reference to this saying, "Why in God's name would I wanna keep writing about characters whose central preoccupation are weed and dick and fart jokes? I mean, ya gotta grow man."
The entire film is in fact one running joke about the inanity of a Jay and Silent Bob film as the two characters make their way across the country to Hollywood in order to halt the production of a film by Miramax based on comic book characters Bluntman and The Chronic who in turn are based on their likenesses. Along the way they come across a host of characters like a Charlie's Angels-esque group of animal rights activists, an orangutan and Jay even gets a love interest in the perky and sweetly believable Shannon Elizabeth.
Smith lets loose with all of the film and pop-culture references rattling around in his brain in Jay and Silent Bob Strike Back. Everything from his favorite Star Wars to E.T., Dawson's Creek and Scooby Doo and more are touched upon. No one in Hollywood is off limits, but unlike many spoof films, Jay and Silent Bob's "spoofees" all seem to be in on the joke and take pleasure in laughing at themselves. Mark Hamil's Cock Knocker gets his giant right hand chopped off and yells "not again."
There are celebrity appearances too numerous to mention in total, but highlights are Ben Affleck and Matt Damon playing themselves and exchanging a run of one-liner quips about each other's career mishaps and Mark Hamil as the light saber wielding bad guy named Cock Knocker.
In all, Jay and Silent Bob Strike Back has some really funny moments, but it is also filled with far too many comedic lapses where it is just not funny at all and its rail-thin story becomes completely nonexistent. The movie at many times becomes just an excuse for the two characters to move from one situation to the next, a connect-the-dots adventure between one pop-culture reference and another.
Video Quality
Clerks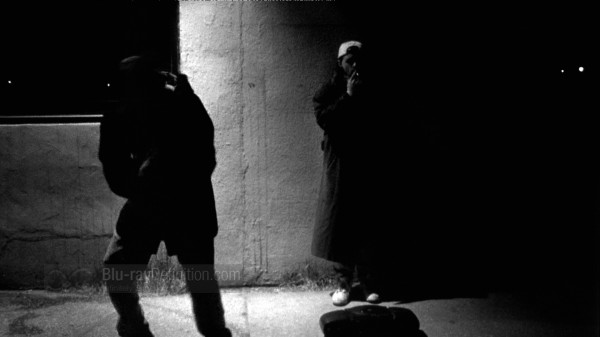 Going into a viewing of Clerks on Blu-ray, people have to keep an open mind and keep things in perspective. The film was produced on a budget of $27, 000 and filmed on 16mm in black and white. It is never going to look like a BBC nature documentary produced in crystal clear high definition running on the Discovery Channel. With that said, this 15th Anniversary high definition transfer from Miramax looks pretty good and Blu-ray still has the capability to display more of the actual resolution on the 16mm source than any other format available today.
The source seems to have been cleaned up a bit, some shots look about as clean an detailed as one can expect, and there doesn't appear to be much DNR applied. There are still problems with black crush and clipping of contrast in areas, but it is overall the best Clerks has looked to date.
Chasing Amy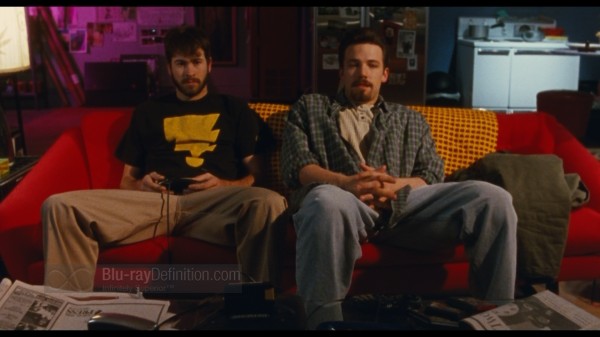 Chasing Amy was filmed on a shoestring budget of only $250,000 so it cannot be expected to look spectacular in high definition. All things considered, however, Miramax has done a pretty fine job bringing this film to Blu-ray. The 2.35:1 VC-1 transfer is free from any noticeable artifacts and video noise and source damage aret at a minimum for the twelve-year-old film. Overall detail is somewhat soft and flesh tones sometimes seem a little reddish, but shadow detail is solid even if blacks aren't exactly inky. Overall brightness can also seem a bit dull.
Jay and Silent Bob Strike Back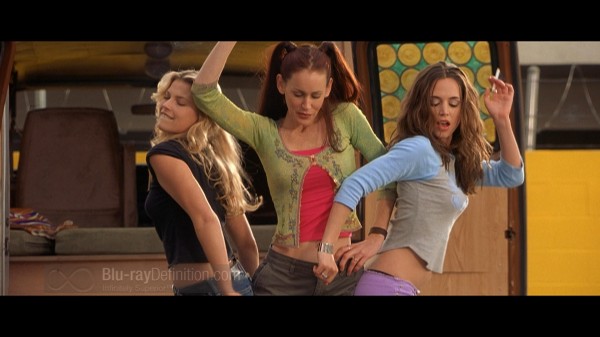 The 2.35:1 MPEG-2 1080p encoding of Jay and Silent Bob Strike Back is middling at best. Flesh tones sometimes display a bit of red push, detail varies from crisply sharp and detailed in close-up shots to soft, nearly looking out of focus. Dark scenes display a lot of low-level compression noise, and there are quite a few instances of source damage present as well.
Audio Quality
Clerks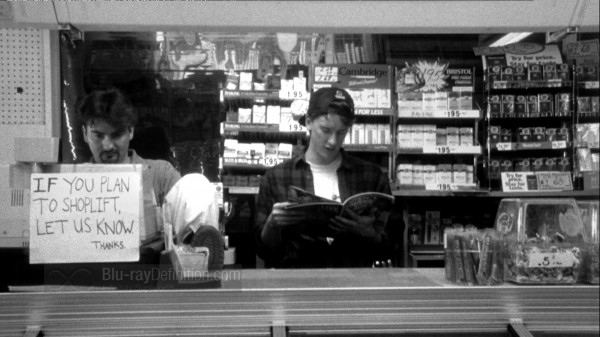 The audio has been given an upgrade to 5.1 with a DTS-HD Master Audio (48kHz/24-bit) lossless soundtrack provided. The surround channels are used only for some low-level ambience, but it opens things up nicely when the film's early-90's grunge soundtrack starts cranking. Dialogue is relatively clean, but it still sounds just a tad muddled at times.
Chasing Amy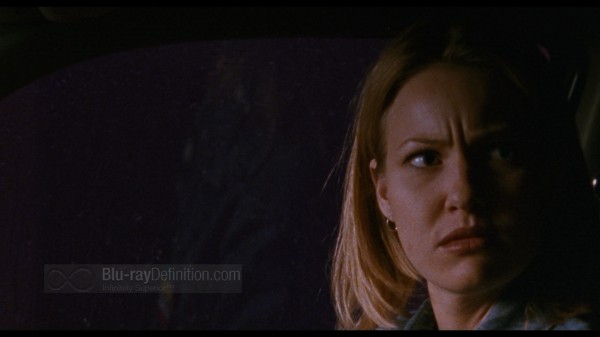 Chasing Amy has been given a DTS-HD Master Audio 5.1 (48kHz/24-bit) lossless soundtrack that may seem like overkill for this very much dialogue-driven low budget film, but the sound is clean and dynamic and there is a decent amount of ambience in the surround channels that opens up the soundstage. There are even some occasional discrete sound effects panned to the rear and off to the sides. It is a well done mix that serves the film appropriately.
Jay and Silent Bob Strike Back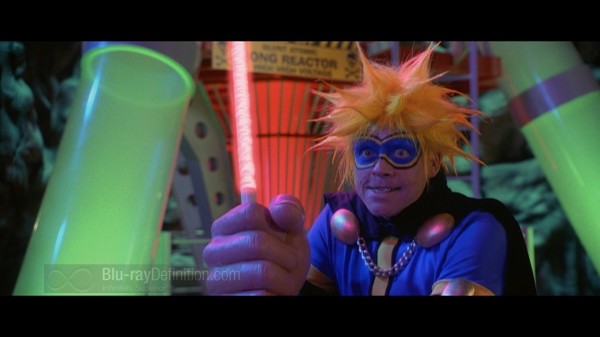 Jay and Silent Bob Strike Back is one of the early Blu-ray releases that is provided with an uncompressed PCM 5.1 (48kHz/16-bit) English soundtrack as its high-resolution option. The mix is nothing spectacular; about what is typical for a comedy of this sort. The surround channels are used mainly for ambience with some occasional discrete effects. The film's musical soundtrack offers some good low frequency extension all the way down to the lowest ranges, but it is not extremely resonant. Dialogue is clean and intelligible.
English and French Dolby Digital 5.1 options are also available.
Supplemental Materials
The Clerks: 15th Anniversary Edition Blu-ray and Chasing Amy are both provided with brand new high definition supplements that delve into the history behind the making of each film. Viewers will get to see new interviews and discussions with Kevin Smith and cast members. Jay and Silent Bob has no new material added to it.
Clerks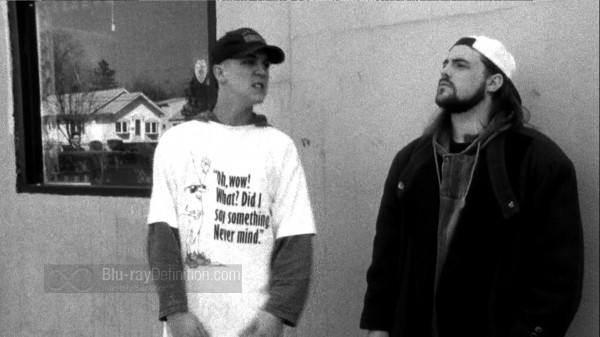 There are a load of extras offered up on this release including a couple of very detailed documentaries that tell the whole story of how Clerks came to be.
The supplements provided on this release are:
Commentary (Theatrical Version) by Kevin, Mos, Mewes, Brian and others
Trivia Track — Among this running trivia track's features is an "F" word counter, and running counter of how many times Veronica's magic number, "37" is referenced.
Oh, What a Lovely Tea Party: The Making of Jay & Silent Bob Strike Back (1.35:1; 480i/60; 1:27.17)
Clerks Lost Scene — Animated Short (1.66:1/1.33:1; 1080p/24; 0:10.06)
The Flying Car (1.33:1; 480i/60; 0:08.14) — A short film shot for The Tonight Show during promotions for Jay & Silent Bob Strike Back.
MTV Spots with Jay & Silent Bob (1.33:1; 480i/60)
Theatrical Trailer (1.33:1; 480i/60)
Soul Asylum "Can't Even Tell" Music Video (1.33:1; 480i/60)
Clerks Restoration (1.33:1; 480i/60)
Original Auditions
"Snowball Effect" (1.33:1; 480i/60; 1:30.31) — A documentary that explores the filming and lasting impact of Clerks.
Mae Day: The Crumbling of a Documentary with Intro by Kevin Smith and Scott Mosier (1.33:1; 480i/60; 0:11.38)
Outtakes from "Snowball Effect"
10th Anniversary Q & A (1.33:1; 480i/60; 0:42.09) — A Question and Answer Session with the cast and crew.
Chasing Amy


The supplements on this Blu-ray release of Chasing Amy have been updated with some new high definition materials specific to this release. Everything supplied is very entertaining and informative and fans of Kevin Smith and co. should enjoy going through the hours of additional material on this disc.
The supplements provided on this release are:
Tracing Amy: The Chasing Amy Doc (1.78:1; 1080i/60; 1:21.15) — The Cast and Crew Look Back on the Making of Kevin Smith's Edgy Romantic Comedy, Chasing Amy.  Everything from the sophomore slump of Mallrats, the problems convincing studio executives to sign off on backing the script for Chasing Amy to the rocky romance between Kevin Smith and Joey Lauren Adams is discussed in this lengthy and informative featurette.
Was it Something I Said? — A Conversation with Kevin & Joey — Kevin Smith and Joey Lauren Adams Discuss Chasing Amy — Fame, Finger Cuffs, and Everything in Between (1.78:1; 1080i/60; 0:18.07) — This a very friendly and pleasant conversation between Kevin Smith and his onetime girlfriend and the star of Chasing Amy, Joey Lauren Smith.
10 Years Later Q & A (1.33:1; 480i/60; 0.27.46)
Audio Commentary with writer-director-actor Kevin Smith and producer Scott Mosier
Deleted Scenes (1.33:1; 480i/60)
Outtakes (1.33:1; 480i/60; 0:04.56)
Theatrical Trailer (1.33:1; 480i/60)
Jay and Silent Bob Strike Back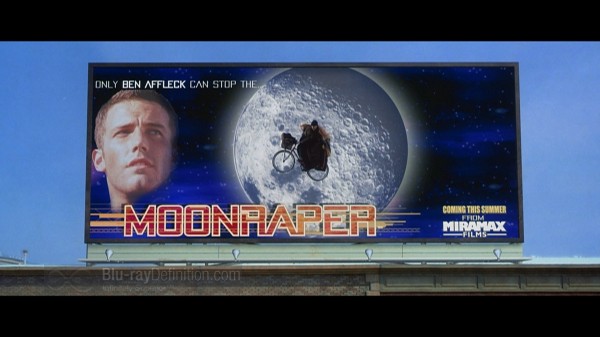 The only true supplement on this release is an audio commentary by Kevin Smith, Jason Mewes, and Scott Mosier. There is also a "Movie Showcase" feature that simply allows instant access to a few select scenes that purport to showcase the best aspects of high definition picture and sound that the film has to offer.
The Definitive Word
Overall: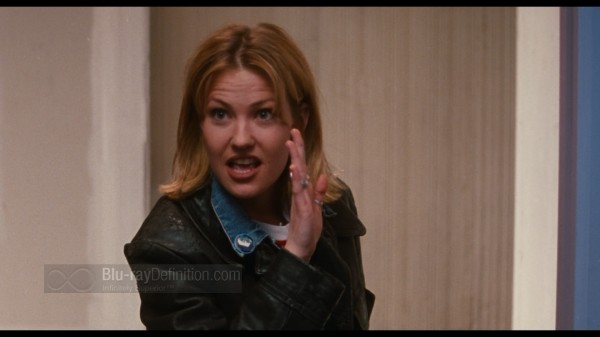 For the chance to finally acquire Clerks and Chasing Amy on Blu-ray and the obvious upgrade in picture and sound that these Blu-ray versions offer, then this Kevin Smith 3-Movie Collection is well worth it, but Jay and Silent Bob Strike Back definitely drags down the overall quality of the collection. Frugal shoppers may prefer to opt for the individual releases instead.

Purchase Kevin Smith 3-Movie Collection on Blu-ray at CD Universe
Shop with us for more Blu-ray releases at Amazon.com