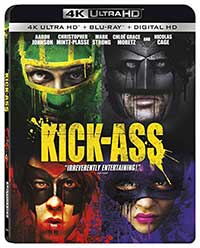 Kick-Ass, being reissued by Lionsgate on 4K Ultra HD Blu-ray with Dolby Vision, was a surprise cult hit back in 2010 when it first hit. Based on the comic book franchise, this story about unlikely anti-heroes who don costumes and become vigilante "superheroes" is sort of the comedic version of Watchmen.
The story follows Dave Lizewski (Aaron Taylor-Johnson) an ordinary awkward high school teenager who is for the most part unnoticed by girls and not part of the cool crowd until he decides to "do something". The comic book fan orders himself a wet suit and becomes the crime fighting hero Kick-Ass, taking on tasks for ordinary citizens like saving cats or confronting his high school crush Katie Deauxma's (Lyndsy Fonseca) stalker ex-boyfriend. But mostly Kick-Ass is good at getting his ass kicked – or even stabbed and hospitalized in one instance. One incident outside a doughnut store chain fighting off a group of thugs ganging up on a guy gets Dave/Kick-Ass internet fame and puts him on the radar of mobster kingpin Frank D'Amico (Mark Strong), who wants this Kick-Ass hero out of the picture. It puts Kick-Ass in the path of deadly father-daughter crime fighting duo Big Daddy (Nicolas Cage), who dresses up in a costume similar to Batman, and Hit-Girl (Chloë Grace Moretz), who moves like an acrobat and is deadly with a blade. The father-daughter pair have a vendetta against D'Amico and they plan on bringing him down, but things are complicated when D'Amico's own son also joins the costumed crime fighting crowd as Red Mist (Christopher Mintz-Plasse) in order to lure Kick-Ass to his demise.
A high octane mixture of superhero action and tongue-in-cheek comedy, Kick-Ass may be a little uneven at times, but it still manages to hit all the right notes as a send-up of the well worn superhero genre. They turn the rules upside down, like the aforementioned Watchmen, by giving us costumed vigilantes with no real powers, only a zeal to "do something," in the case of Dave AKA Kick-Ass, or, in the case of Big Daddy, a driving sense of vengeance, which suits him and is no accident given his Batman-esque costume. We all know The Dark Knight was ultimately born out of a feeling to avenge his parents' murder. Big Daddy, one a police officer, although far more comical than dark, is there to avenge is wrongful imprisonment, as we later find out.
The standout character and star of the film is without a doubt Chloë Grace Moretz as Hit-Girl, the deadly assassin's daughter and apprentice. Dressed up as a half Catholic schoolgirl, half Batgirl, with her viper-like speed and deathly use of blades (and guns), it's thrilling and still unusual to see such bad-assery on screen from an adolescent girl. There probably hadn't been such an appealing young female character on screen since Natalie Portman's turn in Léon, and even then, Portman's Mathilde was far more weirdly sexualized beyond her years than Moretz's Hit-Girl.
After the breakout success of Kick-Ass, a less successful sequel featuring the star power of Jim Carrey followed in 2013 with Chloë Grace Moretz, Aaron Taylor-Johnson, Lyndsy Fonseca, and Christopher Mintz-Plasse all reprising their roles.
The Video
Kick-Ass hits 4K Ultra HD Blu-ray in an HEVC (4K) encodement with Dolby Vision HDR. The film was originally shot on 35 mm Kodak Vision2 250D 5205, Vision2 500T 5218, and Vision3 500T 5219 film stock in an anamorphic, Super 35 format with Panavision Panaflex Millennium XL cameras with Panavision G-Series lenses. What this 4K release brings out is a sharp film grain structure and vibrant color. The green and yellow of Kick-Ass' wet suit or the purple wig of Hit Girl's costume really 'pop' as does the fire engine red of Red Mist's muscle car. The Dolby Vision offers nice highlights that standout out in the darker shots, like during the warehouse fire where the flames, though not as bright as I've seen in other HDR releases, do leap from the screen and show a range of shades in the flames.
The Audio
Kick-Ass on 4K Ultra HD Blu-ray has been remixed in the immersive Dolby Atmos format. While this expands the sound somewhat over the DTS-HD Master Audio 7.1 mix available on the Blu-ray Disc, this is not one of the better Atmos mixes available. There is a good amount of atmospherics in the overhead Atmos channels and solid discrete effects in the surround channels during the fight sequences and when Red Mist's car engine revs up. Low end has good extension, but this won't be one of the top "big bass" titles – it hardly rivals the latest Transformers: The Last Knight, release, for instance, in that department.
The Supplements
There are strong supplements included on the Ultra HD and Blu-ray, including an hour-long making of and a featurette on the comic book origins of Kick-Ass. They are all worth a look and a listen.
Digital HD UltraViolet
Blu-ray Disc with Feature Film
Audio commentary with director Matthew Vaughn
A New Kind of Superhero: The Making of Kick-Ass (1.78:1; 1080p/24; 01:53:03)
It's On! The Comic Book Origin of Kick-Ass (1.78:1; 1080i/60; 00:20:35)
Theatrical Trailer (1080p/24; 00:02:30)
Redband Hit Girl Trailer (1080p/24; 00:01:16)
The Final Assessment
Kick-Ass is a fun twist on the superhero genre. It never takes the genre or itself too seriously and also serves as a vehicle for breakout star Chloë Grace Moretz who is a young scene-stealer in this film. The 4K Ultra HD Blu-ray from Lionsgate is a solid release with good visuals and audio for a seven-year-old film shot in Super 35.
Own Kick-Ass on 4K Ultra HD Blu-ray from Lionsgate October 3, 2017.
[amazon_auto_links id="105081"]
R (for strong brutal violence throughout, pervasive language, sexual content, nudity and some drug use - some involving children)
Rating Certificate
Marv Films | Plan B Entertainment | Lionsgate
Studios & Distributors
Jane Goldman (screenplay) | Matthew Vaughn (screenplay) | Mark Millar (comic book) | John Romita Jr. (comic book)
Writer
$22.99
MSRP
HEVC (H.265) 2160p | AVC 1080p (Blu-ray)
Video
Dolby Vision (HDR10 Compatible)
HDR Format
English Dolby Atmos (Dolby TrueHD 7.1 Compatible)
Primary Audio
English DTS-HD MA 7.1 (Blu-ray Only) | English DD 2.0 Optimized for Late Night Listening | French DD 5.1
Secondary Audio
English | English SDH | Spanish
Subtitles
HDR Effect (If Applicable)
Summary
A high school teenager without any powers dons a costume and becomes a masked vigilante alongside a killer father-daughter killer duo with a vendetta against an organized crime boss in this 2010 action/comedy that acted as a breakout role for the then adolescent Chloë Grace Moretz in her turn as the deadly Hit-Girl. Lionsgate reissues the title here in a solid 4K Ultra HD release featuring a new Dolby Atmos immersive mix and Dolby Vision HDR.
What people say... Login to rate
Be the first to leave a review.
Show more