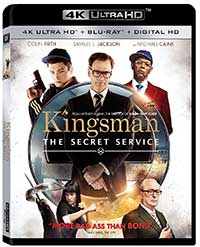 In 2014's Kingsman: The Secret Service, secret agent Harry Hart (Colin Firth) informs Gary "Eggsy" Unwin (Taron Egerton) and his mother Michelle (Samantha Womack) that Eggsy's father died, saving the agent's life during a recent mission. In return, Hart gives the boy a Kingsman medallion with a secret phone number for emergencies. Eggsy eventually becomes a troubled adolescent and runs afoul of the law when he steals a car. After making "the call", he is sprung from jail and Hart AKA "Galahad" introduces him to the secret agency, the Kingsmen.
This proves transformative for Eggsy who now vies with eight other candidates for the lone vacancy on the Kingsmen's roster occasioned by the recent death of "Lancelot" (Jack Davenport). "Merlin" (Mark Strong), the Kingsmen's magical weapons maker, supervises  rigorous trials to weed out agency wannabees. Only Roxy (Sophie Cookson) and Eggsy make it to the finals but he washes out after refusing to shoot his pet pug J.B., unaware that his gun contained only blanks.
Like the classic James Bond films, there is an arch villain, tech billionaire Richmond Valentine (Samuel L. Jackson) and a sexy-looking "Bond girl" Gazelle (Sofia Boutella) who sports deadly blade-sharp prosthetic legs. Valentine plans to wipe out most of the world's population by sending violence-inciting signals to their cellphones equipped with the free SIM cards that he has generously provided. A select group of wealthy VIPs are being sheltered in Valentine's private bunker and have had protective chips embedded in their necks.
Agent Hart follows his leads to the Kentucky church of an alt-right hate group. When the congregation's SIM cards get the violence signals, the subsequent mêlée kills everyone except Hart who is shot in the head by Valentine. Eggsy visits Kingsman chief Chester King (Michael Caine) AKA Arthur hoping to become the new Galahad. After recognizing that King also has an implanted chip, Eggsy surreptitiously switches their drinks and King ingests the poisoned whiskey.  As King dies, he reveals Valentine's evil plans. Roxy, Merlin, and Eggsy are now our planet's last hope to save most of humanity from extinction.
From beginning to end, Kingsman: The Secret Service triumphs in its script, cast, cinematography, score, sights and sounds. Much in the vein of the classic Bond films but updated to our times, writer/director Matthew Vaughn and team blend in just the right balance of action, suspense, and humor.
The Video
Kingsman: The Secret Service was shot on the Arri Alexa XT Plus cameras and Hawk V-Lite, V-Plus, V-Series, Cooke S4, Fjinon Alura, and Angeniuex Optimo Lenses. Some scenes were captured by Blackmagic Production Camera 4K Canon EOS 5D Mark II, Canon L-Series Lenses Phantom Flex, Cooke S4, Fujinon Alura and Angenieux Optimo Lenses on Kodak Vision 2383 35 mm film. The HEVC 2160p (4K) encodement is up-scaled from the 2K digital intermediate and mastered in the HDR10 HDR format. The resulting disc has absolutely stunning contrast with deep blacks in the night scenes, a very natural looking color palette, and overall film-like texture. When needed, details are sharp but never seemed etched; facial close ups are good examples. The accompanying Blu-ray disc is fine but nowhere near as eye-catching as the 4K version.
The Audio
The DTS-HD Master Audio 7.1 soundtrack is bold, immersive, and complements the action sequences on-screen extremely well. There are occasional stretches of ponderous bass while the special surround effects are used effectively but judiciously, particularly in the fight scenes.
The Supplements
A six-part look behind the scenes: Kingsman: The Secret Service Revealed (1:31:41)
Panel to Screen: The Education of a 21st Century Super Spy
Heroes and Rogues
Style All His Own
Tools of the Trade
Breathtakingly Beautiful
Culture Clash: The Comic Book Origins of the Secret Service
A theatrical trailer, three image galleries and a Digital HD download available from iTunes complete the bonuses.
The Final Assessment
This thrill-a-minute ride through 21st-century secret agent territory takes The Secret Service comic book series and provides Vaughn with all the basic ingredients for a successful film franchise. Highly recommended.
Kingsman: The Secret Service Premium Edition available September 5, 2017.
[amazon_auto_links id="104846"]
R (Strong violence, drug content, language, sexual content)
Rating Certificate
20th Century Fox | Marv Films | Cloudy Products | TSG Entertainment
Studios & Distributors
Jane Goldman | Matthew Vaughn
Writer
$39.99
MSRP
HEVC (H.265) 2160p | AVC 1080p (Blu-ray)
Video
1000 Nits
Maximum Luminance
0.005 Nits
Minimum Luminance
English DTS-HD MA 7.1
Primary Audio
English/French/Spanish, Portuguese, Thai, Ukranian DD 5.1 | Russian DTS 5.1
Secondary Audio
English | Spanish | French | Portuguese | Russian| Chinese | Estonian | Indonesian | Korean | Latvian | Lithuanian | Thai | Ukranian | Vietnamese
Subtitles
HDR Effect (If Applicable)
Summary
A stunning film in all respects with great script, cast, score, and cinematography that is done justice by the 4K Ultra UD format.
What people say... Login to rate
Be the first to leave a review.
Show more