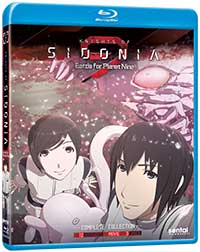 Knights of Sidonia's first season was an epic space opera/mecha sci-fi series (the first season was picked up for streaming by Netflix as a "Netflix Original") that I thought was a unique take on mecha and quite refreshing. Season 2 picks up after the events of Season 1 and protagonist Tanikaze finds himself struggling with the loss of close friend and love Hoshijira, that he blames himself for. The Sidonia authorities, meanwhile, plan on striking back at the monstrous alien Gauna (creatures capable of absorbing and repurposing human DNA) by attacking them head-on, and Tanikaze is all-in on the attacks. Only this time he will be working in league with a new partner, a sentient hybrid Garde/Gauna ally helping Sidonia take down a powerful Gauna alien that has taken on the visage of Tanikaze's beloved Hoshijira. Amidst all this, Tanikaze and his closest friend, the manufactured non-binary Izana begin to grow closer and romantically entangled, and Izana's biology finally goes through major changes as she begins to develop strong feelings for Tanikaze.
Battle for Planet Nine is every bit as epic as its first season, perhaps even more so given the breathtaking final episodes and the no longer necessary need for the earlier exposition early on in the series. Season two starts off hitting the ground running.
There are a couple of issues with the animation, mainly the characters at times tend to look a little non-grounded, sort of like that early CGI Appleseed look, but this seems to be an artistic choice. One can't deny that, overall, Knights of Sidonia is a gorgeous looking franchise, Battle for Planet Nine included. They have taken gaming technology and successfully merged it with the world of anime visuals and mecha/sci-fi storytelling for an edge of the seat, heartfelt action series. The final act of the series is just jaw dropping in its intensity and visual style.
This collection also comes with the Season 1 Compilation Movie, which runs just over two-hours long. While it does take out a big chunk of season 1, it is surprisingly good at distilling most of season 1 into an action intensive film that makes sense, it fun to watch, and, if you haven't seen season 1, will help you understand what's going on before you watch season 2/Battle for Planet Nine.
The Video
Knights of Sidonia: Battle for Planet Nine arrives on Blu-ray with an AVC 1080p encodement framed at 1.78:1. I was unimpressed with the overall look of this series on Blu-ray, although many of the issues seem to be inherent to the digital source as opposed to being problems with the transfer, although some of it could be the latter as well. There is a lot of very strong banding throughout the series as well as stairstepping around edges. It detracts from what is some pretty solid imagery, especially in the action sequences.
The Audio
This series comes with both the original Japanese-language and English dubs in DTS-HD Master Audio 5.1 mixes plus there is a Spanish dub in DTS-HD Master Audio 2.0 stereo. I used the Japanese track as my reference and sampled the English track randomly, plus listened to one full episode solely in English. This is one of few anime series where I found the English voice cast to be more than just tolerable, even if neither side rises above the level of slight overacting here. As for the sound, the 5.1 mixes are equal on both end, and they are robust to say the least, but at times I found them to be a little too aggressive and certainly mastered way too loudly across the board, forcing me to turn the volume down for those action sequences with multiple explosions and gunfire, where things just sounded a little too in your face and distorted. The low-end frequencies didn't really extend all the way down to the lowest reaches, but maybe into the mid low range. The midrange was really punchy, however, and dialogue was thankfully always clear despite the aggressive sound effects and score.
The Supplements
We get a good bit of extras for this standard release (a limited edition is also available). The movie, extended & on-air final episode, Blame! Short, and usual previews and trailers are welcome inclusions that all fans will be happy to sit through.
Season 1 Compilation Movie
12 "Decisive Battle" Extended & On-Air Versions (Only Japanese Audio w/ English Subs. for On-Air Version)
Blame! (Japanese Audio w/ English Subs) (2.35:1; 1080p/24; 00:01:36)
Trailer (1.78:1; 1080p/24; 00:00:58)
TV Preview (1.78:1; 1080p/24; 00:01:04)
Clean Opening Animation
Clean Closing Animation
Teaser (Movie) (1.78:1; 1080p/24; 00:00:34)
Trailer (Movie)
Sentai Filmworks Trailers
The Final Assessment
The second season of Knights of Sidonia is no less epic or "cool" than the first and it offers up jaw dropping animation, heart-pounding action sequences, and character growth. The picture quality on this Blu-ray is the only disappointment, but it is still watchable.
Knights of Sidonia: Season 2 — Battle for Planet Nine (TheaterByte Blu-ray Review)
Polygon Pictures
Animation Studio
Sentai Filmworks
Distributor
Japanese DTS-HD MA 5.1
Audio
English DTS-HD MA 5.1 | Spanish DTS-HD MA 2.0 Stereo
Secondary Audio
English | French | Spanish
Subtitles
Summary
Only the picture quality is disappointing on this Blu-ray release of the second season of this epic, beautifully animated second season of this acclaimed mecha franchise.
What people say... Login to rate
Be the first to leave a review.
Show more