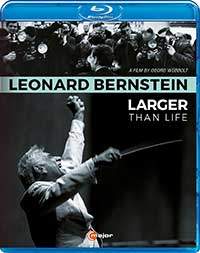 Leonard Bernstein (1918-1990) was in the complete sense of the words a musical genius and 20th century polymath. His composing career covered an incredible variety of classical musical forms including symphonies, oratorios, operas, ballets, piano music, and songs. Bernstein crossed over to musical theater in his brilliant adaptation of Voltaire's Candide and his updating of the Romeo and Juliet legend in West Side Story. If this were not enough, he wrote widely acclaimed film scores for On the Town and On the Waterfront. As a performer, Bernstein was one of the very first American-born conductors to achieve international stature and a very accomplished pianist. His "choreography" on the podium was unmistakable and in the videos that are included, most of his performances concluded with the exhausted maestro covered in sweat. Bernstein almost singlehandedly championed the music of Gustav Mahler, undoing this great Austrian composer's neglect by many of the 20th century world orchestras. Many young Americans of the early television era first met "Lenny" during his popular series of Young People's Concerts with the New York Philharmonic, an orchestra that he conducted brilliantly for more than a decade. As many of those interviewed in this documentary attest, Bernstein was an incredible teacher, fluent in five languages, and possessing encyclopedic knowledge.
Leonard Bernstein: Larger than Life is noted director/cinematographer Georg Wübbolt's (Herbert von Karajan: Maestro for the Screen) take on this towering musical figure. As is Wübbolt's wont, the film is a melange of interviews with other conductors (Marin Alsop, Kent Nagano, Gustavo Dudamel), members of the Vienna Philharmonic Orchestra, Bernstein's children (Jamie, Alexander, and Nina), and other luminaries of the music world like Stephen Sondheim and Sir Peter Jonas. Interspersed are clips from Bernstein performances, rehearsals, compositions, and television programs as well as family photos. Rather than a linear biography, this films jumps around,  focusing on the salient elements of Bernstein's life and career. Where Leonard Bernstein: Larger than Life does cut some corners is in how it deals with some of the more serious issues in his personal life: his homosexuality, his crises of faith, and his continual disappointment at not being taken more seriously as a composer. That aside, Wübbolt captures much of the essence of Bernstein and in an economical film that runs less than one hour.
The Video
The interviews are in a 1.78:1 aspect ratio while the older film clips (all shot before his death) are rendered in 1.33:1. Given the varied provenance of much of the older material, it generally receives a very decent remastering.
The Audio
The modern sound sources are crisp and clear 2.0 LPCM (48kHz/24-bit) while the older recordings, particularly the concert clips, show a bit of compression.
The Supplements
The program booklet has Karin Seligmann's insightful essay on Bernstein, production credits, and a few photographs. There are three video interviews (Stereo LPCM 48kHz/16-bit) with contemporary conductors, Kent Nagano (a Bernstein student), Marin Alsop (a Bernstein groupie), and young Venezuelan superstar Gustavo Dudamel (a Bernstein devotee), totaling 24 minutes. Each of these musicians provides his or her own reminiscences, the first two directly of Bernstein, the last of using Bernstein's personal baton and his meeting with two of Bernstein's children.
The Final Assessment
The term "larger than life" must be applied sparingly if it is to retain any real significance. In the case of Leonard Bernstein, I was fortunate to see him perform in concert with the New York Philharmonic when I was in college. I realized at once that I was in the presence of true greatness and was experiencing an artist at the height of his powers. Georg Wübbolt's concise and moving documentary gives the many music lovers who never saw Bernstein live a glimpse of what larger than life really means. Highly recommended.
Leonard Bernstein: Larger than Life (TheaterByte Blu-ray Review)
Not Rated
Rating Certificate
C Major
Studios & Distributors
$39.99
MSRP
LPCM 2.0 (48kHz/24-bit)
Audio
English, German, French, Japanese, Korean
Subtitles
Summary
A "large than life" figure from the 20th century music legend receives concise yet moving cinematic treatment from an excellent documentary director on this excellent Blu-ray release from C Major.
What people say... Login to rate
Be the first to leave a review.
Show more