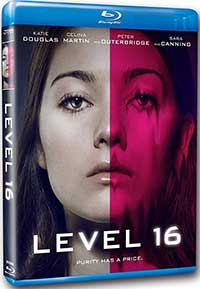 Level 16 is a dystopian sci-fi/thriller from writer/director Danishka Esterhazy who has made her career doing productions centered around female centered stories, though mostly in short films and television. This feature-length indie film comes at an interesting time given its themes of female oppression, brutal dystopia, and misogyny – it plays like a YA version of The Handmaid's Tale.
The story is set in a prison-like boarding school for girls, The Vestalis Academy, where the sixteen-year-old Vivien (Katie Douglas), her closest friend Sophia (Celina Martin) and other girls are under a strict regimen of diet, indoctrination, and classes on feminine etiquette, being kept from the outside world — which they are told has been poisoned and is dangerous — their entire lives. The emphasis is placed on cleanliness, keeping their skin perfect, and being obedient, so that one day, when they progress to the school's highest level, Level 16, a wealthy family will come and adopt them.
Vivien and Sophia discover there is more going on than what they have been told by their stern chaperone Miss Brixil (Sara Canning), who often dishes out cruel, violent punishment to the girls with the help of male guard if they break the rules, and the doctor, Dr. Miro (Peter Outerbridge), whose medications appear to be making the girls ill.  Vivien and Sophia begin to craft a high-stakes plan to uncover the truth, but that truth may be dangerous to all involved.
Level 16 is without a doubt a compelling film that explores some very important themes about young women fighting against a system that regards them only for their beauty and looks to keep them oppressed in every other way. While it is gripping and mysterious, its limited scope and world begins to feel quite monotonous. The film is assisted greatly by Esterhazy's taut direction and the brilliant acting of the young cast members all around as well as the two veterans Canning and Outerbridge.
While Level 16 is hindered by its limited budget and production, it is an ultimately satisfying film with a constant eye towards optimism, and not a cynically hopeless dystopian view of the world it is in.
The Video
Level 16 arrives on Blu-ray in an AVC 1080p encodement framed at 2.39:1. The low-budget indie production is not one that really 'pops' on screen with fantastic visual effects and eye-catching lighting, and the transfer also suffers from some color banding that may be inherent to the digital production. Colors are a bit washed out, but flesh tones look natural enough.
The Audio
Level 16 gets a competent if run-of-the-mill English DTS-HD Master Audio 5.1 mix on Blu-ray that is front-heavy, mixes mostly ambience into the surround channels, and has minimal but adequate low-end. The dialogue is clean with no clipping.
The Supplements
The included extras are interesting viewing, especially the lengthy interviews with the cast and crew.
Making Of (1.78:1; 1080p; 00:05:02)
Interviews (1.78:1; 1080p):

Katie Douglas – "Vivien"
Celina Martin – "Sophia"
Sara Canning – "Miss Brixil"
Peter Outerbridge – "Dr. Miro"
The Students
Danishka Esterhazy – writer/director
Diana Magnus – production designer
Jennifer Stroud – costume designer
Judy Holm – producer
James Weyman – executive producer

Trailer (2.39:1; 1080p; 00:01:21)
The Final Assessment
This sci-fi entry that is a like a YA version of The Handmaid's Tale is limited only by budget and production. The Blu-ray's audio and video are good, slightly better than the best streaming quality, but not as good as the best reference quality discs out there.
Level 16 is out on Blu-ray, DVD, and VOD April 30, 2019 from Dark Sky Films
[amazon_link asins='B07N3PVD7Z,B07N3VYVRX,B07M5MNKWS' template='ProductCarousel' store='theaterbyte-20′ marketplace='US' link_id='11bd1936-d127-476e-8ed4-4624b36a53a1′]
---
Danishka Esterhazy
Director
$29.98
MSRP
English DTS-HD MA 5.1
Audio
English LPCM 2.0 Stereo
Secondary Audio
Summary
In a prison-like boarding school for girls training them in obedience and for the purposes of adoption by wealthy families in a world that has been ruined by some unknown disaster, two girls find that all may not be what it appears and they set out to find the truth. This dystopian sci-fi thriller is like a YA version of The Handmaid's Tale with a more limited scope and production, and a little more optimism. The Blu-ray has a good amount of extras, but audio and video are only average quality for a home video release.
What people say... Login to rate
Be the first to leave a review.
Show more