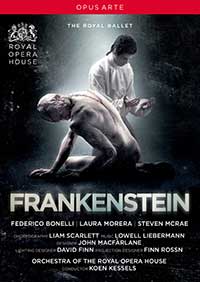 Thirty-something former dancer and now choreographer Liam Scarlett has already made a mark for himself in the ballet world and Frankenstein is his most recent work for the Royal Ballet Company, having premiered on May 4, 2016 (and filmed two weeks later for this Blu-ray Disc première). Scarlett had intended to return to the Mary Shelley original source but this adaptation could be considered loose at best.
Dr. Alphonse Frankenstein (Bennet Gartside) and  wife Carolina (Christina Arestis) place an orphan, Elizabeth Lavenza (Skya Powney) in their Geneva home. Several years later, Carolina is expecting her second child. Young Victor Frankenstein (Federico Bonelli) is preparing for medical studies and has fallen in love with the now grown-up Elizabeth (Laura Morera). He promises to marry her after he gets his medical degree. During the family's celebration, Carolina collapses and dies after giving birth to baby William.
A grief-stricken Victor leaves for Ingolstadt University where he befriends Henry Clerval (Alexander Campbell) also an aspiring medical student. Victor becomes obsessed with reanimating the dead and, after many long hours in the anatomy laboratory, he finally succeeds. Unfortunately his Creation (Stephen McRae) is a hideous mute, and in its fear, runs off with Victor's coat and detailed scientific journal.
Victor returns home, and distressed by what he has done, falls ill. As he recovers, the Creature has found its way to Geneva. Several years pass and the Creature reaches the Frankenstein manor and watches Victor destroy the journal describing his creation. Realizing that it will never get its creator's love or a life-companion, the Creature vows to seek revenge on the Frankenstein family. It kills William and pins the murder on Justine (Meaghan Grace Hinkis) who gets executed in a gruesome hanging. After Elizabeth and Victor marry, the Creature returns and kills Alphonse, Henry and Elizabeth, and then watches Victor commit suicide as the Frankenstein manor goes up in flames.
There are some moments of truly fine choreography, particularly during the final fifteen minutes, but these are interspersed with far too many static stage moments. Judicious use of projections add atmosphere to the often-elaborate sets like the experimental laboratory with its electrical devices. American composer Lowell Liebermann contributes a derivative score, quite danceable and melodic, in a John Williams,  Sergei Prokofiev, Aram Khatchaturian and Bernard Herrmann vein. Veteran conductor Koen Kessels does what he can to get his Royal Opera Orchestra players to render this film soundtrack type music. The principal dancers Bonelli, Morera, and the amazing McRae essay roles created specifically for them and do their level best to make them work-we just do not get enough standout routines for them to perform.
The Video
Director Ross MacGibbons, a former dancer,  gives the cast and some striking sets his usual loving care treatment. Colors and details are at the usual high Covent Garden standards. Special effects like the creation of the monster proved exciting as well.
The Audio
Dolby Atmos is one of the three audio options that defaulted to the Dolby TrueHD 7.1 (48k/24b) codec on my surround processor. Even so, the music is spacious and the hall ambience well captured.
The Supplements
The program booklet provides a detailed background essay by Will Richmond, Scarlett's scene-by-scene synopsis of the action, cast and production credits, and color performance photographs. There are several brief and largely dispensable video extras:
Introduction (English LPCM Stereo; 48kHz/24bit) (5:16): Brief descriptive remarks by Scarlett,  Liebermann, Morera, Bonelli, and McRae interspersed with rehearsal footage.
Production Design (English LPCM Stereo; 48kHz/24bit) (2:47): John MacFarlane, the production designer gives an account of the sets that he designed for this new ballet.
Music (English LPCM Stereo; 48kHz/24bit) (2:59): Composer Liebermann discusses his new score and his collaboration with Scarlett the creation of music for the dance.
Casting (English LPCM Stereo; 48kHz/24bit) (2:46): Scarlett reviews his process of choosing the dancers for this ballet, along with  comments by McRae, and some additional rehearsal scenes.
Darcey in the Studio (English LPCM Stereo; 48kHz/24bit) (3:44): More commentary by choreographer, dancers, and former prima ballerina Darcey Bussell.
The Final Assessment
As a balletomane, I had greatly anticipated this new work as the first serious setting of a classic Gothic horror story for the dance stage. I only wished that there had been more dance and less shtick. In spite of some incendiary special effects, most of the choreography lacked such sparks of energy and squandered the talents of three very accomplished  dancers. Hopefully choreographer Scarlett and composer Liebermann will take a second look at what they have created and make some clearly needed revisions.
[amazon_auto_links id="97775"]
Opus Arte
Studios & Distributors
$39.99
MSRP
English Dolby Atmos (Compatible w/ Dolby TrueHD 7.1)
Audio
English | French
Subtitles
LPCM 2.0 (48kHz/24bit)
Secondary Audio
Summary
A world-premiere of a legendary horror story transformed into a new ballet that falls short in delivering the kind of exciting dance that is expected of this company.
What people say... Login to rate
Be the first to leave a review.
Show more