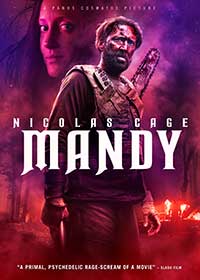 In the horror/thriller Mandy from co-writer and director Panos Cosmatos (Beyond the Black Rainbow) we are given a visceral and surreal, almost supernatural journey of revenge by protagonist Red Miller (Nicolas Cage, Leaving Las Vegas).
Set in 1983, lumberjack Red and his artist girlfriend Mandy Bloom (Birdman) live an idyllic life together secluded in the woods, but their quiet existence is disturbed when a crazed cult leader spots Red's girlfriend and wants to possess her. He conjures up a demonic motorcycle gang who abduct her and the violent events that follow set Red off on a psychedelic and bloody journey of revenge.
Mandy reaches beyond the limits of horror and revenge thrillers and tilts into the visual and surreal world of David Lynch or the fantastical horror of Guillermo del Toro. While this film remains a revenge thriller, it is dressed up in the guise of much more than that. Cosmatos, for whom this is only his second feature, digs deep into his playbook of references and pulls out stunning animated sequences reminiscent of The Wall and Heavy Metal or shots that evoke the dystopia of Mad Max, all in a colorful, alternate reality of reds and ambers, and shadow.
And in leading man Cage, Cosmatos found the perfect hero. Cage's often over-the-top performances in less than stellar films have garnered him a lot of  deserved criticism over the years, but here Cosmatos is able to harness Cage's energy and divert it into a perfect character for this off-kilter journey into a world that is slightly off-axis.
The Video
Mandy was shot on the Arri Alexa Mini and Arri Alexa XT cameras with Panavision AL series anamorphic lenses at 2.8K resolution and a 2K DI was used in mastering. It's brought to Blu-ray in an AVC 1080p encodement from RLJE Films. This is a movie that is heavily processed with color tones and added artificial grain, so much so that I swore that I was looking at a Super 16 film production or Super 35. One thing I know, with the brilliant colors, which favor reds and ambers, this is one that would have looked fantastic in HDR on 4K Ultra HD. That said, the Blu-ray handles it well aside from the slightest bit of banding in some spots that one has to really look for,
The Audio
Mandy hits Blu-ray with a superb English DTS-HD Master Audio 5.1 mix. It blends the atmospheric score through all the main channels as well as perfectly placing foley effects, such as the sound of a distant TV playing in the background that had me swearing I was hearing noise bleeding into my room from somewhere in my house. This is a prime example of well-done 5.1 proving the format still has life left in it in the age of immersive formats like Atmos and DTS:X.
The Supplements
There's not much included on Mandy, but it's a solid collection of deleted & extended scenes and a good 'Behind-the-Scenes' featurette with interviews.
Behind the Scenes (1.78:1; 1080p/24; 00:22:03)
Deleted & Extended Scenes (2.40:1; 1080p/24; 00:13:58)
The Final Assessment
If you see one horror/revenge thriller this year, make it Mandy. Don't let Nicolas Cage in the starring role scare you off. Fair warning – this isn't one for those with weak stomachs, but it's certainly not the goriest film around either. The Blu-ray from RLJE Films also looks and sounds fantastic proving there's still life not only in discs, but in Blu-ray and 5.1.
Mandy is out on Blu-ray & DVD October 30, 2018 from RLJE Films
SpectreVision | Umedia | Legion M | Piccadilly Pictures | Wallimage | XYZ Films | RLJE Films
Studios & Distributors
Panos Cosmatos (story & written by) | Aaron Stewart-Ahn (written by) | Chris 'Casper' Kelly | (Cheddar Goblin ad)
Writer
$29.97
MSRP
English DTS-HD MA 5.1
Audio
English SDH | Spanish
Subtitles
Summary
When his girlfriend is killed by a crazed cult, Red Miller (Nicolas Cage) goes on a psychedelic journey of revenge in this trippy and visually stunning revenge thriller from co-writer/director Panos Cosmatos. The Blu-ray from RLJE Films wonderfully conveys the colors and atmospheric sounds of this moody and visceral film.
What people say... Login to rate
Be the first to leave a review.
Show more