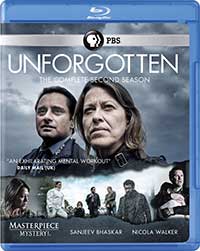 In the second season of the complex crime drama Unforgotten, DCI Cassie Stuart (Nicola Walker) and DI Sunil 'Sunny' Khan (Sanjeev Bhaskar) return to uncover another mystery when a corpse of a murder victim is found at the bottom of lake, nearly perfectly preserved, almost thirty years after the crime. The expanding web of suspects for Cassie and Sunny leads them to a banker turned lawyer whose work is mostly pro bono, a schoolteacher serving in an underprivileged school, a nurse working with young cancer patients, and a police officer.
While this season sticks very close to the successful formula that made the first season so successful – and successfully addictive – it somehow manages to avoid feeling like a poor rehash. They've avoided the sophomore slump by giving viewers an equally mind-bending mystery with a dense thicket of characters we long to know more about, and growing the relationship between the leads ever so slightly.
The Video
The HD production for Unforgotten arrives on Blu-ray in a 1.78:1 framed AVC 1080p encodement that looks rather rich and nuanced. There's good detail, but some of the night scenes do have heightened video noise. This never overwhelms the detail and nuance, however, and may help in intensifying the drama and grittiness of this mystery series.
The Audio
Unforgotten hits Blu-ray with a simple DTS-HD Master Audio 2.0 stereo mix that is good enough for conveying the series' mostly dialogue-driven action. The dynamics are limited at best, but there are a few moments where the music and sound effects swell, and this mix does its best, but still sounds a little stifled.
The Supplements
This is another barebones Masterpiece Mystery! Release of Unforgotten with not so much as a commentary or interview.
The Final Assessment
The second time out remains a charm for this brain box mystery series. Walker and Bhaskar couple for superb performances in a thought-provoking mystery with an unusual outcome.
Unforgotten: The Complete Second Season is out on Blu-ray & DVD from PBS on May 15, 2018
Mainstreet Pictures | ITV | Masterpiece | BBC | PBS
Studios & Distributors
English DTS-HD MA 2.0 Stereo
Audio
Summary
DCI Cassie Stuart (Nicola Walker) and DI Sunil 'Sunny' Khan (Sanjeev Bhaskar) return and must uncover the mystery behind who murdered a a nearly perfectly preserved corpse discovered at the bottom of a lake. Their search leads them to a respected members of the community, including a schoolteacher working with underprivileged children, a nurse caring for children with cancer, a lawyer working pro bono cases for wayward youths, and a police officer. The season closely follows the formula that made the first season click, but manages to avoid feeling like a rehash and provides its own, mind-bending and addictive mystery.
What people say... Login to rate
Be the first to leave a review.
Show more