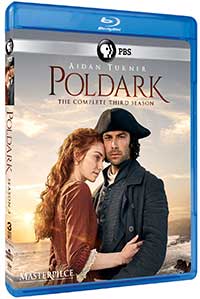 In Poldark Season 3, it's now 1794 and Ross Poldark (Aidan Turner) and Demelza (Eleanor Tomlinson) are not only trying to repair their relationship after Ross' questionable decisions concerning his old love interest Elizabeth, but now revolution is rocking France and weighing heavily on Britain, which as already suffered its own revolutionary blow across the Atlantic. Furthermore, Ross' nemesis George Warleggan (Jack Farthing) is continuing to expand his empire and influence and scheming of ways to crush the Poldarks. Into this come Demelza's brothers who threaten to disrupt the uneasy peace Ross and George have called between themselves.
Compared to the previous seasons, the third season of this melodrama doesn't seem to have as much going on, but dig beneath the surface and there are plenty of tasty bits for fans to sink their teeth into. Without giving up too many spoilers, Demelza starts to wonder about giving Ross a taste of his own medicine when she begins to feel underappreciated in their marriage, George begins to let his jealousy get away from him, and the political machinations are always quite subtle. Ross is a maddening character whose stubbornness and self-righteousness is often his own undoing and the reason he loses often to the devious George Warleggan. The season ends with him perhaps finally getting a wake up call.
As always, Poldark Season 3 maintains the gorgeous setting in Cornwall and high production values. The cast continues to fire on all cylinders and now, three seasons in, are very comfortable in their roles and with each other. Jack Farthing is the standout as the ruthless, love-to-hate-him George Warleggan, but the charming Eleanor Tomlinson also continues to be a revelation.
The Video
The digitally captured Poldark Season 3 looks as good as it always has in this AVC 1080p encodement framed at 1.78:1 from PBS. Some dark scenes show an increased level of noise and some of the shots of skies have minor color banding, but apart from that it is satisfying with good color, brightness and contrast.
The Audio
Poldark Season 3 gets an English DTS-HD Master Audio 5.1 mix that can only be described as competent and nothing more. The dialogue-driven series get a very front-heavy mix and for much of the time I thought I was experiencing a 2.0 stereo mix, before I thought to check and realized it was actually 5.1. The surround channels were so quiet and the ambience so subtle, 2.0 may have worked just as well.
The Supplements
Poldark Season 3 comes with a solid slate of interviews and behind-the-scenes featurettes on Blu-ray from PBS.
Roscoff Rescue
Jeff Tessler (Production Designer)
Howard Burden (Costume Desiginer)
Pippa Woods (Make-up and Hair Designer)
The Women in Poldark
Favourite Locations
Aidan Turner (Ross Poldark)
Eleanor Turner (Demelza Poldark)
Demelza a Hugh Armitage
Drake and Morwenna
George and Elizabeth
The Final Assessment
A little slower and less packed with shocking twists than the first two seasons, but no less juicy, Poldark Season 3 offers up a satisfying series for fans of this British melodrama and its long-suffering protagonists.
Masterpiece Poldark Season 3 is out now on Blu-ray and DVD from PBS
[amazon_auto_links id="107409"]
Mammoth Screen | ITV Studios Global Entertainment | BBC | Masterpiece Theatre | PBS
Studios & Distributors
Joss Agnew | Woolfenden
Director
English DTS-HD MA 5.1
Audio
Summary
Ross Poldark (Aidan Turner) and wife Demelza (Eleanor Tomlinson) try to repair their marriage as nemesis George Warleggan (Jack Farthing) expands his influence and plots to destroy them; meanwhile revolution rages in France and causes concern in Britain in this third entry in this Masterpiece Theatre melodrama.
What people say... Login to rate
Be the first to leave a review.
Show more