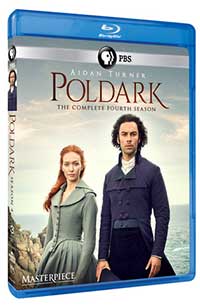 Poldark Season 4, now confirmed as the penultimate season of this romantic saga set against the stormy shores of Cornwall, gets underway with its titular character Ross Poldark (Aidan Turner) still trying to save his marriage with Demelza (Eleonor Tomlinson) – each of them having both committed extramarital affairs and Demelza still being courted by the dashing young Hugh Armitage who remains in love with her and hoping for more. Meanwhile, Ross is also still battling his nemesis George Warleggan (Jack Farthing), who has tightened his grip over the workings of Cornwall through his powerful bank and obtaining a seat in Parliament, but with political upheaval in the air and new elections, Ross sees an opportunity to weaken George's position.  In other areas, Ross' best friend, Dr. Dwight Enys (Luke Norris) starts a family with his beautiful wife Caroline, which works out much differently than the pair imagined.
As usual now, this is a season of sweeping romance, melodrama, and tragedies. Just when one thinks things couldn't get any worse for the perpetually downtrodden Ross Poldark, fate comes along and kicks him in the backside. George Warleggan is the perfect villain, maybe too perfect – he seems to always win, even when though takes some real hits in this fourth season. Warleggan remains the villain one loves to hate, and Poldark the dashing hero that frustrates beyond belief.The series strengths – excellent friction and melodrama notwithstanding – remain the beautiful cinematography and gorgeous, lavish sets and costumes. This is a series that is wonderful to disappear into with characters we care about, for better or worse.
The Video
The HD source for Poldark Season 4 arrives on Blu-ray in an AVC 1080p encodement. While it generally looks strong with satisfying detail and natural color reproduction, the image does suffer from noise, banding, and posterization especially in shadows, but some brighter areas like skies also show banding issues.
The Audio
Poldark Season 4 comes with an English DTS-HD Master Audio 5.1 audio mix that is very subtle. The surround channels carry a very low-level amount of ambience, so this is front-heavy mix. That said, the sound is clean with decent range and stereo panning, but a stereo mix would have been just as good.
The Supplements
These brief special features are a behind-the-scenes and 'making of' collection of the season's production covering the wardrobe and production designs. They are interesting, especially from a historical perspective, but one wishes they had gone a bit more in-depth.
Cornwall to London (1.78:1; 1080p/24; 00:01:48)
Costume Design (1.78:1; 1080p/24; 00:02:38)
Production Design (1.78:1; 1080p/24; 00:02:22)
Make-up & Hair Design (1.78:1; 1080p/24; 00:02:36)
The Journey of Ross Poldark (1.78:1; 1080p/24; 00:01:58)
The Final Assessment
Poldark Season 4 is a satisfying guilty pleasure, a lavishly filmed melodrama set against the rocky shoreline of Cornwall at the end of the 18th century. Things are beginning to turn culturally ever-so-slightly by this season, and we even get to see London and Parliament. All the elements we have come to love in this series are there and the story arc is satisfying even if it does mine some familiar territory. This Blu-ray is sort of barebones, but it is a satisfying way to binge the season.
Poldark: Season 4 is out on Blu-ray & DVD November 6, 2018 from PBS
Mammoth Screen | ITV Studios Global Entertainment | Masterpiece | WGBH | PBS
Studios & Distributors
Joss Agnew | Brian Kelly
Director
Winston Graham (Based on the novels by) | Debbie Horsfield (created and written for television by)
Writer
$31.49
MSRP
English DTS-HD MA 5.1
Audio
Summary
Poldark Season 4 is a satisfying guilty pleasure, a lavishly filmed melodrama set against the rocky shoreline of Cornwall on a good Blu-ray set that is great way to binge the season.
What people say... Login to rate
Be the first to leave a review.
Show more