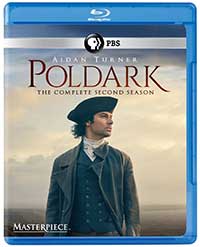 The Masterpiece series Poldark does tend toward the melodramatic and the dire, but one cannot deny the overwhelming appeal of the brilliant Cornish seaside and the taxing emotional drama that is this series. The second season wastes no time at all playing with our emotions as it begins where season 1 ended, which is with titular character Ross Poldark (the roguishly handsome Aidan Turner) standing trial for his part in aiding the local peasants in pillaging the goods from a shipwreck that drifted onto the shores of his property and pummeling to death an official that happened to be connected to his rival, the devilish George Warleggan (Jack Farthing).
Of course, were Ross to be found guilty of murder and conspiracy or whatever and hanged by the neck, as the punishment would be, we know the series may as well close up shop, but the do sufficiently well in keeping us in suspense and setting up the backdrop of British paranoia. The French Revolution is afoot, and with both the loss of the American colonies in British memories and French nobles being dragged to the guillotines, it is very poor taste for a man of Ross Poldark's class to be seen as aiding an uprising of the peasant class. An example must be made – only, that example comes at the expense of someone else's neck, not Ross's, which seems to always be the case with Poldark.
It's a flaw in the series that will continue in this perennially dismal season that finds Ross's marriage to the beautiful scullery maid turned noble's wife Demelza (Eleanor Tomlinson) on the rocks because Ross can't seem to shake his past love for the refined beauty Elizabeth (Heida Reed), wife of his now financially strapped cousin Francis (Kyle Soller). But Ross is financially strapped too – in debt up to his eyeballs, and finds himself indebted to his archenemy George Warleggan, yet somehow by multiple strokes of luck wriggling out of that – again. Ross divests himself of his failing mine to reopen his father's old mine, Grace, another bad decision that leaves Ross and Demelza cash strapped, gets a number of people killed, but by another stroke of luck, has them rolling in a tin find (they were meant to be mining copper).
These serendipitous events become a little too obvious, but the real thing that keeps the series alive is the drama between the characters; the rivalry between George and Ross, the marital woes between Ross and Demelza, the unrequited love between Ross and Elizabeth, George's conniving to woo Elizabeth and steal the Warleggan legacy. These are some tasty daytime drama type plot developments that really make Poldark less great drama and more guilty pleasure.
The Video
The high definition source for Poldark arrives in an AVC 1080p encodement on Blu-ray from PBS. There is a good amount of detail and texture in the image with natural color reproduction and spot-on flesh tones, but there is also a very definite layer of video noise that is heightened in the dark scenes. Fortunately it never looks very harsh and one suspects it may be there purposely to add an organic, filmic veneer to this very, cinematic looking Cornish backdrop. The shadow detail can sometimes get a little lost, but not enough to take away from what is otherwise very good nuance ad overall detail.
The Audio
We get the usual DTS-HD Master Audio 2.0 stereo mix for this second season of Poldark, and while the absence of the additional channels is missed for carrying the atmospherics of the Cornish seaside such as waves smashing against the rocky shore or the breezes blowing on the windy night, it is a well done mix with good stereo imagery and clear dialogue.
The Supplements
There are several featurettes included that offer interviews and set tours, but each is fairly brief and more promotional that informative. They have that "feel good" sort of tone. Fans will likely still enjoy seeing their favorite actors.
The Making of Poldark (1.78:1; 1080p/24; 00:11:46)
Portrait of a Marriage (1.78:1; 1080p/24; 00:05:23)
Tour of the Nampara set with Eleanor Tomlinson (1.78:1; 1080p/24; 00:03:45)
About the Show (1.78:1; 1080p/24; 00:01:26)
Aidan Turner (Ross Poldark) (1.78:1; 1080p/24; 00:02:52)
Eleanor Tomlinson (Demelza Poldark) (1.78:1; 1080p/24; 00:03:11)
Jack Farthing (George Warleggan) (1.78:1; 1080p/24; 00:03:20)
Heida Reed (Elizabeth Poldark) (1.78:1; 1080p/24; 00:02:42)
The Final Assessment
The beauty of Cornwall and the spicy interactions between the characters is what drives what keeps the second season of Poldark watchable. The plots often stretch your ability to suspend disbelief, but the acting is so superbly done it can be easily overlooked.
Masterpiece: Poldark — The Complete Second Season (TheaterByte Blu-ray Review)
Mammoth Screen | BBC| ITV Studios Global Entertainment | Masterpiece Theatre | PBS
Studios & Distributors
Will Sinclair | Charles Palmer | Richard Senior
Director
$54.99
MSRP
English DTS-HD MA 2.0 Stereo
Audio
Summary
The second season of Poldark tests the limitations of ones ability to suspend disbelief, but the powerful acting from the cast, gorgeous scenery and juicy melodrama is enough to keep fans coming back for more.
What people say... Login to rate
Be the first to leave a review.
Show more